A Hymn Of Glory Let Us Sing – Hymn Lyric
In "A Hymn of Glory Let Us Sing," we celebrate the resurrection of Christ and spread the message of His triumph. Through this hymn, we find hope, love, and forgiveness in Christ and acknowledge His everlasting divinity. As believers, we join together in lifting our voices to bring light and warmth to a world in need.
---
---
A Hymn Of Glory Let Us Sing – Hymn Lyric
A hymn of glory let us sing,
New hymns throughout the world shall ring;
Christ, by a new way none ever trod,
Shares once more the throne of God.
O Christ, you are a present joy,
Triumphant love once sacrificed,
And great the light we see in you,
To guide us to eternity.
O risen Christ, ascended now,
To your blessed name all knees shall bow;
You are, while endless ages run,
In Triune Godhead ever One.
Meaning of A Hymn Of Glory Let Us Sing
A Hymn of Glory Let Us Sing: Celebrating the Resurrection of Christ
In this beautiful hymn, we are called to lift our voices and sing a hymn of glory. As we do so, new hymns will ring throughout the world, spreading the message of Christ's resurrection and triumph. It is through this new way, a path that no one has ever walked before, that Christ shares once more the throne of God.
This hymn reminds us that Christ is a present joy. Despite the sacrifice He made on the cross, His triumphant love shines brightly for all to see. In Him, we find hope, love, and forgiveness. His light guides us on our journey towards eternity.
O risen Christ, who has ascended to heaven, all knees shall bow before your blessed name. As we sing this hymn of glory, we acknowledge the everlasting nature of your divinity. For throughout endless ages, you exist within the Triune Godhead, forever One.
The resurrection of Christ is a central theme in Christianity. It is a celebration of hope and victory over death. As we sing this hymn, we remember the story of Jesus' resurrection, which brings us comfort and reassurance.
When Jesus died on the cross, His followers were devastated. They had witnessed His miracles, listened to His teachings, and believed in Him wholeheartedly. With His death, their hopes seemed shattered. But the story doesn't end there. On the third day, Jesus rose from the dead, bringing new life to all who believe in Him.
This resurrection is the cornerstone of our faith. It proves that Jesus is not just a mortal man, but the Son of God, with the power to conquer death. Through His sacrifice, we are offered redemption and the promise of eternal life.
The resurrection of Christ has profound implications for believers. It signifies that death is not the end but rather a transition to a new life with God. This truth brings comfort and peace to those who mourn the loss of loved ones. It reminds us that even in the face of death, there is hope.
Additionally, the resurrection is a reminder of God's power and love. It demonstrates His ability to overcome all obstacles, even death itself. This gives us reassurance and confidence in our own lives. No matter what challenges we face, we can trust in God's strength to lead us through.
As we sing this hymn, we join the chorus of believers throughout time and space. We unite with Christians around the world, rejoicing in the resurrection of Christ. Through our voices, we spread the message of hope and love, inviting others to experience the transformative power of the risen Christ.
Furthermore, this hymn highlights the Triune Godhead, the concept of God existing in three persons: Father, Son, and Holy Spirit. While it may be challenging to fully comprehend, it underscores the complex nature of God. He is one yet three, perfectly united in divine love.
This understanding of God's triune nature demonstrates the depth and richness of our faith. It reminds us that God is not limited to a single form or manifestation. He is all-encompassing, present in every aspect of our lives. His love and grace extend beyond our comprehension, surrounding us with His eternal presence.
In conclusion, "A Hymn of Glory Let Us Sing" is a powerful hymn that proclaims the triumph of Christ's resurrection. Through its lyrics, we express our joy, gratitude, and awe at the love and power of God. It serves as a reminder of the hope we have in the face of death, the reassurance of God's strength, and the unity we share as believers. May our voices join together in this hymn, bringing light and warmth to a world in need.
I hope this hymn inspired image brings you hope and peace. Share it with someone who needs it today!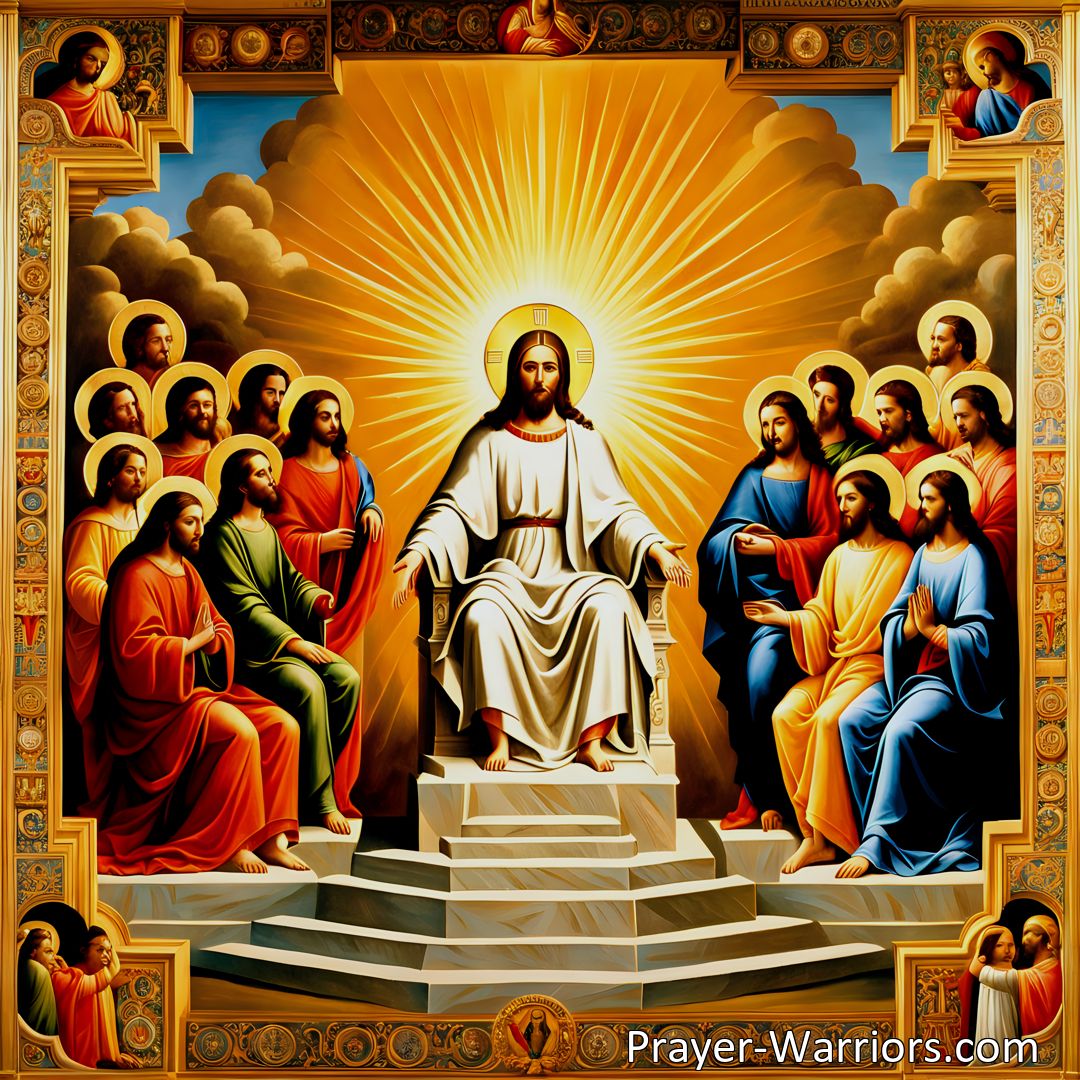 Join the Prayer Warriors Community!
Sign-up for our newsletter and embark on a transformative journey with Prayer. Enter your email below and become a part of our Prayer Warriors family.