A Portion of Love – Hymn Lyric
"A Portion of Love: Sprinkling Blessings and Mending Broken Hearts" explores the power of prayer and the importance of offering love and support to those in need. Through prayer, we seek comfort and solace for those facing discouragement and broken hearts, asking God to send His angels and shower them with His love. By actively embodying love through our actions, we can make a difference in the lives of others and bring healing, hope, and comfort.
---
---
A Portion of Love – Hymn Lyric
Oh, Lord,
I Humbly come to you in Prayer,
For Those who need a special touch to know you care,
Send an Angel~
with a blessing from above,
sprinkle them with a portion of your love
There are Christians who are discouraged,
broken hearts to often now are found.
So I'm praying to you, Jesus
mend their broken hearts
and keep them heaven bound.
Help me know, Lord,
when you are calling,
lay a burden on my heart
for those who need.
For I am willing to pray for others,
for in my weakness,
I know others pray for me.
Meaning of A Portion of Love
A Portion of Love: Sprinkling Blessings and Mending Broken Hearts
In times of hardship and sorrow, we turn to the Lord with humble hearts, seeking solace and comfort. The power of prayer connects us to the divine, and in our prayers, we bring forth the needs of those who require a special touch from God. Through our petitions, we ask the Lord to send His angels, carrying blessings from above, and to shower those in need with a portion of His love.
Within the Christian community, there are many who face discouragement and carry the weight of broken hearts. Life's hardships can often take a toll, leaving scars that may not be visible on the surface. As we lift our voices in prayer, we beseech Jesus to mend these broken hearts and guide these individuals towards the eternal embrace of heaven.
As believers, we also yearn to discern the Lord's calling in our lives, to be vessels of His love and messengers of His grace. We long for the burden of compassion to settle upon our hearts, guiding us to intercede on behalf of those in need. Our willingness to pray for others stems from an understanding that in our moments of weakness, there are others who lift us up in prayer as well.
The concept of offering a "portion of love" is deeply rooted in the fundamental teachings of Christianity. Just as Jesus demonstrated selfless love through His life and sacrifice, we are called upon to emulate His example. Love, in its purest form, is not bound by limitations or conditions; it encompasses boundless compassion, forgiveness, and understanding. By sharing this love with others, we become the embodiment of God's presence in the world.
When we offer a portion of love to those around us, we become instruments of healing and restoration. Our prayers serve as a conduit for divine intervention, communicating our deepest desires for the well-being of others. While we may not have the power to directly fix every problem or mend every broken heart, our faith teaches us that God's love has the power to transcend all human limitations.
As we embark on this journey of offering a portion of love, it is crucial to remember that our prayers alone are not enough. True love requires action; it demands that we extend a helping hand, provide comfort, and lend a listening ear. Prayer should never be seen as a passive act, but rather as a catalyst for positive change.
Within our communities, there may be countless individuals silently struggling, yearning for a sign of hope. By actively seeking out those in need, we can become beacons of light in their lives. Through humble acts of kindness, we can remind them that they are not alone, that their burdens are shared, and that love is still present in the world.
Our prayers, when accompanied by action, have the potential to transform lives. By acknowledging our own weaknesses and relying on the support of others, we demonstrate humility and a willingness to learn and grow. Through these shared experiences, we foster a sense of interconnectedness, weaving a tapestry of support and encouragement within our communities.
In conclusion, A Portion of Love is a testament to the power of prayer and the transformative nature of love. Through our prayers, we invite God's angels to bless those in need, showering them with divine love and grace. As followers of Christ, it is our duty to mend broken hearts and uplift the discouraged. By answering the Lord's call, allowing our hearts to be burdened for others, and actively embodying love in our actions, we can truly make a difference in the lives of those around us.
May we never cease to offer our portion of love and may the impact of our prayers and actions be a source of comfort, healing, and hope.
I hope this hymn inspired image brings you hope and peace. Share it with someone who needs it today!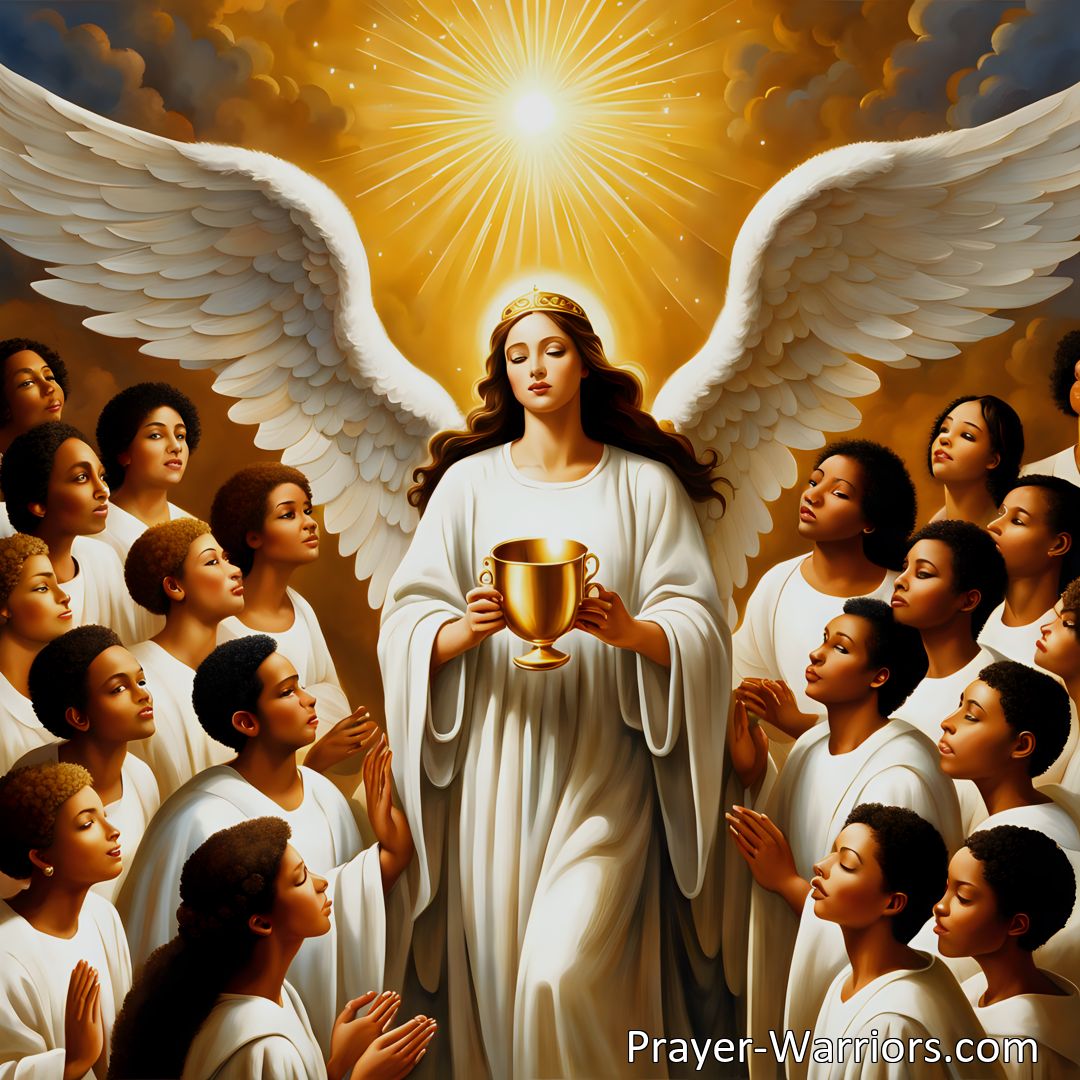 Join the Prayer Warriors Community!
Sign-up for our newsletter and embark on a transformative journey with Prayer. Enter your email below and become a part of our Prayer Warriors family.