Amen, Hallelujah – Hymn Lyric
summary.txt
---
---
Amen, Hallelujah – Hymn Lyric
Gathered here together, in Jesus' name,
We have a gospel, to proclaim.
Sin and death are conquered, Jesus reigns,
Now everybody can be saved.
Chorus:
Amen,
Hallelujah, we sing, give thanks to the Lord.
Amen, Hallelujah.
The Lord is good and His love will last forever.
The Lord is good and His love will last forever.
Meaning of Amen, Hallelujah
Amen, Hallelujah!
What a powerful and uplifting hymn! These simple but profound words resonate deep within our hearts and remind us of the amazing love and grace of our Lord Jesus Christ. In just a few lines, this hymn encapsulates the essence of our faith and the hope that is found in Him.
The first verse sets the tone by gathering us together in the name of Jesus. It is a beautiful reminder of the power of community and coming together as one body in Christ. As we join our voices in unity, we are reminded of the gospel – the good news that we have been given to proclaim.
The gospel is the central message of Christianity. It is the story of Jesus' life, death, and resurrection – the ultimate victory over sin and death. This hymn boldly declares that sin and death are conquered, and Jesus reigns supreme. These words carry a sense of triumph and joy, as we realize that through Jesus, we have been set free from the power of sin and death.
But the hymn doesn't stop there. It goes on to proclaim that everybody can be saved. This is a message of hope and inclusivity. It reminds us that God's love knows no bounds and that salvation is available to all who seek it. It doesn't matter who we are or what we've done, the doors of grace are open wide for everyone. This is indeed something worth celebrating!
Amen, Hallelujah! These words of praise and thanksgiving flow from our lips as we acknowledge the goodness of the Lord. Every day, as we experience His grace, mercy, and love, our hearts overflow with gratitude. We are reminded of all the ways in which He has blessed us, protected us, and guided us on our journey.
The Lord is good, and His love will last forever. What a comforting and reassuring promise! In a world that is ever-changing and unpredictable, it's such a solace to know that God's love remains steadfast and unchanging. His love is not limited by time or circumstance but endures forever. In times of doubt, fear, or uncertainty, we can find comfort in the knowledge that God's love is constant and everlasting.
As we meditate on these words, let us consider the implications they hold for our lives. How does this message of love and salvation impact the way we live and interact with others? Are we willing to extend the same grace and love that we have received from God to those around us?
In a divisive and broken world, let us strive to be bearers of hope, love, and reconciliation. Let us be a light that shines brightly, reflecting the goodness and love of our Heavenly Father. May our words, actions, and attitudes align with the message of the hymn – that everybody can be saved and that through Christ, we are all one.
As we conclude our reflection on this hymn, let us once again reiterate its message:
Amen, Hallelujah!
Let these words be our anthem of praise and gratitude. May they serve as a constant reminder of God's goodness, love, and faithfulness. And may they inspire us to live lives of love, compassion, and service to others.
Amen, Hallelujah! The Lord is good, and His love will last forever.
Let us sing it out with joy and thanksgiving!
Amen, Hallelujah!
I hope this hymn inspired image brings you hope and peace. Share it with someone who needs it today!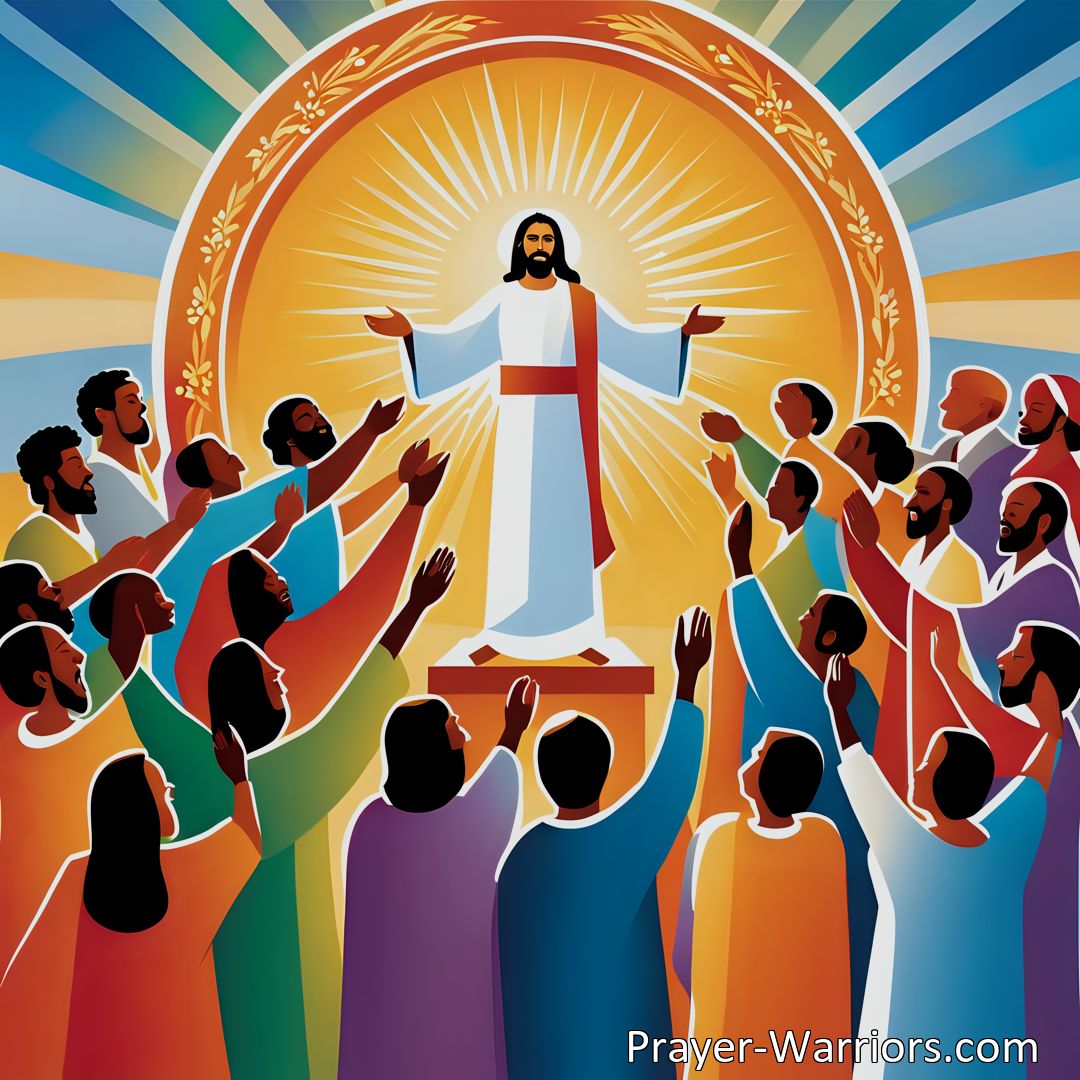 Join the Prayer Warriors Community!
Sign-up for our newsletter and embark on a transformative journey with Prayer. Enter your email below and become a part of our Prayer Warriors family.