Arise My Soul And Greet Him – Hymn Lyric
"Arise My Soul And Greet Him" is a powerful hymn celebrating God's amazing love and grace. Through its verses, we are reminded of the personal relationship we have with God and His redemptive power. This hymn encourages us to praise Him, commit to serving Him, and find hope in eternal life with our Savior.
---
---
Arise My Soul And Greet Him – Hymn Lyric
Arise, my soul, and greet him,
The Lord who reigns on high.
Sing out your praises loudly,
Let triumph fill the sky.
He chose me and he saved me,
From darkness and despair,
He knew me and he loved me,
Before I had a care.
I'll stand to greet my maker,
He formed me out of dust,
Since life began, I've wandered,
Not knowing whom to trust.
Not worthy of the mercy,
That Christ bestowed on me,
I'll rise and praise the Lord now,
His grace has set me free.
My God has saved me fully,
Now I will always be,
His servant and His worker,
Whose sights are set on He.
Now that my soul's been pardoned,
For sins beyond degree,
I'll fight the fight till death comes,
Then live eternally.
Meaning of Arise My Soul And Greet Him
Arise My Soul And Greet Him: Celebrating God's Amazing Love and Grace
In the hymn "Arise My Soul And Greet Him," we find a beautiful expression of gratitude and awe for the Lord who reigns on high. Through the verses, we are reminded of God's unconditional love, His saving power, and the eternal hope we have in Him. Let's delve deeper into these ideas and reflect on the significance of this hymn.
The opening verse invites our souls to arise and greet the Lord, urging us to sing out our praises loudly and let triumph fill the sky. This imagery sets the tone for a joyful and celebratory mood, where we acknowledge God's sovereignty and His magnificence. As we contemplate the greatness of our Creator, we can't help but feel awe and reverence.
The hymn goes on to remind us of the personal relationship we have with God. It highlights that He chose us and saved us from darkness and despair before we even had a care. This recognition of God's active involvement in our lives is a source of comfort and reassurance. It reminds us that we are not alone but rather cherished and loved by our Heavenly Father.
Throughout our lives, we often find ourselves searching for someone to trust, someone who will guide us and provide us with direction. The hymn acknowledges this universal human experience. It speaks of how we, as human beings formed out of dust, have wandered aimlessly, not knowing whom to trust until we discovered God's saving grace. In recognizing our inherent unworthiness, we can fully appreciate the mercy that Christ has bestowed upon us.
The hymn moves from a personal reflection to a commitment to serve God wholeheartedly. It declares that since God has saved us fully, we will always be His servant and worker. This commitment to live a life directed towards God is a profound response to the redemption we have experienced. It entails dedicating our thoughts, actions, and aspirations to God's purpose and striving to live in accordance with His teachings.
The hymn further emphasizes that our soul's pardon is not based on our worthiness or good deeds but solely on the grace of God. It acknowledges our inability to reach perfection and the depth of our sins. Yet, it invites us to rise and praise the Lord for His unmerited favor and the freedom we find in His forgiveness. This recognition of God's grace encourages us to approach Him with humility and gratitude, cherishing our relationship with Him and seeking to grow in faith.
The concluding verse bravely declares our resolve to fight the fight of faith till death comes, trusting in the hope of living eternally with our Savior. This verse reminds us that the journey of faith is not without challenges and trials. However, we can face them with unwavering courage and determination because we know that our ultimate destination is eternal life with God. The hymn inspires us to keep our eyes fixed on God, our sights set on Him, as we navigate the ups and downs of life.
In conclusion, "Arise My Soul And Greet Him" is a hymn that beautifully expresses our gratitude and devotion to God. It celebrates His amazing love and grace, emphasizing the personal relationship we have with Him. Through this hymn, we find encouragement to praise Him, serve Him, and fight the good fight of faith. As we reflect on its words, may our souls be stirred, and may we continually find joy in God's presence, knowing that He has chosen and saved us, and that His grace has set us free.
I hope this hymn inspired image brings you hope and peace. Share it with someone who needs it today!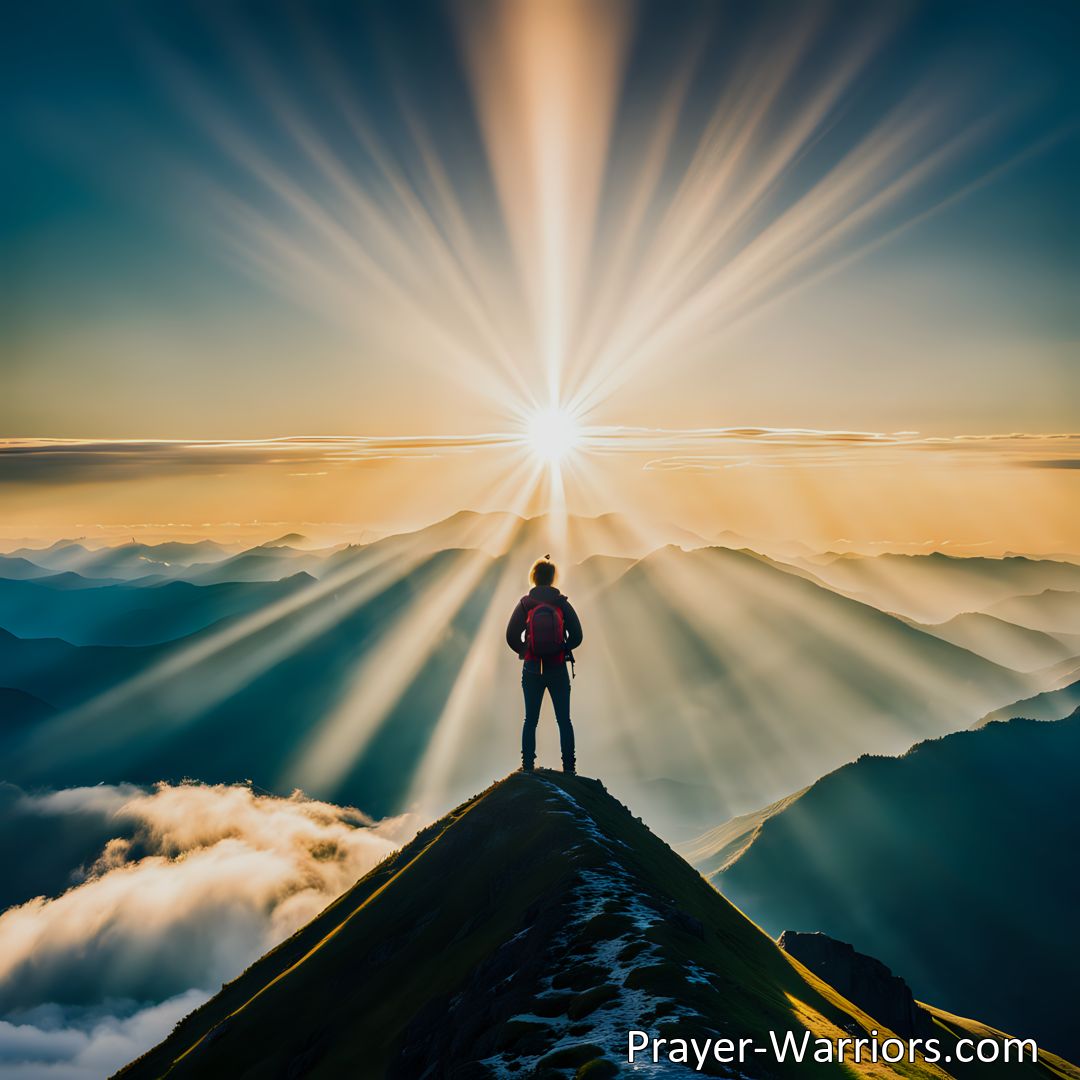 Join the Prayer Warriors Community!
Sign-up for our newsletter and embark on a transformative journey with Prayer. Enter your email below and become a part of our Prayer Warriors family.