Art Thou Afraid? – Hymn Lyric
Feeling scared and unsure? Don't worry, "Art Thou Afraid?" reminds us to trust in God's strength and support. Instead of letting fear hold us back, let's embrace courage and face our challenges with confidence, knowing that the Lord is with us every step of the way.
---
---
Art Thou Afraid? – Hymn Lyric
Why pour'st thou forth thine anxious plaint,
Despairing of relief,
As if the Lord o'erlooked thy cause,
And did not heed thy grief?
Hast thou not known, hast thou not heard,
That firm remains on high
The everlasting throne of Him
Who formed the earth and sky?
Art thou afraid his pow'r shall fail
When comes thy evil day?
And can an all-creating arm
Grow weary or decay?
Supreme in wisdom as in pow'r
The Rock of ages stands;
Though him thou canst not see,
nor trace The working of his hands.
He gives the conquest to the weak,
Supports the fainting heart;
And courage in the evil hour
His heav'nly aids impart.
Mere human pow'r shall fast decay,
And youthful vigor cease;
But they who wait upon the Lord,
In strength shall still increase.
They with unwearied feet shall tread
The path of life divine;
With growing ardor onward move,
With growing brightness shine.
On eagles' wings they mount, they soar,
Their wings are faith and love,
Till, past the cloudy regions here,
They rise to heav'n above.

Meaning of Art Thou Afraid?
Are you feeling fearful and unsure about the challenges that lie ahead? Do you find yourself pouring out your anxious worries, feeling as though no one is listening or paying attention to your pain? In times of distress, it is natural to question whether there is anyone out there who truly cares about our struggles. However, it is important to remember that the Lord, who created the earth and sky, is always present and aware of our needs.
Sometimes, when we are faced with adversity, we may doubt the power and steadfastness of God. We tend to forget that He is the all-creating, all-powerful being who stands as the Rock of ages. We question whether His strength will falter or fade when we face difficult circumstances. However, we need to realize that His power knows no limitations and His wisdom is immeasurable. Even though we may not be able to comprehend His ways, we can trust that He is working behind the scenes.
Why should we be afraid when we have the assurance of the Lord's unwavering support? We should take courage knowing that in times of trouble, His heavenly aids will uplift and sustain us. The Lord is not selective in whom He strengthens; even the weak and faint-hearted receive His divine conquest. We need to remember that human power and strength are temporary, and youthful vigor will eventually diminish. However, those who put their trust in the Lord will be renewed and strengthened. They will experience an increase in both physical and spiritual strength.
As we journey through life, we may encounter obstacles and challenges that make us hesitant to move forward. Yet, with unwavering faith and love, we can walk the path of divine life without growing weary. Instead of allowing fear to hold us back, we should strive for greater ardor and brightness as we press onwards. Just like eagles soaring in the sky, our wings are faith and love, carrying us to new heights.
Our ultimate destination is not limited to the earthly realm. As we continue on our journey with the Lord, we can hold on to the hope of rising above the cloudy regions that surround us. We long to reach the heavenly realms, where our faith will be made sight. Our struggles on earth are but temporary, and our endurance will be rewarded when we finally ascend to the heavenly abode.
So, when fear and doubt creep into your heart, remember the words of this hymn. There is no need to be afraid, for the Lord is with you. He is the unchanging Rock upon which you can build your foundation of faith. Allow His strength to infuse you with courage, knowing that He will never abandon you. Let go of your anxieties, and instead, trust in the everlasting power and wisdom of God.
In conclusion, the hymn "Art Thou Afraid?" reminds us to put aside our fears and worries. It encourages us to trust in the Lord's unfailing support and strength, even in the face of adversity. Instead of dwelling on our anxieties, let us focus on growing in faith and love, knowing that our ultimate destination is the heavenly realms. So, embrace the courage that the Lord provides and face your challenges with confidence, for He is with you every step of the way.
I hope this hymn inspired image brings you hope and peace. Share it with someone who needs it today!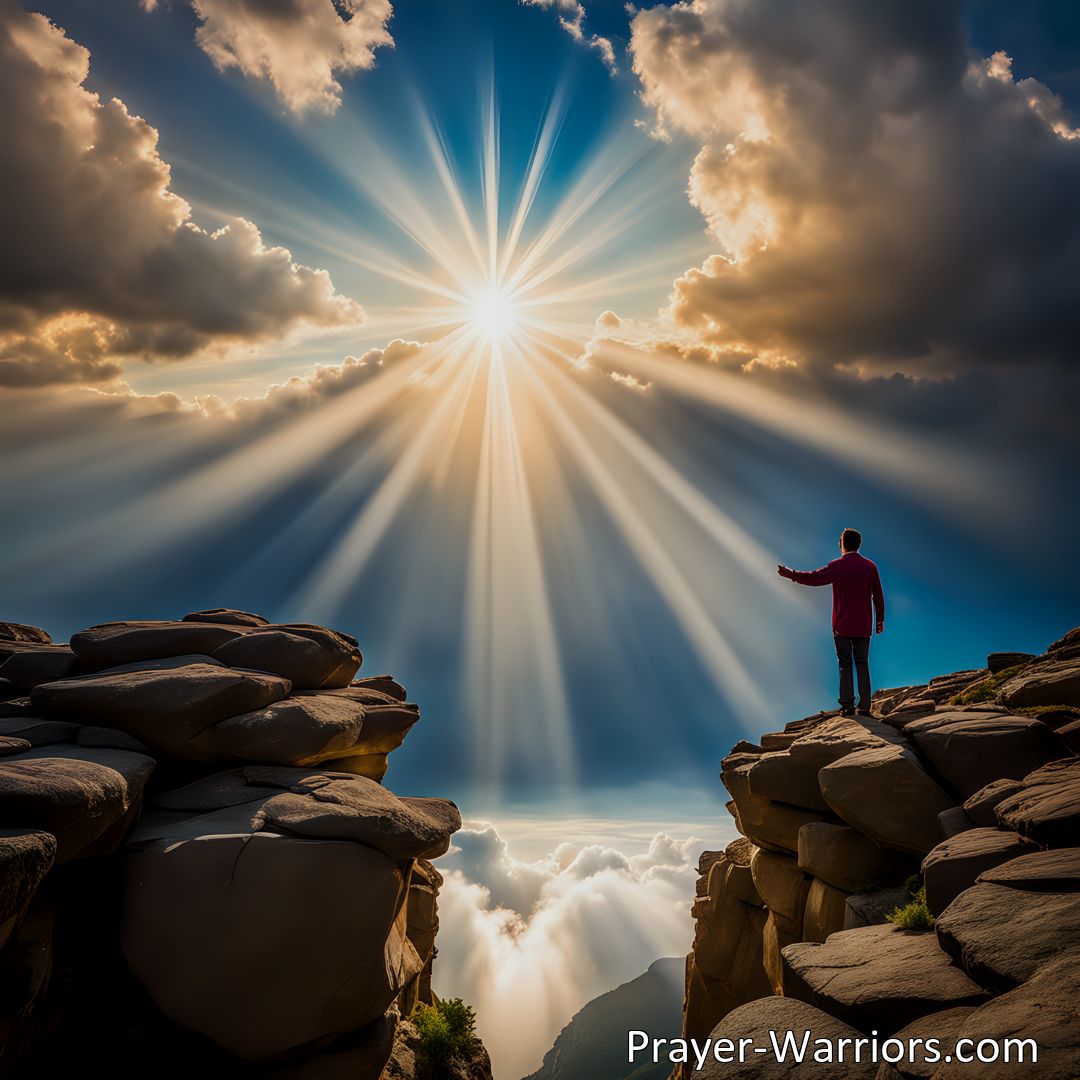 Join the Prayer Warriors Community!
Sign-up for our newsletter and embark on a transformative journey with Prayer. Enter your email below and become a part of our Prayer Warriors family.