Before Thy Cross Lamenting My Savior I Would Lie – Hymn Lyric
"Before Thy Cross Lamenting My Savior I Would Lie" offers a heartfelt journey towards finding forgiveness and redemption through repentance. This hymn reminds us of the importance of reflecting on our sins, confessing our shortcomings, and seeking restoration through the healing power of God's grace. By approaching the cross with a repentant heart, we can embrace the transformative power of forgiveness and find solace in the promise of a fresh start.
---
---
Before Thy Cross Lamenting My Savior I Would Lie – Hymn Lyric
Before thy cross lamenting,
My Saviour, I would lie,
Of all my sins repenting,
That caused my Lord to die.
My soul with tears of anguish
Her follies would confess;
Oh, while in pain I languish,
Restore me by thy grace.
Meaning of Before Thy Cross Lamenting My Savior I Would Lie
Before Thy Cross Lamenting My Savior I Would Lie: A Song of Repentance and Redemption
In the hymn "Before Thy Cross Lamenting," the songwriter expresses deep remorse for their sins and seeks forgiveness and restoration from their Savior. This heartfelt plea for mercy resonates with anyone who has ever felt the weight of their mistakes and longed for redemption. Let us delve deeper into the powerful themes of repentance and grace in this timeless hymn.
As we embark on this spiritual journey of self-reflection, it is essential to understand the significance of the cross. The cross holds immense symbolism in Christianity, representing the ultimate sacrifice Jesus made for humanity's salvation. His crucifixion is a reminder of both the depths of our sins and the boundless love and forgiveness offered by our Savior.
The verse starts with the evocative line, "Before Thy cross lamenting, my Savior, I would lie." This opening sets the tone for the song as a personal plea from the individual, acknowledging their need for repentance and expressing their desire to be near the cross. The cross becomes a place of solace, a haven where one can find solace, forgiveness, and redemption.
The songwriter continues, saying, "Of all my sins repenting, that caused my Lord to die." These words highlight the songwriter's awareness of their role in Jesus' crucifixion. They recognize that their sins, along with the collective sins of humanity, contributed to the immense suffering endured by their Savior. This acknowledgment creates a profound sense of remorse, leading to genuine repentance.
In the midst of this lament, the songwriter's soul is filled with tears of anguish as they confess their follies. This act of confession is an essential part of the repentance process. By acknowledging their mistakes openly and honestly, the individual shows a willingness to confront their shortcomings and take responsibility for their actions.
Furthermore, the line, "Oh, while in pain I languish, restore me by thy grace," exemplifies their deep desire for restoration and renewal. The songwriter recognizes that their wrongdoings have caused them pain and longing for a fresh start. The plea for restoration captures the essence of seeking God's grace, as they humbly ask for divine intervention to heal and transform their lives.
Repentance is not merely about expressing sorrow but also about making amends and turning away from sinful behaviors. The act of repentance invites change within individuals, urging them to lead lives aligned with God's teachings. In the hymn, the songwriter understands the importance of their soul's transformation and seeks the grace necessary to embark on this journey.
Repentance, however, is not a one-time event but a continuous process. It requires introspection and ongoing efforts to stay on the path of righteousness. It is a journey of growth and self-improvement, as one strives to embody the virtues taught by Jesus Christ.
The beauty of this hymn lies in its earnest plea for restoration and forgiveness. It reminds us that no matter how far we may have strayed or how grievous our sins, there is always hope for redemption. God's grace knows no limits, and through our genuine repentance, we can find solace and healing in the embrace of our Savior.
Moreover, this hymn serves as a powerful reminder that none of us are exempt from the need for repentance. No matter our age or station in life, we all make mistakes and fall short of perfection. However, it is in acknowledging our faults and seeking forgiveness that we find the strength to grow spiritually and become better versions of ourselves.
In conclusion, "Before Thy Cross Lamenting My Savior I Would Lie" is a poignant hymn of repentance and redemption. It resonates with the universal human experience of recognizing our wrongdoings, seeking forgiveness, and aspiring to live more virtuous lives. Let us remember that God's grace is boundless, and through genuine repentance, we can find restoration, peace, and ultimate salvation.
I hope this hymn inspired image brings you hope and peace. Share it with someone who needs it today!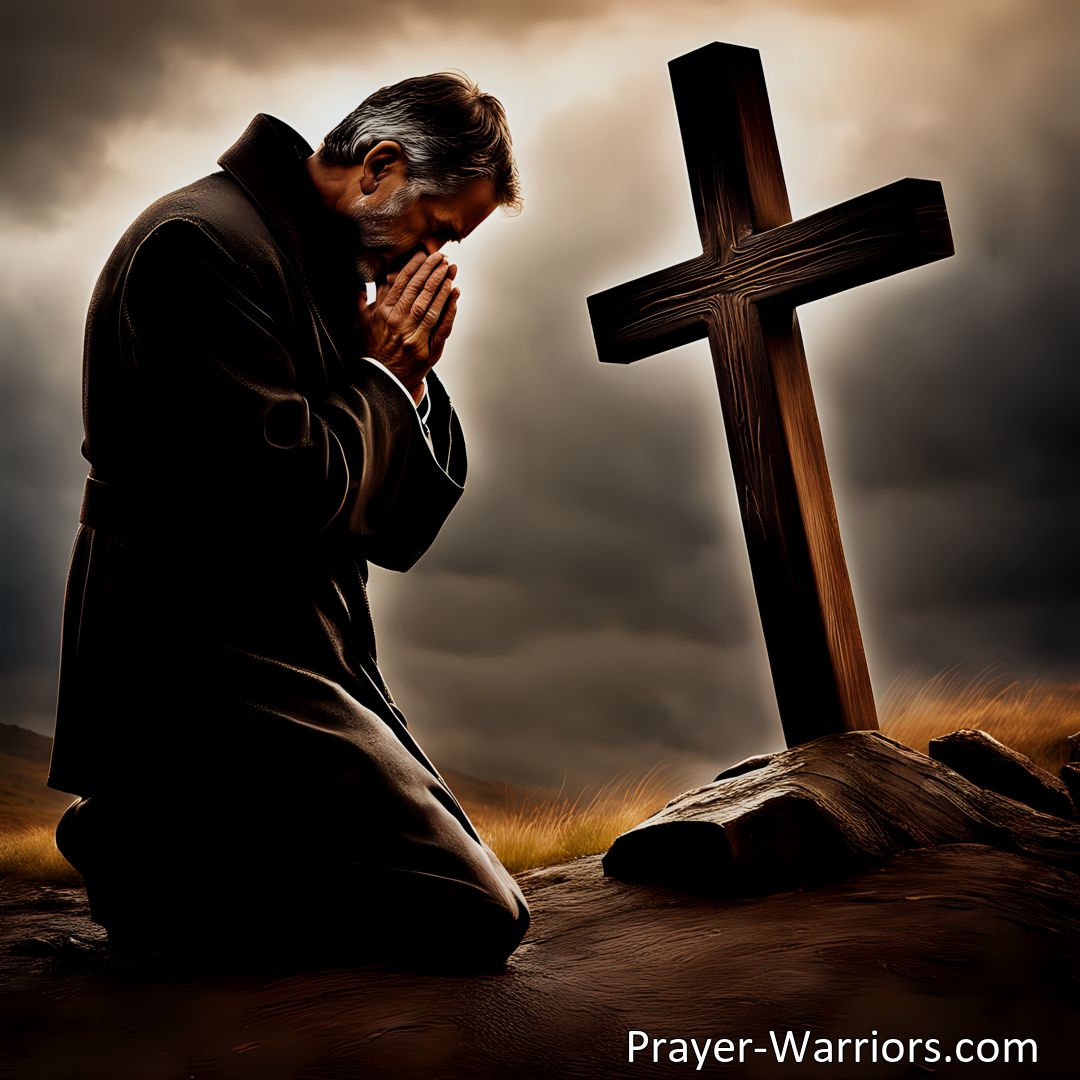 Join the Prayer Warriors Community!
Sign-up for our newsletter and embark on a transformative journey with Prayer. Enter your email below and become a part of our Prayer Warriors family.