Behold My Soul The Narrow Bound – Hymn Lyric
summary.txt
---
---
Behold My Soul The Narrow Bound – Hymn Lyric
Behold, my soul, the narrow bound
Of the revolving year:
How swift the weeks complete their round,
How short the months appear.
So fast eternity comes on,
And that important day,
When all that mortal life has done
God's judgment shall survey.
Yet, like an idle tale, we spend
The swift-advancing year;
And study artful ways to mend
The speed of its career.
Waken, O God! my trifling heart,
Its great concern to see;
That I may act the Christian part,
And give the year to thee.
So shall their course more grateful roll,
If future years arise;
Or this shall bear my happy soul
To joy that never dies.
Meaning of Behold My Soul The Narrow Bound
Behold My Soul The Narrow Bound: Reflecting on the Swiftness of Time and the Importance of Living a Christian Life
As we gaze upon the hymn "Behold My Soul The Narrow Bound," penned with wisdom and candor, we are reminded of the fleeting nature of time and the significance of living a righteous life. Within its verses lies a plea to awaken our hearts to the brevity of life's passing moments and to dedicate ourselves to the Christian path. Let us explore the profound ideas contained in this hymn and delve into the essence of its message.
The hymn commences by presenting an introspective reflection on the passage of time – the revolving year, the rapid completion of weeks, and the apparent shortness of months. It serves as a poignant reminder to our souls that eternity awaits, and with it, the day of judgment when our deeds will be weighed before God. The hymn sets the stage for a deep contemplation of our existence and the choices we make as mortals.
However, despite this solemn truth, we often find ourselves frittering away our days as if they were idle tales. Rather than cherishing the value of each passing year, we futilely invest time in pursuits that bear no significance in the grand scheme of things. The hymn implores us to discard such trivialities and instead redirect our focus towards the pursuit of righteous living – to be mindful of our actions and to lead a life that aligns with Christian principles.
In society, we often become preoccupied with the art of distraction and find ways to prolong our earthly endeavors. We strive to manipulate the speed at which time elapses, seeking solace in temporal pleasures and worldly achievements. Yet, this hymn encourages us to awaken our hearts from such trivial pursuits and instead fix our gaze upon the true purpose of our existence. It urges us to recognize the great concern that lies beneath the surface of our mundane lives – one that calls for us to nurture our relationship with God and fulfill the calling of being a true Christian.
The hymn's poignant plea for awakening serves as a reminder that time is a precious gift, not to be squandered but treasured. Each passing year should be cherished, for it holds the potential for growth, spiritual development, and deeper understanding. We are urged to enter into a state of consciousness about the passage of time and utilize it wisely in service to our faith. By doing so, we fill our days with purpose and meaning, ensuring that the years bear testimony to a life well-lived.
With renewed focus and dedication, the hymn implores us to offer the coming years to God. By surrendering our desires and ambitions to the divine, we pledge to embark on a journey guided by faith and devoted to the principles of Christianity. In relinquishing our own will, we align ourselves with a higher purpose, seeking to grow in righteousness and to serve God in all aspects of our lives.
By accepting this divine calling, we infuse our days with gratitude and make the passing years more meaningful. The hymn highlights that if future years arise, they will bear the imprint of a soul dedicated to God, whose actions reflect the steadfast principles of the Christian faith. Alternatively, should this year be our last, guided by a life well-lived, our souls will find everlasting joy beyond death's embrace.
In conclusion, "Behold My Soul The Narrow Bound" serves as a poignant reminder of the fleeting nature of time and the importance of living a Christian life. It urges us to awaken our hearts and recognize the passing years as opportunities for spiritual growth, rather than moments to be frittered away. By embracing the hymn's message and living in accordance with Christian principles, we can infuse our days with purpose and meaning, ensuring that our journey through life leaves an indelible mark guided by faith and filled with love. As we sing these words of profound wisdom, let them resonate within our souls, inspiring us to live a life worthy of our calling as Christians.
I hope this hymn inspired image brings you hope and peace. Share it with someone who needs it today!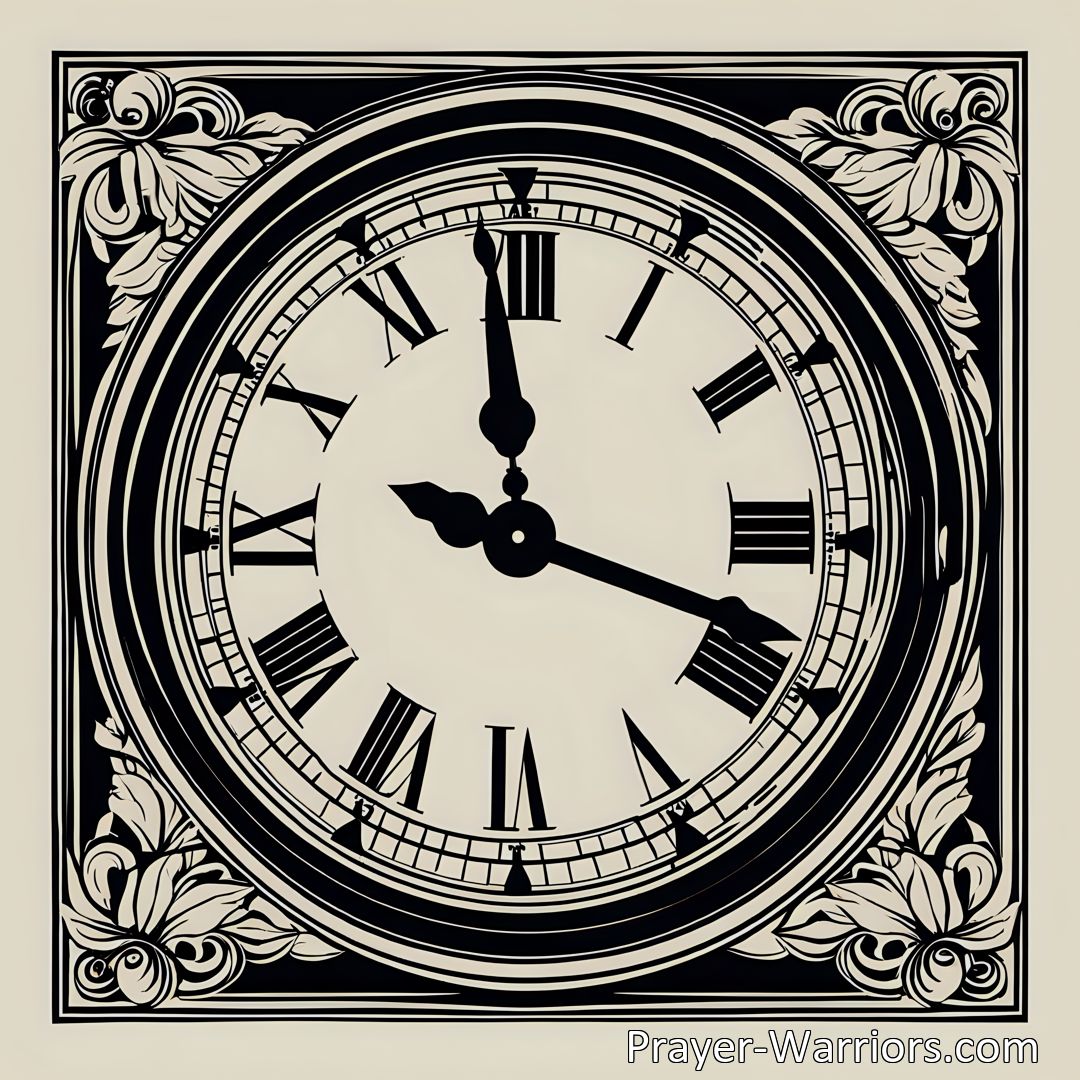 Join the Prayer Warriors Community!
Sign-up for our newsletter and embark on a transformative journey with Prayer. Enter your email below and become a part of our Prayer Warriors family.