Can I Bid Thee Lovely Stranger – Hymn Lyric
"Can I Bid Thee Lovely Stranger: A Warm Welcome to Life's Journey. Welcome, dear stranger, to a world filled with care. As you embark on your journey, be aware that it is also a world where many dangers and snares lie in wait. However, let not fear cloud your mind, for there is also hope that paints a more beautiful picture."
---
---
Can I Bid Thee Lovely Stranger – Hymn Lyric
Can I bid thee,
lovely stranger,
Welcome to a world of care?
Where attends thee
many a danger,
Where awaits thee
many a snare?
Hence, away,
ye dark surmizes,
Hope presents
a fairer scene;
Many a blooming
pleasure rises,
Many a sunbeam
shines serene.
O may providence
defend thee!
Circled in its
guardian arms,
Dangers may
in vain attend thee,
Safe amid
surrounding harms.
Shall I wish the world
caressing?
Wish thee pleasure,
grandeur, wealth?
No-but many a nobler
blessing;
Wisdom, virtue,
friendship, health.
May'st thou know
the gracious donor,
Early know,
and love and praise!
Then shall real
wealth and honour,
Peace and pleasure
crown thy days.
Meaning of Can I Bid Thee Lovely Stranger
Can I Bid Thee Lovely Stranger: A Warm Welcome to Life's Journey
Welcome, dear stranger, to a world filled with care. As you embark on your journey, be aware that it is also a world where many dangers and snares lie in wait. However, let not fear cloud your mind, for there is also hope that paints a more beautiful picture. In this world, countless joys bloom, and gentle sunbeams shine, offering solace and serenity.
I wish for providence to always be by your side, encircling you with its protective arms. May the dangers that may come your way be in vain, unable to harm you, as you remain safe amid the adversities of life.
But do I wish for you to walk a path of constant pleasure, wealth, and grandeur? No, my dear friend, there are far nobler blessings to desire. I wish for you to attain wisdom, virtue, friendship, and health. These are the true treasures that will enrich your life.
May you come to know the gracious donor of these blessings, recognizing early on the source of all that is good. Love and praise this giver of gifts, for in doing so, you will find real wealth and honor. Peace and pleasure shall crown your days, bringing you a sense of fulfillment and contentment.
In this vast and sometimes chaotic world, it is important to remember that each new encounter brings with it the potential for growth and connection. As a stranger, you have the opportunity to learn, to expand your horizons, and to embrace the diversity that surrounds you. Do not let the fear of the unknown hinder your progress, but rather, let curiosity guide you towards new experiences.
Through the lens of curiosity, the world will open up to you like a treasure trove of knowledge and understanding. Seek out new perspectives, engage in conversations with people from different backgrounds, and embrace the power of empathy. By doing so, you will enrich your own life and contribute positively to the lives of those you encounter.
While the world may present challenges and obstacles, it is important to remember that within every difficulty lies an opportunity for growth. Embrace these challenges as stepping stones towards becoming a stronger, wiser, and more compassionate individual. Face adversity with resilience and determination, knowing that you have the strength within you to overcome any obstacle.
Surround yourself with like-minded individuals who value wisdom, virtue, and friendship. Cherish those who uplift and inspire you, and in turn, be the kind of friend who brings joy and support to others. True friendship is a gift to be treasured, a bond that can weather any storm.
As you navigate through life, remember to take care of your physical and mental health. Prioritize self-care and seek balance in all aspects of your life. Nurture your body with healthy habits, and nurture your mind with positivity, knowledge, and self-reflection. Your well-being is a precious gift that should never be neglected.
In conclusion, dear stranger, welcome to this intricate tapestry called life. As you embark on your journey, may you always be filled with hope and courage. Remember that within the challenges and dangers, there are also countless moments of joy and serenity. Treasure the blessings of wisdom, virtue, friendship, and health. Embrace every encounter and opportunity for growth. And above all, may you find peace and pleasure as you navigate the twists and turns of this beautiful and unpredictable world.
I hope this hymn inspired image brings you hope and peace. Share it with someone who needs it today!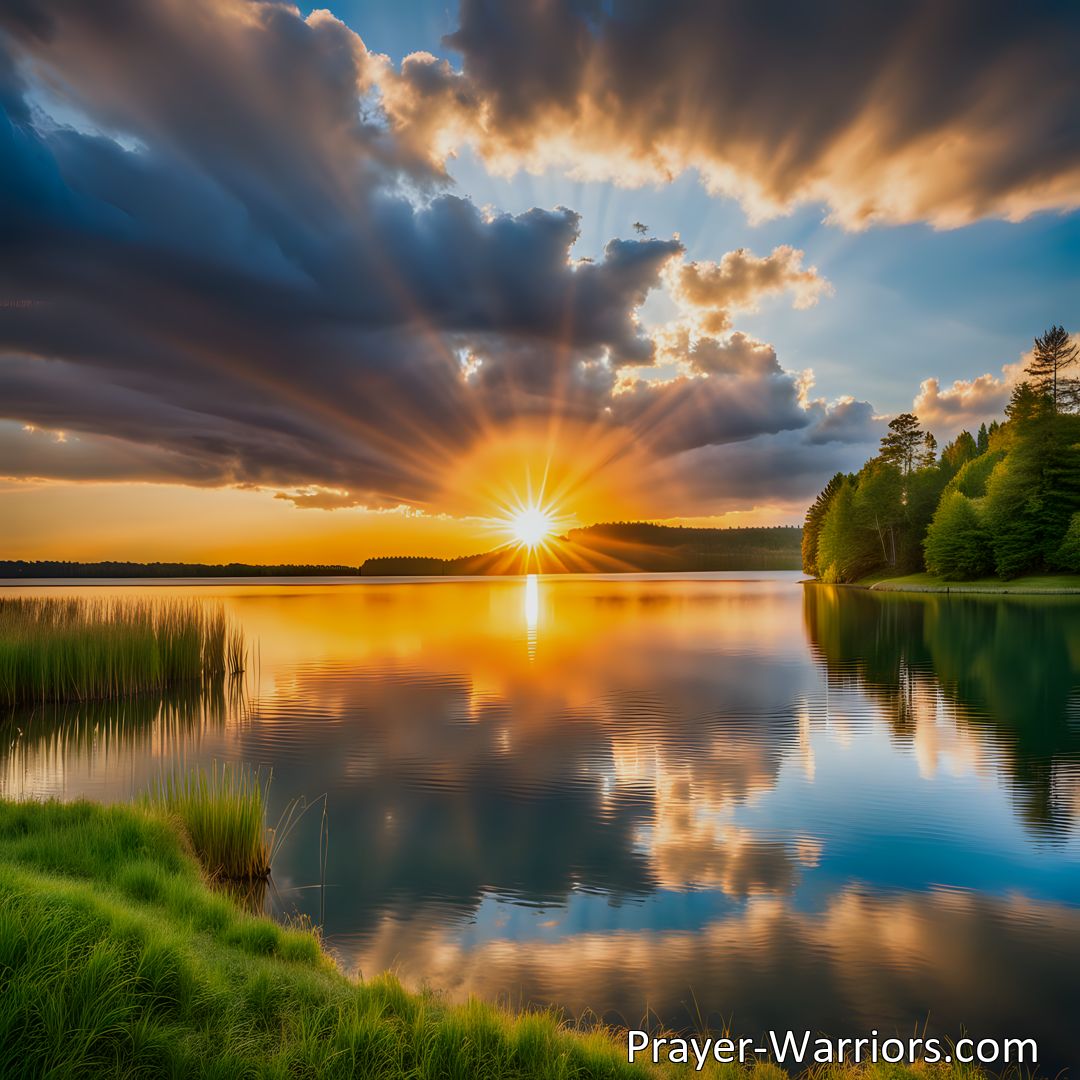 Join the Prayer Warriors Community!
Sign-up for our newsletter and embark on a transformative journey with Prayer. Enter your email below and become a part of our Prayer Warriors family.