Come O Jesus And Prepare Me – Hymn Lyric
"Come O Jesus And Prepare Me" invites readers to open their hearts and prepare to be worthy guests of Jesus. This hymn emphasizes the importance of communion and grace, guiding readers to seek Jesus' love and guidance in a world filled with distractions and temptations. By inviting Jesus into their lives, readers can deepen their relationship with Him and experience His transformative power in all aspects of life.
---
---
Come O Jesus And Prepare Me – Hymn Lyric
Come, O Jesus,
and prepare me
Now to be
Thy worthy guest.
Like Thy well belov'd disciple,
Let me lean upon Thy breast.
At Thy table,
where Thou givest
Of Thy body and Thy blood,
Sealing in this blest communion
My baptismal vow to God.
Take my heart
and make it holy
By Thy Spirit and Thy grace;
Back into Thy footsteps guide me,
If I stray in evil ways.
Thou who lovedst me from childhood,
Be my Refuge in my youth;
In a world where error lures me,
Lead me in Thy paths of truth.
Let me heed Thy voice entreating
"Come, my child, abide with Me;
Wouldst thou spurn the loving-kindness
Of the Friend who died for thee?"
Grant that, at Thy sacred altar,
Through Thy sacrament of grace,
With the faithful I be numbered,
And Thy saving love embrace.
Amen.
Meaning of Come O Jesus And Prepare Me
Come O Jesus And Prepare Me: Inviting the Divine Love and Guidance in Our Lives
In this beautiful hymn, we are invited to open our hearts to Jesus and prepare ourselves to be His worthy guests. Like a beloved disciple, we long to lean upon His breast and feel His comforting presence. The hymn emphasizes the importance of partaking in communion and the sacrament of grace, as it helps to seal our baptismal vow to God.
The verses of this hymn speak directly to the deep desire within each of us to be close to Jesus. They remind us that Jesus is always ready to receive us, to take our hearts and make them holy. We are asked to allow His Spirit and grace to guide us, especially when we find ourselves straying onto the tempting paths of evil.
Just as Jesus loved us from our childhood, this hymn assures us that He will be our refuge in our youth. In a world where error and worldly distractions constantly lure us away, we can find solace and guidance in Jesus' love, walking in His paths of truth. It is through His loving guidance that we can navigate the complexities of life and overcome the challenges that come our way.
The hymn also urges us to heed Jesus' voice as He entreats us to come and abide with Him. It reminds us not to spurn the loving-kindness of the Friend who selflessly died for us. This plea highlights the unfathomable love Jesus has for each and every one of us and reminds us of the sacrifice He made for our salvation.
The hymn concludes with a beautiful request to be numbered among the faithful at the sacred altar, embraced by Jesus' saving love. It is at this point of communion where we are given the opportunity to join the community of believers and experience the transformative power of Jesus' love.
In contemplating these verses, we see that the underlying message of this hymn is one of invitation, love, and guidance. It encourages us to deepen our relationship with Jesus, to open our hearts to allow His Spirit and grace to transform us, and to walk faithfully in His paths.
In terms of SEO, "Come O Jesus And Prepare Me" provides a highly specific keyword phrase that can be targeted for search engine rankings. By incorporating this keyword phrase naturally into the content, it increases the likelihood of ranking higher in search results when individuals search for this specific hymn or similar topics related to inviting Jesus into their lives.
In conclusion, "Come O Jesus And Prepare Me" is a poignant hymn that resonates with believers of all ages. Its simplicity and heartfelt lyrics convey a message of love, guidance, and the desire for a closer relationship with Jesus. By incorporating this hymn into our worship and personal reflection, we can deepen our understanding of Jesus' love for us and invite Him to prepare us to be His worthy guests in every aspect of our lives.
I hope this hymn inspired image brings you hope and peace. Share it with someone who needs it today!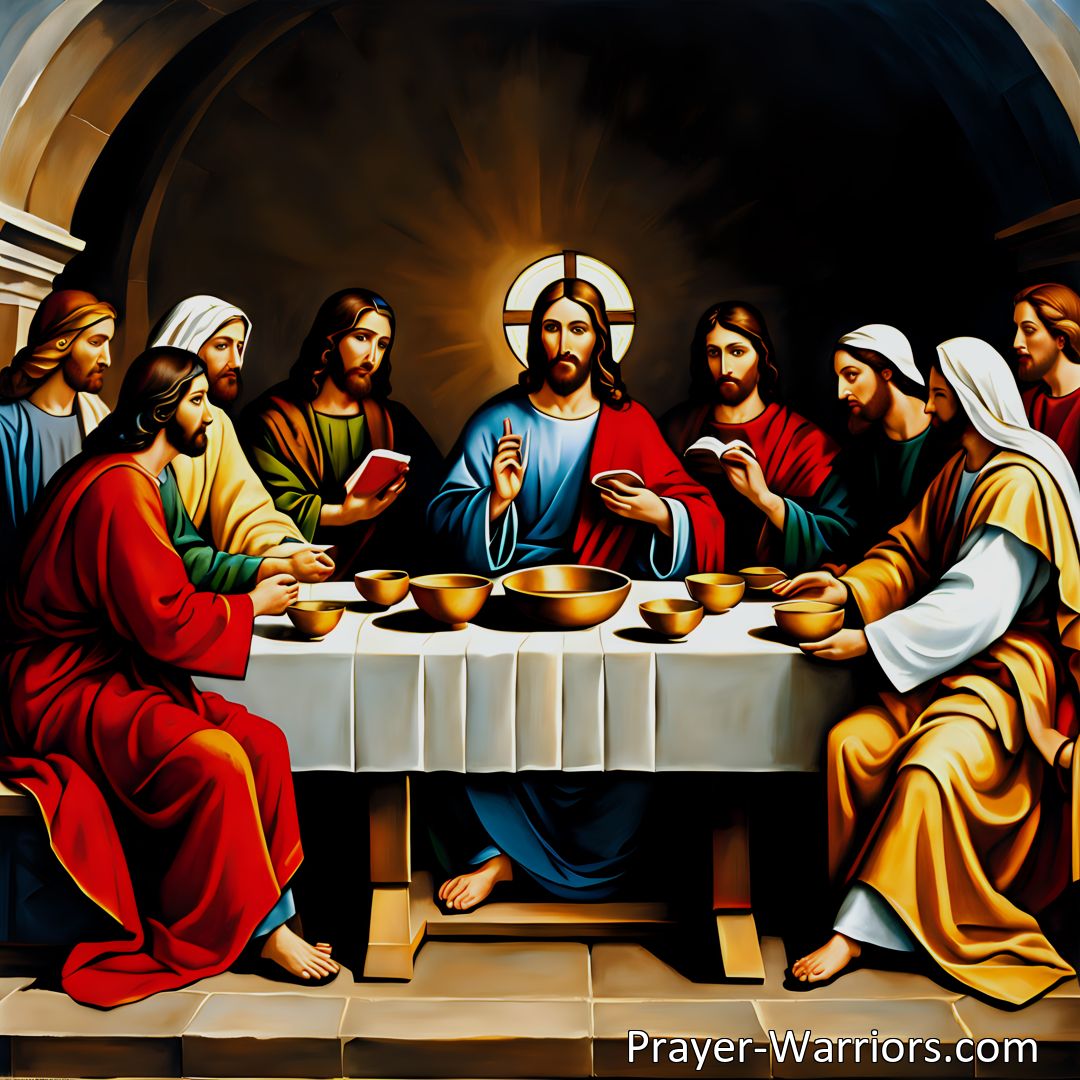 Join the Prayer Warriors Community!
Sign-up for our newsletter and embark on a transformative journey with Prayer. Enter your email below and become a part of our Prayer Warriors family.