Come O My Soul And Sing – Hymn Lyric
"Come, O My Soul And Sing" is a hymn that invites us to reflect on Jesus' love and grace. Through his selfless act of giving himself as the true bread, he nourishes our souls and captures our hearts. As we delve into this hymn, let us explore themes of love, adoration, and the transformative power of encountering Jesus.
---
---
Come O My Soul And Sing – Hymn Lyric
Come, O my soul, and sing,
How Jesus hath thee fed
How Jesus gave Himself for thee,
The true and living bread.
I love my Saviour, Christ;
His grace did freely move,
And justly my affections claim;
I cannot help but love.
I love Thee, O my LORD;
I gladly Thee adore:
O may I never turn again!
But love Thee more and more.
O raise my feeble frame;
My little stock, improve:
Increase my ardor day by day,
And change me all to love.
Meaning of Come O My Soul And Sing
Come, O My Soul And Sing: A Hymn of Love and Adoration for Jesus
In this heartfelt hymn, "Come, O My Soul And Sing," we are invited to reflect on the immense love and grace that Jesus has shown us. Through his selfless act of giving himself as the true and living bread, he has nourished our souls and captured our hearts. As we delve deeper into the verses of this hymn, let us explore the themes of love, adoration, and the transformation that takes place when we encounter Jesus.
The hymn begins by urging our souls to sing praises to Jesus, emphasizing the personal connection between our souls and the Savior. It reminds us to remember how Jesus has fed our spiritual hunger, providing nourishment and satisfaction that nothing else in this world can offer. This idea resonates deeply within our hearts, for we all long for fulfillment and purpose, and Jesus offers us the true bread that brings eternal satisfaction.
As we continue in the verses, the hymn highlights the love we have for our Saviour. It speaks of how his grace freely moved in our lives, drawing us close to him and igniting a love within us that we cannot help but respond to. It captures the beauty of a genuine and unforced affection for Jesus, as we acknowledge his rightful claim on our hearts. It is a love that is not compelled but willingly given, born out of a recognition of the incredible love he has shown us.
With every passing line, the hymn deepens our love and adoration for the Lord. We profess our adoration for Jesus, expressing our desire to worship him wholeheartedly. Our love for him overflows, and we fervently pray that we never turn away from him but continue to love him more and more each day. This is the longing of a soul captivated by the love of Christ, seeking to remain steadfast and faithful in our devotion.
Furthermore, the hymn acknowledges our own limitations and dependence on Jesus. It recognizes our feeble frames and our limited resources, and it is in this humility that we ask Jesus to raise us up and empower us to love him more faithfully. We acknowledge our need for his guidance and strength as we strive to become vessels of love in this world.
As we sing these words, there is a transformative power at work within us. The hymn speaks of our desire for our little stock of love to be increased and for our ardor for Jesus to grow day by day. It encapsulates the journey of faith, a gradual transformation of our hearts as we encounter the love of Christ and allow it to shape us from the inside out. It is a prayer for change, a plea for our lives to be completely transformed and filled with love, reflecting the character of our Savior.
In conclusion, "Come, O My Soul And Sing" is a beautiful hymn that encompasses the themes of love, adoration, and transformation. It speaks to the deep longing within us to encounter Jesus and be transformed by his love. It reminds us of the nourishment he provides for our souls and the rightful claim he has on our affections. May this hymn serve as a reminder to continually seek Jesus, to love him more fervently each day, and to allow his love to bring about a radical transformation within us. Let us lift our voices and sing, for our souls have found their true home in Jesus.
I hope this hymn inspired image brings you hope and peace. Share it with someone who needs it today!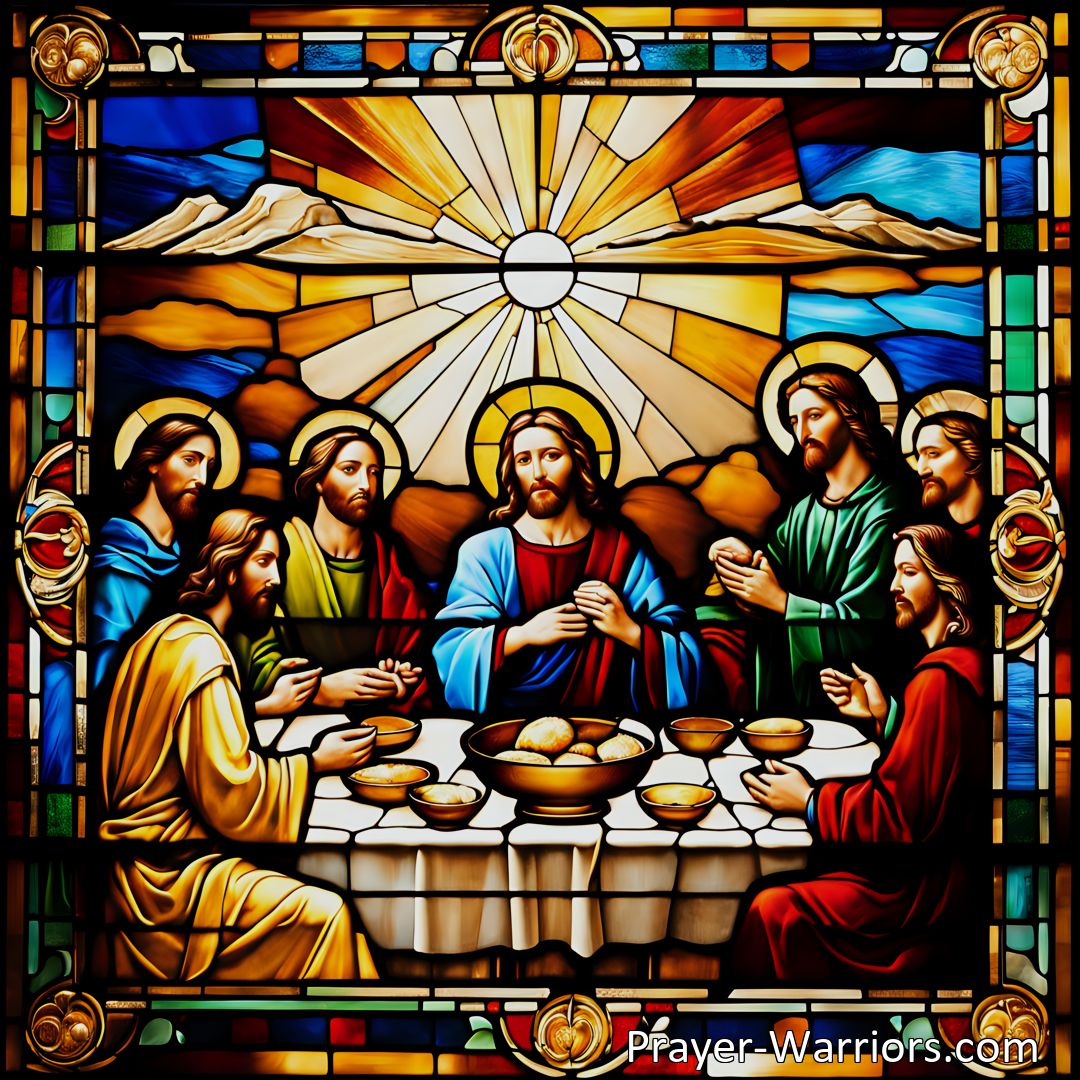 Join the Prayer Warriors Community!
Sign-up for our newsletter and embark on a transformative journey with Prayer. Enter your email below and become a part of our Prayer Warriors family.