Come Ye That Love The Saviors Name – Hymn Lyric
"Come Ye That Love The Savior's Name" is an uplifting hymn that invites believers to openly declare their love for their Savior. With its joyful refrain and powerful imagery, it encourages us to share the beauty of the Savior's presence with others and aspire to love as the angels do. This hymn serves as a unifying force, reminding us that our shared love for the Savior's name transcends differences and denominational barriers.
---
---
Come Ye That Love The Saviors Name – Hymn Lyric
Come, ye who love the Savior's name,
And joy to make it known;
The sov'reign of your hearts proclaim,
And bow before the throne.
Refrain:
Come! Come! All ye who love his name,
Come! Come! Your Sov'reign now proclaim.
Behold your king, your Savior crowned,
With glories all divine,
And tell the wond'ring nations round,
How bright those glories shine.
[Refrain]
When in his earthly courts we view
The beauties of our King,
We long to love as angels do,
And with their voice to sing.
[Refrain]
Meaning of Come Ye That Love The Saviors Name
Come Ye That Love The Savior's Name: A Hymn of Devotion and Proclamation
In the realms of faith, there exists an invitation echoing across the sands of time. It is an invitation extended to all those who hold dear the name of the Savior. "Come, ye who love the Savior's name," the hymn begins, resonating with divine camaraderie and an exuberant spirit of joy.
The opening verse serves as an uplifting call to action, beckoning believers to step forward and declare their allegiance to the sovereign ruler of their hearts. It is a reminder that love for the Savior is not meant to be kept hidden in the depths of our souls but rather vocalized, shared, and celebrated. The refrain amplifies this sentiment, urging all who love His name to rise up together, proclaiming His dominion with resounding voices.
Indeed, the hymn reminds us of the splendor and majesty found in the person of our Lord and King. He is portrayed as adorned with divine glories, radiating a brilliance that captivates the hearts of all who behold Him. In this portrayal, we are compelled to share the wonders of His presence with the nations, stirring their curiosity and inviting them to partake in the revelation of His light.
When we gather in the earthly courts of our King, an ethereal beauty envelopes our senses. It is a beauty that encapsulates the essence of His character and draws us closer to His heart. In these moments, we yearn to love as the angels love, for it is through their example that we find inspiration to transcend the boundaries of our humanness and emulate the purest form of devotion. With voices lifted high, we aspire to join in harmony with the angelic choirs, adding our own fervent praises to the symphony of adoration.
"Come Ye That Love The Savior's Name" is more than just a hymn; it is a guidepost, pointing us towards a deeper understanding of our faith and the significance of publicly acknowledging our love for Christ. It represents an open invitation for all who believe to come together, transcending differences and denominational barriers. It is a unifying force that reminds us that our shared love for the Savior's name supersedes any divisions that may exist among us.
Within the context of this hymn, there lies an inherent opportunity for evangelism. By incorporating the title "Come Ye That Love The Savior's Name" as an SEO keyword, it becomes a powerful tool for search engine optimization, effectively reaching a wider audience. Those who may be yearning for a connection to something greater, searching for answers or seeking solace in a troubled world, could stumble upon these words and find solace, hope, and inspiration.
The hymn's accessibility on a 7th-grade literacy level allows it to resonate with a wide range of individuals, regardless of their age or educational background. Its simplicity in structure and language conveys the central message of love and adoration, thus ensuring that it remains approachable to all who encounter it.
As we traverse the journey of life, let us remember the invitation extended through this cherished hymn. Let us find solace and strength in the adoration of the Savior's name, and let us proclaim His sovereignty with unwavering devotion. In doing so, we impart a message of hope, love, and unity to a world that desperately needs it, and honor the essence of the hymn's title, "Come Ye That Love The Savior's Name."
I hope this hymn inspired image brings you hope and peace. Share it with someone who needs it today!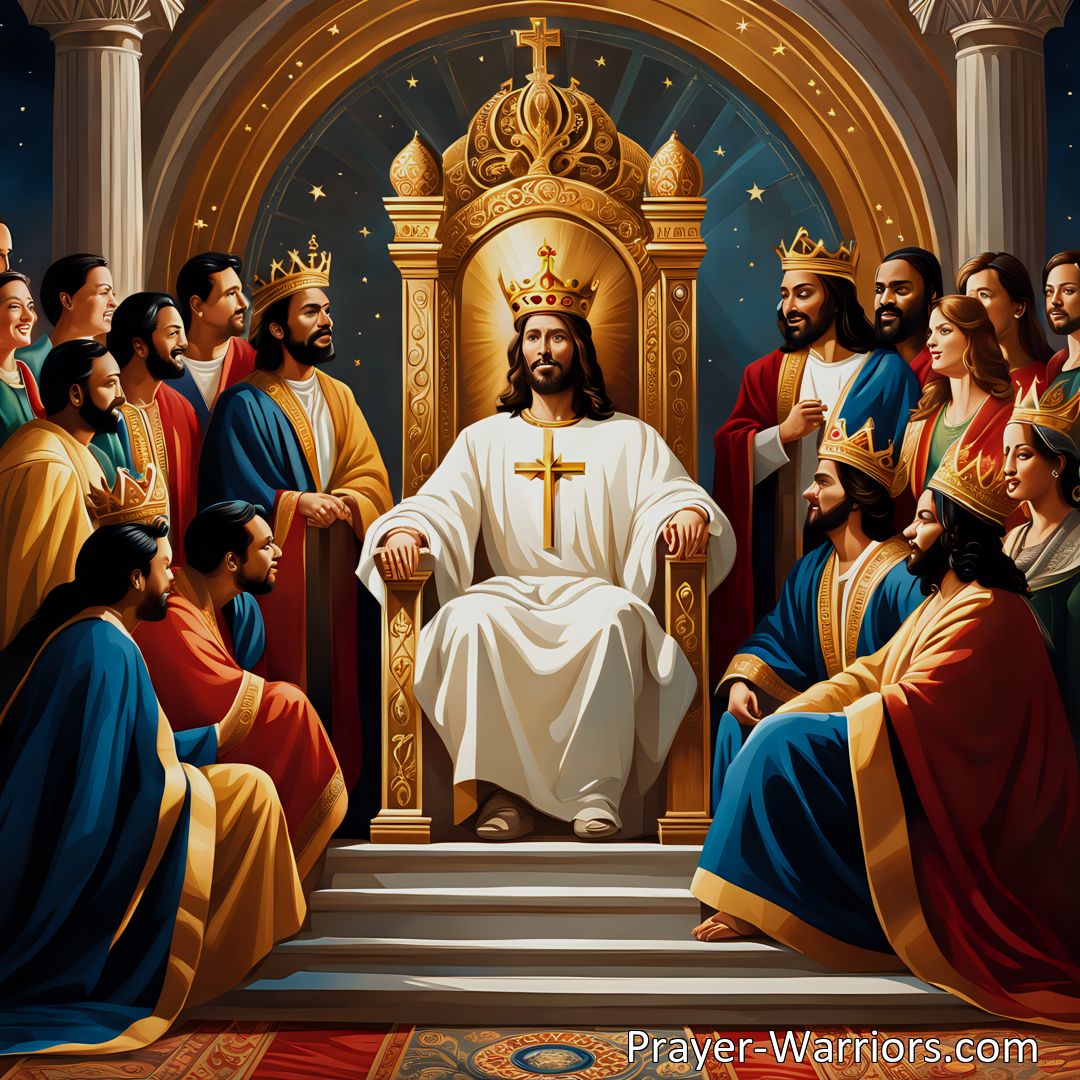 Join the Prayer Warriors Community!
Sign-up for our newsletter and embark on a transformative journey with Prayer. Enter your email below and become a part of our Prayer Warriors family.