Everything Is In Your Hands – Hymn Lyric
summary.txt
---
---
Everything Is In Your Hands – Hymn Lyric
Everything is in Your hands
Everything is in Your hands
Everything is in Your hands, oh God
My past and my present, and things yet to come
My days are in Your hands, each and every one
I know You can handle any challenge that I face
You promised You'd be there, every step that I take
There's nothing too big, that You aren't bigger
Remind us again Lord, that You are in control
We know You can handle any challenge that we face
You promised You'd be there, every step that we take
Meaning of Everything Is In Your Hands
In times of uncertainty and doubt, it can be comforting to remind ourselves that everything is in God's hands. No matter what challenges we may face, we can find solace in knowing that God is in control and will be there for us every step of the way.
Life can sometimes feel overwhelming, especially when we think about our past, our present, and the unknown future. But with this hymn, we are reminded that God holds everything in His hands. Our past mistakes, regrets, and accomplishments are all within His grasp. He understands our journey and knows how to guide us towards a brighter future.
Not only does God hold our past, but also our present. He is with us in every moment, offering guidance and support. When we feel lost or uncertain, we can trust in His wisdom to lead us on the right path. No matter what obstacles we may face, we can take comfort in knowing that God is there to help us overcome them.
And as for the future, well, that's in God's hands too. We may worry about what lies ahead, but we can find peace in the knowledge that God has a plan for us. He knows the path we are meant to take and will guide us towards it. We may not always know what the future holds, but we can trust that God has our best interests at heart.
Life is full of challenges, some big and some small. But no matter how daunting these challenges may seem, we can take comfort in the fact that God is bigger. There is nothing too big for Him to handle. When we feel overwhelmed, we can remind ourselves that God's power is unparalleled. He is capable of tackling any obstacle that comes our way.
Sometimes, we need a gentle reminder that God is in control. We may start to doubt or question His authority, especially when things don't go as planned. But in those moments, we can turn to this hymn and ask God to remind us once again that He is in control. He holds the reins of our lives and knows what is best for us. By surrendering to His will, we can find peace and contentment.
In this fast-paced and unpredictable world, it's easy to forget that God is always there for us. We can get caught up in our own worries and forget to seek His guidance. But this hymn serves as a reminder for us to rely on God, especially in times of difficulty. He promised to be there for us, and we can trust in His faithfulness.
So, as we face the challenges of life, let us remember that everything is in God's hands. Our past, present, and future are secure with Him. We can trust in His guidance, knowing that He is bigger than any obstacle we may encounter. Let us surrender to His will and seek His presence in every step we take.
Everything is in Your hands, oh God. May this truth bring us comfort and strength in our journey of faith.
I hope this hymn inspired image brings you hope and peace. Share it with someone who needs it today!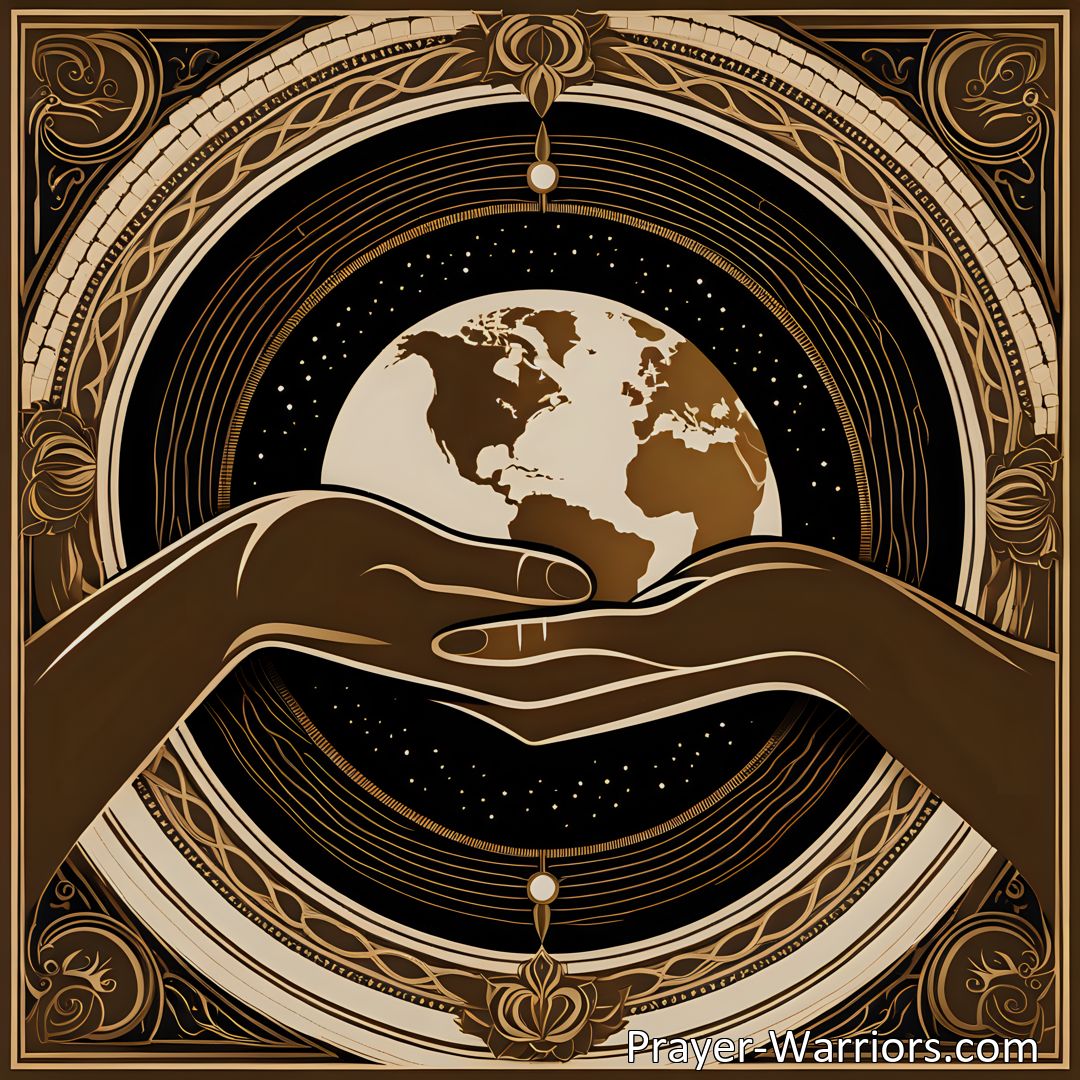 Join the Prayer Warriors Community!
Sign-up for our newsletter and embark on a transformative journey with Prayer. Enter your email below and become a part of our Prayer Warriors family.