Discover the power of group prayer! When individuals come together in unity, they create a sense of belonging and support. Through group prayer, people find strength, empathy, and compassion, enabling them to face challenges and find solace in tumultuous times.
---
---
The Power of Group Prayer: Strength in Unity
The Power of Group Prayer: Strength in Unity
Have you ever been part of a group prayer? It's a remarkable experience that brings people together, allowing them to harness their collective strength and find solace in the power of unity. Group prayer holds a unique power to provide both comfort and strength, and it has been practiced by different cultures and religions throughout history. In this article, we will explore the importance and benefits of group prayer, highlighting the strength that comes with unity.
First and foremost, let's establish what group prayer entails. It is a form of prayer where individuals gather in a common space, whether it be a place of worship or a casual meeting, to pray together as a collective. This practice symbolizes unity, as people from different backgrounds and walks of life come together, putting aside their differences and joining forces for a common purpose.
The power of group prayer lies in its ability to create a sense of belonging and connection. In a world where people often feel isolated and disconnected, group prayer offers a place where individuals can find solace and support. When people join together in prayer, they share not only their hopes and concerns but also their collective energy. This energy creates a sense of unity, as everyone focuses their thoughts and intentions towards a common goal.
One of the key benefits of group prayer is the strength it provides to those involved. When facing challenges or going through difficult times, it can be easy to feel overwhelmed and alone. However, joining a group prayer session allows individuals to draw strength from the collective energy and support of others. It reminds us that we are not alone in our struggles and that we have a community willing to stand by our side.
Moreover, group prayer fosters a sense of empathy and compassion. Through prayer, people are encouraged to think about the needs and concerns of others, not just their own. This selflessness cultivates a spirit of unity and strengthens the bonds between individuals. When we focus on the needs of others, we become more connected and invested in their well-being. Group prayer helps us build a community that cares for one another and stands together in times of hardship.
It is important to note that group prayer is not just about asking for personal favors or outcomes. It is also an opportunity to express gratitude for the blessings in our lives, to seek guidance, and to find peace within ourselves. Through group prayer, we can explore the deeper meanings of life and connect with a higher power or divine presence. This spiritual aspect adds another layer of strength to the unity found in group prayer.
In addition to emotional and spiritual strength, group prayer has been proven to provide psychological benefits. Research has shown that participating in group prayer can decrease stress levels, alleviate anxiety and depression, and promote a more positive mindset. The act of prayer itself has a calming effect on the mind and body, and when done collectively, its impact is magnified.
In times of crisis, group prayer can also serve as a powerful tool for finding hope. When communities face disasters or tragedies, coming together in prayer allows individuals to acknowledge their collective pain and find solace in shared resilience. It becomes a platform for healing and rebuilding, as people find the courage to move forward and support one another.
Furthermore, the power of group prayer extends beyond personal and communal benefits. It has the potential to create ripples of positive change in the world. When individuals come together in prayer, they can harness their collective energy to bring forth transformation and healing, not only in their own lives but also in the lives of others. The strength of unity in group prayer can inspire acts of kindness, compassion, and social change.
In conclusion, the power of group prayer is undeniable. It brings people together in unity, fostering a sense of belonging and support. Through group prayer, individuals find strength, empathy, and compassion, enabling them to face challenges and find solace in tumultuous times. The psychological, emotional, and spiritual benefits of group prayer are immense, providing a sense of peace, hope, and resilience. Furthermore, the energy generated through collective prayer has the potential to create positive change, not only in the lives of those involved but also in the broader world. So, let us embrace the power of group prayer and find the strength in unity.
I hope this prayer inspired image brings you hope and peace. Share it with someone who needs it today!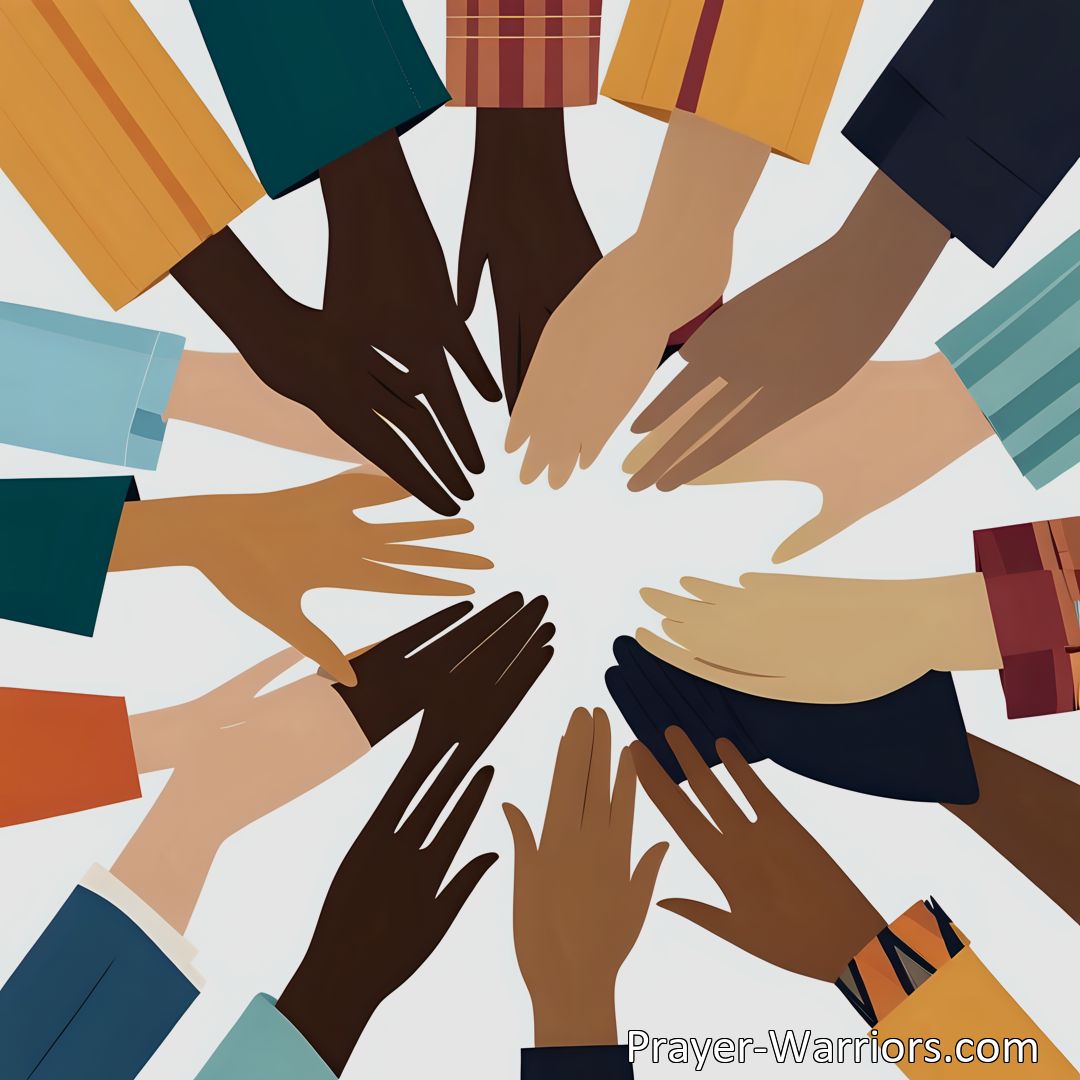 Join the Prayer Warriors Community!
Sign-up for our newsletter and embark on a transformative journey with Prayer. Enter your email below and become a part of our Prayer Warriors family.