The Power of Group Prayer: Coming Together in Unity explores the significance of group prayer, its benefits, and how it can transform lives. Group prayer creates a sense of unity and fosters strong connections among participants, allowing them to find strength and support in the face of challenges. It has a transformative effect on individuals, promoting personal growth and inspiring positive change on a larger scale.
---
---
The Power of Group Prayer: Coming Together in Unity
The Power of Group Prayer: Coming Together in Unity
In times of hardship, one of the most remarkable ways to find solace and strength is through the act of group prayer. For centuries, individuals from diverse cultures and religions have joined forces, uniting their faith and belief in a higher power, to manifest positive change and bring comfort to their lives. Group prayer holds a unique power, fostering a sense of unity and building strong connections among its participants. In this article, we will explore the significance of group prayer, its benefits, and how it can transform lives.
Group prayer is a celebration of togetherness, where individuals with a common purpose come together to communicate with a higher power. One of the essential aspects of group prayer is the feeling of unity it creates. When people gather in prayer, they shed their differences and embrace their shared humanity. Regardless of our backgrounds or beliefs, we all experience moments when life presents challenges that seem insurmountable. By joining forces through group prayer, we recognize that we are not alone in our struggles. Instead, we find strength in the support and empathy of those around us, solidifying our bond as a community.
When a group of people ignites their collective energy through prayer, a powerful force is released that transcends individual boundaries. This synergy creates a spiritual atmosphere where each person's intentions and desires become amplified. As a result, the impact of the prayers is magnified, leading to a greater likelihood of achieving desired outcomes. Group prayer is not limited to specific religious practices; it is a universal phenomenon that can be experienced by people from diverse faiths. This inclusive nature reinforces the notion that group prayer is a powerful tool that can be harnessed by anyone seeking solace and guidance.
The benefits of group prayer extend beyond the emotional and spiritual realms. Numerous studies have shown that when people join together in prayer, it has a positive effect on their overall well-being. The act of praying in a group setting has been linked to decreased stress levels, improved mental health, and increased feelings of hope and optimism. Additionally, collective prayer has been shown to enhance a participant's sense of purpose and connection to something greater than oneself.
A significant advantage of group prayer lies in the sense of shared responsibility it instills within its participants. When individuals come together to pray for a specific cause or a person in need, a sense of accountability is created. As a result, participants are motivated to take action and actively contribute to making a positive change in the lives of others. This communal effort can make a significant difference in the face of adversity, inspiring individuals to offer their support, lend a helping hand, or contribute resources to those in need.
The power of group prayer is not limited to immediate results; it also has a transformative effect on the individuals involved. Engaging in group prayer opens the door to self-reflection and personal growth. As we come together and articulate our desires and concerns, we develop a deeper understanding of ourselves and our place in the world. This introspection enables individuals to recognize their strengths, question their weaknesses, and strive for personal improvement. Through group prayer, we find solace, but we also find the drive to become better versions of ourselves.
Beyond its individual and communal benefits, group prayer has the potential to generate positive change on a larger scale. When entire communities or even nations unite in prayer, their collective intention carries enormous energy, capable of influencing societal outcomes. Examples throughout history demonstrate the impact of group prayer during times of crisis and tumultuous periods. It serves as a reminder that, together, we can combat adversity, inspire change, and shape a better future.
In conclusion, the power of group prayer lies in its ability to bring people together in unity, foster a sense of communal support, and magnify collective intentions. It transcends barriers of religion, culture, and personal beliefs, offering solace, hope, and strength to individuals from all walks of life. Group prayer not only benefits participants emotionally and spiritually but also influences their overall well-being. It instills a sense of shared responsibility, leading to positive actions and offering comfort to those in need. The transformative nature of group prayer unlocks personal growth and inspires individuals to make a difference in their lives and in the world. In times of uncertainty, when faced with challenges, we are reminded of the incredible power we possess when we come together in unity through the act of group prayer.
I hope this prayer inspired image brings you hope and peace. Share it with someone who needs it today!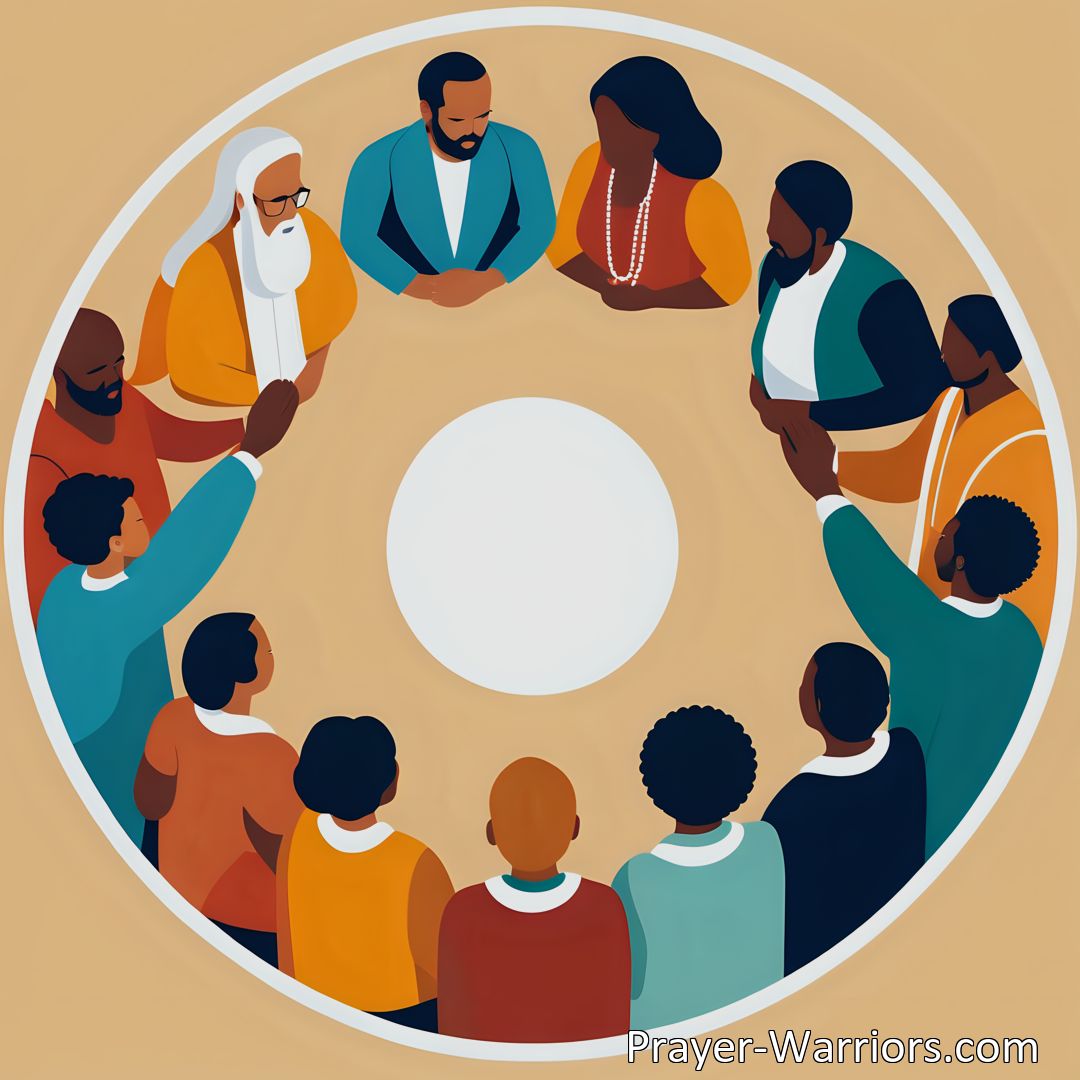 Join the Prayer Warriors Community!
Sign-up for our newsletter and embark on a transformative journey with Prayer. Enter your email below and become a part of our Prayer Warriors family.