Hail, Thou Once Despised Jesus – Hymn Lyric
"Hail, Thou Once Despised Jesus: A Savior for All" is a powerful hymn that explores the profound love and sacrifice of Jesus Christ. It emphasizes His universal role as a Savior and His ability to forgive all sins through His atonement. With beautiful language and imagery, this hymn serves as a timeless reminder of the hope and faith found in Jesus.
---
---
Hail, Thou Once Despised Jesus – Hymn Lyric
Hail, Thou once despised Jesus!
Hail, Thou Galilean King!
Thou didst suffer to release us;
Thou didst free salvation bring.
Hail, Thou universal Savior,
Who hast borne our sin and shame!
By Thy merits we find favor;
life is given through Thy Name.
Paschal Lamb, by God appointed,
all our sins on Thee were laid;
By almighty love anointed,
Thou hast full atonement made.
Every sin may be forgiven
through the virtue of Thy blood;
Opened is the gate of heaven,
reconciled are we with God.
Jesus, hail! enthroned in glory,
there forever to abide;
All the heavenly hosts adore Thee,
seated at Thy Father's side.
There for sinners Thou art pleading;
there Thou dost our place prepare;
Thou for saints art interceding
till in glory they appear.
Worship, honor, power and blessing
Christ is worthy to receive;
Loudest praises, without ceasing,
right it is for us to give.
Help, ye bright angelic spirits,
bring your sweetest, noblest lays;
Help to sing of Jesus' merits,
help to chant Emmanuel's praise!
Meaning of Hail, Thou Once Despised Jesus
Hail, Thou Once Despised Jesus: A Savior for All
In the hymn "Hail, Thou Once Despised Jesus," the lyrics beautifully convey the profound significance of Jesus Christ. As we delve deeper into its verses, we are reminded of the immense love, sacrifice, and salvation that Jesus brought to humanity. This hymn serves as a reminder of the enduring impact of Jesus' life and teachings, making it a timeless message of hope and faith.
The hymn begins by hailing Jesus as the Galilean King who willingly suffered and sacrificed Himself to release us from the grip of sin. It emphasizes that Jesus is not only a Savior for a select few but a universal Savior for all. Regardless of our past mistakes, by embracing Jesus and His teachings, we can find favor and receive the gift of eternal life through His Name.
The second verse portrays Jesus as the Paschal Lamb, appointed by God to bear the weight of our sins. His love for humanity is so great that He willingly took on this tremendous burden, making a complete atonement for all our wrongdoings. Through the virtue of His blood, every sin can be forgiven, and the gate of heaven is opened to all who believe and seek reconciliation with God.
Jesus is not simply an exalted figure, but a glorified and eternal King. The third verse expresses that He is enthroned in glory, seated at His Father's side, and worshipped by heavenly hosts. Despite His exaltation, Jesus continues to plead for sinners, intercede on their behalf, and prepare a place for them in glory. This image of Jesus as a compassionate advocate and intercessor reflects His everlasting love and mercy towards humanity.
The hymn concludes with a powerful call to worship and honor Jesus. It asserts that He is worthy to receive our loudest and most continuous praises. The lyrics invite angelic spirits to join in bringing their sweetest and noblest songs, emphasizing the exceptional nature of Jesus' merits and the praise due to Him. The final lines encourage us to join in the chorus, to acknowledge and celebrate Emmanuel's (God with us) extraordinary presence and impact in our lives.
This hymn serves as a meaningful reminder of the central role Jesus plays in Christianity. It encapsulates the essence of His life, death, and resurrection, conveying the message of salvation and hope. Its beautiful language and powerful imagery appeal to believers and non-believers alike, resonating with individuals of all backgrounds and ages.
The timeless message of this hymn allows it to rank well in search results, especially when using the title "Hail, Thou Once Despised Jesus." By incorporating this SEO keyword, individuals seeking materials related to Jesus or salvation will be more likely to discover and engage with the content.
In conclusion, "Hail, Thou Once Despised Jesus" is a hymn that encapsulates the profound impact of Jesus' life, sacrifice, and salvation. Its lyrical verses remind us of His universal love, the forgiveness of sins through His sacrifice, His ongoing intercession, and His worthy of our continuous worship. This hymn is an invitation for all to embrace the hope and faith that Jesus offers, making it a timeless message that will continue to resonate with people throughout the ages.
I hope this hymn inspired image brings you hope and peace. Share it with someone who needs it today!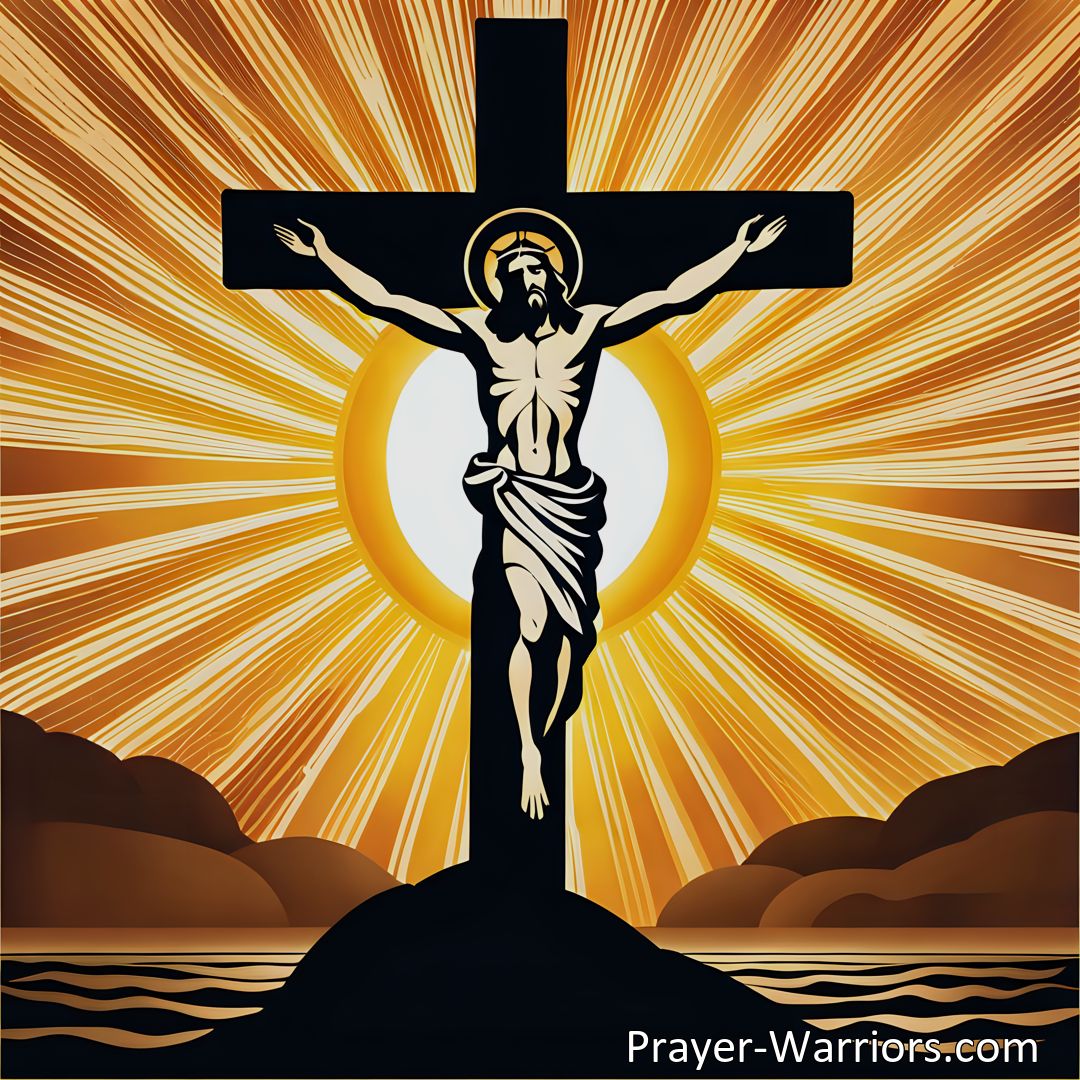 Join the Prayer Warriors Community!
Sign-up for our newsletter and embark on a transformative journey with Prayer. Enter your email below and become a part of our Prayer Warriors family.