How Shall I Know That I Am His – Hymn Lyric
summary.txt
---
---
How Shall I Know That I Am His – Hymn Lyric
How shall I know that I am His?
My heart grows sick with fear;
The humble gifts I offer Him,
How small they must appear!
O child, yield not to dark despair,
And be thou not afraid,
He gave His life to save a world,
Thy ransom has been paid.
Refrain:
Then rise, sing forth,
And bid each doubt to flee,
Go, claim the promise of His word,
"My peace I give to thee."
How shall I know that I am His?
My faith seems all too weak,
I long to have assurance mine,
Its perfect peace I seek.
O child, let naught thy peace assail;
May this thy comfort be,
'Tis not thy fitness makes thee whole,
But what He did for thee.
[Refrain]
How shall I know that I am His?
When death shall seal mine eyes
Shall I be fit to tread the streets
Of yonder paradise?
O child, thou shalt with Him abide;
Have not a single care,
For when the bonds of death are loosed
His likeness thou shall bear.
[Refrain]
Meaning of How Shall I Know That I Am His
How Shall I Know That I Am His: Understanding Assurance in Faith
In this hymn, titled "How Shall I Know That I Am His," the author explores the question of how to know if one truly belongs to God. It expresses the fear, doubt, and longing for assurance that many believers may experience, especially when their faith feels weak or when faced with the inevitability of death. The refrain offers comfort and hope, reminding us to claim the promise of God's peace. Let's delve deeper into these ideas and discover the meaning behind the lyrics.
The verse begins with an acknowledgement of the author's fear and the perceived insignificance of their humble offerings to God. They question whether their faith is strong enough and long for assurance and peace. This sentiment is relatable to many, especially at times when we may feel unworthy or inadequate in our devotion to God.
The refrain offers a powerful message. It encourages us to rise above our doubts, sing out our praises, and dismiss any fears that may assail our peace. The key lies in claiming the promise of God's word: "My peace I give to thee." This simple yet profound reminder reminds us that peace is not dependent on our own abilities or achievements but is a gift bestowed upon us by God.
The second verse addresses the doubts that arise when contemplating death and the afterlife. The author wonders if they will be fit to dwell in the paradise beyond death's embrace. In moments of contemplating our mortality, it is natural to question whether we will measure up and be deemed worthy of eternal life.
However, the hymn offers solace in the form of a comforting response. It assures the author, and us, that we will abide with God and need not worry about our fitness or preparedness. The lyrics assure us that when the chains of death are finally unbound, we will bear God's likeness.
The refrain repeats once again, emphasizing the importance of claiming God's promise of peace. This reiteration serves as a reminder to continually anchor ourselves in the assurance that God offers, even in the face of uncertainty or fear.
So, how can we relate these powerful messages to our lives today? The hymn reminds us that our faith may waver, and doubts may cloud our hearts, but that doesn't mean we are separated from God. It reassures us that our worthiness and salvation do not depend on our own efforts or perceived shortcomings but on what Christ did for us.
It is important to understand that faith is a journey, and doubts are a natural part of that journey. However, it is also crucial to seek out the answers and find reassurance when doubt threatens to overwhelm us. Just as the author sought answers through this hymn, we too can seek guidance from trusted spiritual leaders, mentors, or through personal reflection and prayer.
This hymn also invites us to reflect on the nature of God's peace. It is not a fleeting or conditional peace but a lasting and unwavering gift, offered freely to all who are willing to receive it. When we claim this promise, we can experience a profound sense of calm and assurance, even in the midst of life's challenges.
In conclusion, "How Shall I Know That I Am His" is a hymn that speaks to the human longing for assurance and peace in our faith. It acknowledges the doubts and fears that may arise but ultimately reminds us that we are not alone. By claiming the promise of God's peace and looking to the sacrifice of Christ, we can find the assurance and comfort we seek. May this hymn serve as a reminder that our worthiness and salvation rest not on our own works but on God's unfailing love.
I hope this hymn inspired image brings you hope and peace. Share it with someone who needs it today!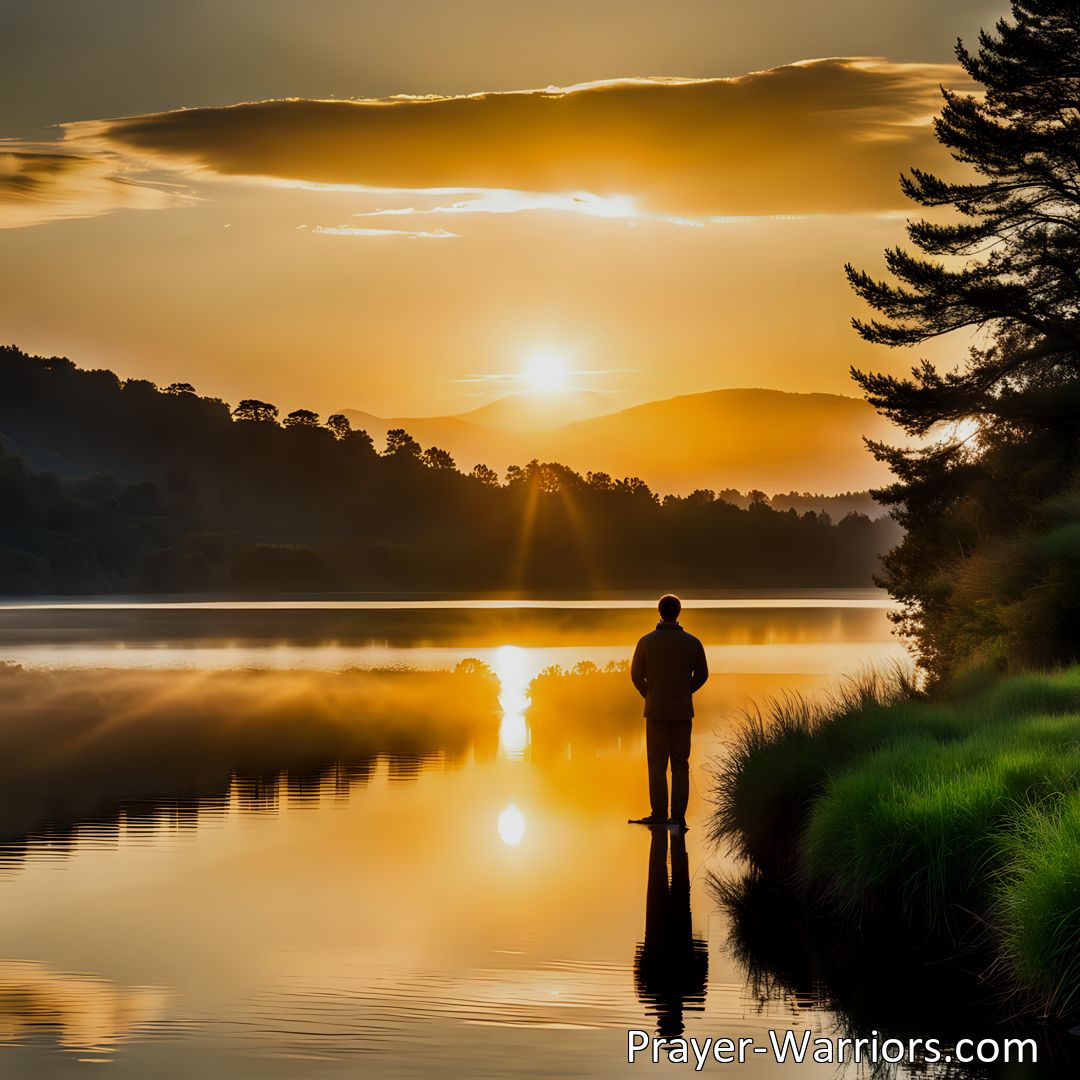 Join the Prayer Warriors Community!
Sign-up for our newsletter and embark on a transformative journey with Prayer. Enter your email below and become a part of our Prayer Warriors family.