I Have Been Alone With Jesus – Hymn Lyric
summary.txt
---
---
I Have Been Alone With Jesus – Hymn Lyric
I have been alone with Jesus,
with my head upon his breast,
For I was so very weary,
that I waited there to rest.
I have been alone with Jesus,
and he bade me stay awhile,
And I felt it very precious,
in the sunshine of his smile.
Refrain:
I've been alone with Jesus,
My blessed, blessed Jesus,
I've been alone with Jesus,
In the sunshine of his smile.
With a trembling heart I told him,
while with joy I lingered there,
All the burden of my sorrow
and my heavy weight of care;
How the voice of Satan's whisp'rings
often called me into sin,
And I asked him if I might not
stay forever there with Him. [Refrain]
Shall I tell you what he told me,
while I still was waiting there?
For it took away my trouble,
and it took away my care.
O he told me how he lov'd me,
tho' a wayward, erring child,
And I felt so very happy,
as he look'd on me and smil'd. [Refrain]
Then he told me I was welcome,
evermore with him to stay,
And he said that he would never
cast his loving child away,
"Lo!" he said, "I am thy Saviour,
as a rock I firmly stand,
Come and rest beneath my shadow,
in this weary, thirsty land."
[Refrain]
Meaning of I Have Been Alone With Jesus
I Have Been Alone With Jesus: Finding Peace in His Presence
Have you ever felt so weary that you longed for a place to rest? A place where all of your burdens and cares could be lifted from your shoulders? In the beautiful hymn "I Have Been Alone With Jesus," we are invited into a heartwarming experience of finding solace and comfort in the presence of our Savior.
The hymn begins with the powerful image of the singer finding refuge with Jesus, resting their head upon his breast. This intimate moment speaks to the deep weariness we all experience at times, and the need for a safe space to find solace. When we come before Jesus, exhausted and overwhelmed, we are met with open arms, ready to offer us rest and peace.
The refrain of the hymn repeats the phrase "I've been alone with Jesus" as if to emphasize the privilege and blessing of this personal encounter. It is a special moment when our souls are uplifted and our spirits are renewed. Just as the sunshine brings warmth and brightness to our days, so does the smile of Jesus bring light and joy to our hearts.
As we continue to dive into the verses, the singer reveals their vulnerability and opens up about the burdens that they carry. They share the struggles they face in resisting the voice of temptation, which often leads them down the path of sin. This confession is a reminder that we are all susceptible to the whispers of Satan, but it is through our alone time with Jesus that we find the strength to resist and overcome.
And what does Jesus say in response to these heartfelt confessions? He expresses his deep love for the singer, even in their waywardness and mistakes. This unconditional love and acceptance is a powerful reminder of the grace and forgiveness that Jesus extends to each one of us. We are not defined by our failures, but rather by the love that Jesus lavishes upon us.
Jesus assures the singer that they are welcome to stay with him forever, never to be cast away. He stands as a firm rock, a stronghold in times of trouble and weariness. Just as the weary traveler seeks shade beneath a tree, Jesus invites us to find rest beneath his loving shadow. In a world filled with thirst and weariness, he offers refreshment and comfort to our souls.
"I Have Been Alone With Jesus" is a hymn that resonates with our deepest longings for connection and peace. It reminds us that we have a loving Savior who is always present, ready to offer rest and renewal. In the midst of our struggles, we can find solace in his embrace and comfort in his smile.
When we spend time alone with Jesus, we give ourselves the opportunity to pour out our burdens, share our struggles, and experience his unconditional love. It is in these moments that we find true rest for our souls and a renewed sense of purpose and strength.
So, dear friend, I encourage you to carve out moments in your day to be alone with Jesus. Whether it's through prayer, meditation, or reading his word, make time to seek his presence and bask in the sunshine of his smile. You will find that as you draw near to him, he will draw near to you, offering the peace and comfort that only he can provide.
Remember, you are never alone in your journey. Jesus is always with you, ready to embrace you in your weariness and guide you through life's challenges. Allow yourself to be held by his love and find rest in his presence. For in the words of this beautiful hymn, "I have been alone with Jesus, and it is in the sunshine of his smile that I have found true joy and peace."
I hope this hymn inspired image brings you hope and peace. Share it with someone who needs it today!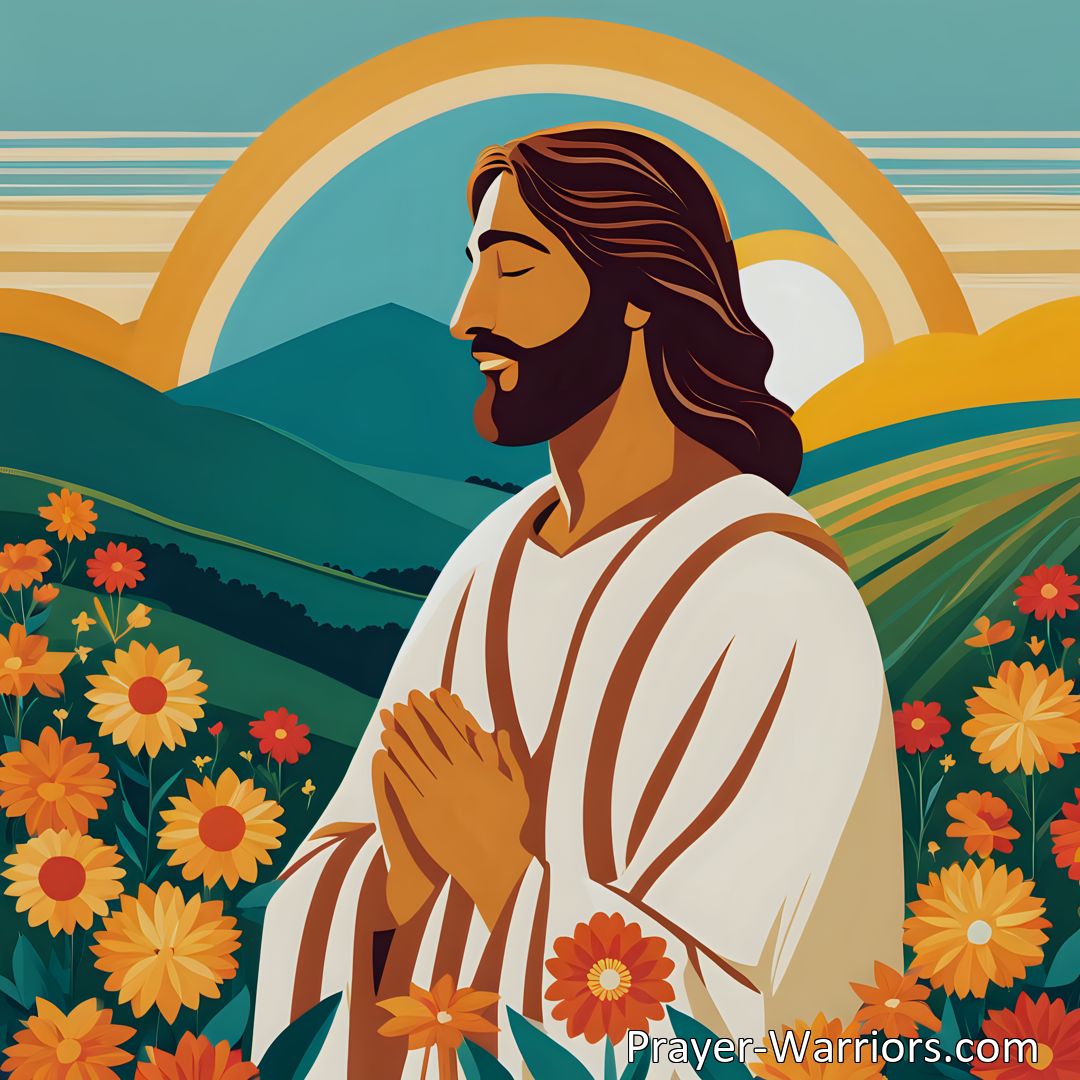 Join the Prayer Warriors Community!
Sign-up for our newsletter and embark on a transformative journey with Prayer. Enter your email below and become a part of our Prayer Warriors family.