Im Happy In Jesus And Tell It I Must – Hymn Lyric
Title: "I'm Happy in Jesus and Tell It I Must: Embracing Freedom and Joy in Christ"Discover the true happiness and freedom found in a relationship with Jesus Christ. Through redemption and forgiveness, believers are washed clean and made new. This hymn invites everyone to experience the joy of knowing Jesus and encourages us to share our happiness with others.
---
---
Im Happy In Jesus And Tell It I Must – Hymn Lyric
I'm happy in Jesus and tell it I must,
For he has redeemed me, I know;
My sins were like crimson, my heart was defiled-
He washed me as white as the snow.
Refrain:
I'm singing because I am free,
And Jesus is reigning in me;
Hallelujah! I'm happy since in him I trust,
And sing it and tell it I must.
I'm filled with the Spirit and washed in the blood,
King Jesus is living in me;
The glory of heaven beams down on my way,
I'm sanctified, happy and free.
[Refrain]
Sometimes I am tempted by Satan and sin,
Sometimes I am weary and worn;
But e'en in my darkness God's promise is true,
And gladness returns with the morn.
[Refrain]
So onward I travel to heaven above,
Through glory or sadness so drear;
By faith in his promise I'll live for the Lord,
And sing till the clouds disappear.
[Refrain]
Meaning of Im Happy In Jesus And Tell It I Must
I'm Happy in Jesus and Tell It I Must: Embracing Freedom and Joy in Christ
In a world filled with trials and tribulations, it can be difficult to find true happiness. However, for those who have found solace in Jesus Christ, happiness becomes an inherent part of their lives. The hymn, "I'm Happy in Jesus," beautifully expresses the joy and freedom that comes from knowing and following our Savior.
The author of the hymn begins by proclaiming their happiness in Jesus. They acknowledge that Jesus has redeemed them, freeing them from the burden of their sins. No longer weighed down by guilt and shame, they embrace the forgiveness and cleansing that Jesus offers. The imagery of sins as crimson and a heart as defiled vividly demonstrates the deep transformation that takes place in the life of a believer. Through Jesus, they are washed as white as snow, completely purified and made new.
The refrain of the hymn repeatedly emphasizes the happiness and freedom that the author experiences in Jesus. This refrain serves both as a proclamation of their inner state of being and a declaration to others. They are so filled with joy that they cannot help but sing and tell others about it. The enthusiasm and excitement conveyed through their words is contagious, inspiring others to seek the same happiness in Jesus.
The second verse of the hymn focuses on the spiritual transformation that takes place after accepting Jesus into one's life. The author declares that they are filled with the Holy Spirit and washed in the blood of Jesus. This imagery reminds us of the sacrifice Christ made on the cross to cleanse us from our sins. Through the indwelling of the Holy Spirit, believers are empowered to live out their faith and experience the ongoing presence of Jesus in their lives.
The hymn also speaks of the glory of heaven beaming down on the believer's way. This represents the divine guidance and provision that God offers to those who trust in Him. Even in the midst of darkness and difficulty, the promises of God remain true. The author affirms that gladness always returns with the morning, reminding us that God's mercies are new every day. This reassurance gives believers the strength to endure through temptations and weariness, knowing that God is faithful.
The final verse of the hymn encapsulates the journey of a believer to their ultimate destination – heaven. Whether walking through seasons of glory or sadness, believers trust in the promises of God and live for the Lord. The hymn acknowledges that the road ahead may not always be easy, but it reinforces the importance of faith in navigating life's challenges. It is through faith that believers find the courage to press on and sing until the clouds disappear.
In conclusion, "I'm Happy in Jesus" encapsulates the essence of finding genuine happiness and freedom through faith in Christ. The hymn encourages believers to embrace the transformation that comes from being redeemed and washed in the blood of Jesus. It invites them to share their joy with others, testifying to the goodness and faithfulness of God. By trusting in God's promises and living for the Lord, believers can navigate the ups and downs of life, knowing that the ultimate destination is a place of eternal happiness and bliss. So let us join the author of this hymn in proclaiming, singing, and telling the world that we are truly happy in Jesus!
I hope this hymn inspired image brings you hope and peace. Share it with someone who needs it today!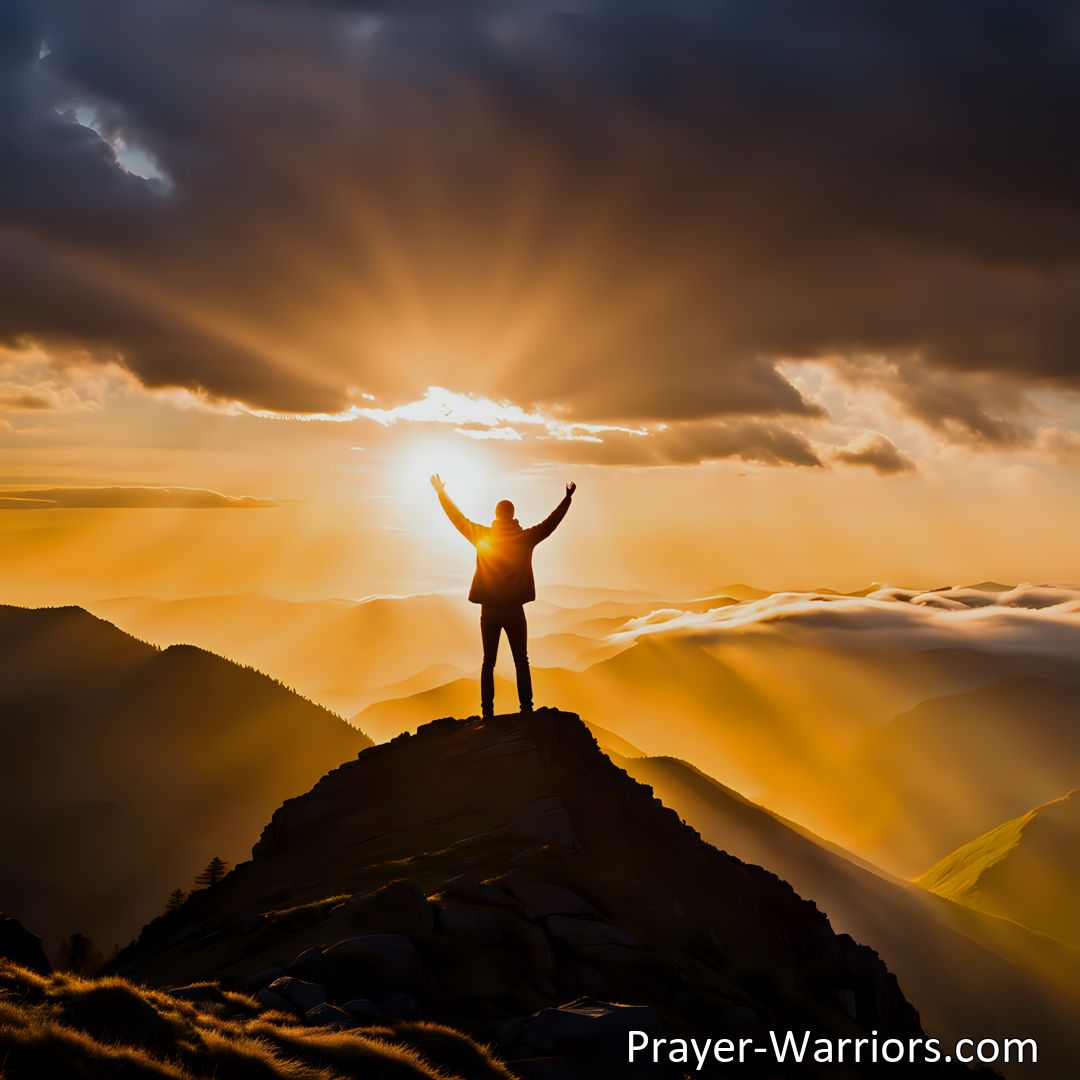 Join the Prayer Warriors Community!
Sign-up for our newsletter and embark on a transformative journey with Prayer. Enter your email below and become a part of our Prayer Warriors family.