Ive Taken My Burdens To Jesus – Hymn Lyric
"I've Taken My Burdens to Jesus" is a hymn that speaks to our universal desire for rest and peace in the midst of life's challenges. It encourages us to turn to Jesus and find solace in His love and compassion. Through prayer and surrender, we can experience the transformative power of His presence and ultimately find eternal rest and joy in His embrace.
---
---
Ive Taken My Burdens To Jesus – Hymn Lyric
I've taken my burdens to Jesus,
The burdens too heavy to bear;
And now I have rest in my spirit,
The rest that is given thro' prayer.
And here from the top of the mountain,
There rises a scene to my sight,
As fair as a vision of heaven,
Transporting and full of delight.
Refrain:
The white dove of peace has descended,
And folded his wing o'er my breast;
For Jesus now speaks his compassion,
And whispers so sweetly of rest.
The world may go on in its blindness,
Still seeking the pleasures of sin;
I ask for no share of its honors,
Since Jesus has spoken within.
His love is a fountain whose waters
Can never and never go dry;
Enough for the children of Adam,
A full and eternal supply. [Refrain]
Soon camping no more in the desert,
Nor bathing by Elim's cool shade,
My spirit shall drink of Life's river,
'Neath bowers that never shall fade.
There joining the ranks of the holy,
When free from all sorrow and care,
With purified saints in all ages,
The joys of redemption to share. [Refrain]
Meaning of Ive Taken My Burdens To Jesus
I've Taken My Burdens to Jesus: Finding Rest and Peace through Prayer
In our journey through life, we often find ourselves burdened by the weight of our struggles and challenges. These burdens can become too heavy to bear on our own, and we may feel overwhelmed and lost. But in times like these, we can turn to Jesus and find solace and strength in Him.
The hymn "I've Taken My Burdens to Jesus" beautifully expresses the concept of finding rest and peace by seeking refuge in Jesus. The songwriter paints a vivid picture of a transcendent scene, as if gazing from the top of a mountain towards a heavenly vision. This image symbolizes the peace and delight that can be experienced through a spiritual connection with Jesus.
Life can often feel chaotic and confusing. The world around us may be blindly pursuing shallow pleasures and worldly honors, but when we come to Jesus, we realize that these things hold no true value. We no longer desire to partake in the fleeting pleasures of sin because Jesus has spoken within us. His words of compassion and love bring us comfort and guidance.
The love of Jesus is described as an eternal and ever-flowing fountain. Just as a fountain never runs dry, His love for us is limitless. It is enough to sustain all of humanity, providing a full and eternal supply of love, grace, and mercy. Regardless of our past mistakes or shortcomings, Jesus' love is always there to quench our spiritual thirst and fill us with hope.
While we may feel like wanderers in a desert at times, yearning for relief from the scorching sun of life's challenges, we are assured that our time of suffering is temporary. The hymn speaks of "camping no more in the desert" and no longer needing the cool shade of Elim, a place of temporary rest. It suggests that there will come a time when our spirits will be refreshed and nourished by the waters of "Life's river."
This river represents the abundant life that awaits us in the presence of God. It is a place where our burdens are lifted, and where we can bask in everlasting peace and joy. In this beautiful imagery, the hymn promises that we will find ourselves amongst a community of the holy, free from sorrow and care. We will join the ranks of purified saints, across all ages, and share in the eternal joys of redemption.
"I've Taken My Burdens to Jesus" resonates with many people because it speaks to the universal human desire for rest and peace amidst life's storms. It reminds us that we don't have to face our burdens alone. Jesus is always ready to listen to our prayers, offer comfort and support, and guide us towards a place of tranquility.
When we take our burdens to Jesus, we acknowledge our vulnerability and trust Him to carry the weight that is too heavy for us. This act of surrendering allows us to find the rest and peace that we so desperately long for. It is through prayer, opening our hearts to God and seeking His presence, that we can experience the transformative power of His love.
In conclusion, "I've Taken My Burdens to Jesus" encourages us to bring our struggles, worries, and challenges to Him. By doing so, we can find rest and peace in our spirits. This hymn reminds us that Jesus' love is boundless and His compassion brings comfort in times of distress. Ultimately, it assures us that there is a place of eternal rest and joy where our burdens will be lifted and we will join the ranks of the redeemed. So, let us turn to Jesus, trust in His love, and find solace in His everlasting embrace.
I hope this hymn inspired image brings you hope and peace. Share it with someone who needs it today!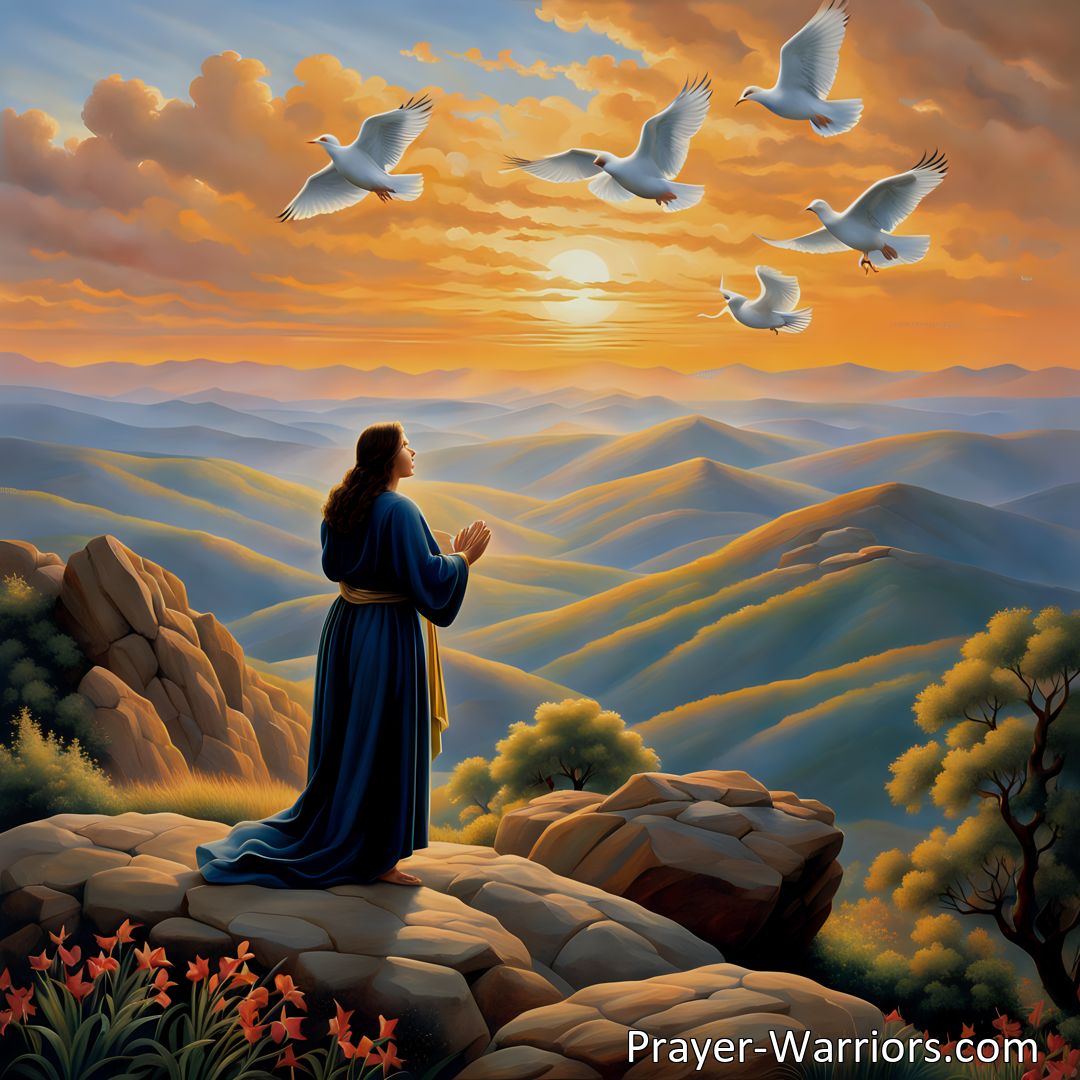 Join the Prayer Warriors Community!
Sign-up for our newsletter and embark on a transformative journey with Prayer. Enter your email below and become a part of our Prayer Warriors family.