Jesus Refuge Of The Weary – Hymn Lyric
"When we feel tired and worn out, Jesus is there to provide comfort and rest. He is like a fountain of hope in the dry and barren desert of life. We are grateful for His love and sacrifice, and we strive to keep His cross in our hearts as a reminder of His immense grace."
---
---
Jesus Refuge Of The Weary – Hymn Lyric
Jesus, refuge of the weary, Blessed Redeemer, whom we love, Fountain in life's desert dreary, Savior from the world above: Often have Your eyes, offended, Gazed upon the sinner's fall; Yet upon the cross extended, You have borne the pain of all.
Do we pass that cross unheeding, Breathing no repentant vow, Though we see You wounded, bleeding, See Your thorn-encircled brow? Yet Your sinless death has brought us Life eternal, peace, and rest; Only what Your grace hath taught us Calms the sinner's deep distress.
Jesus, may our hearts be burning With more fervent love for You; May our eyes be ever turning To behold Your cross anew Till in glory, parted never From the blessed Savior's side, Graven in our hearts forever, Dwell the cross, the Crucified.
Meaning of Jesus Refuge Of The Weary
In times when we feel weary and tired, Jesus is our refuge. He is like a safe haven for us, providing comfort and rest. We love Him, for He is our Redeemer and He brings us blessings.
Life often feels like a desert, dry and barren, but Jesus is like a fountain that quenches our thirst. When we feel lost and alone in this world, He saves us from our troubles and brings us hope from above. He looks upon us even when we have sinned and fallen, His loving eyes never cease to watch over us. And on the cross, He endured immense pain and suffering, taking upon Himself the sins of all humanity.
Do we ever pass by the cross, unaffected and unheeding? Do we not feel compelled to make a change in our lives, to repent for our wrongdoings, when we see Jesus wounded and bleeding, with a crown of thorns encircling His brow? His sacrifice, the sinless death that He willingly embraced, has been the source of eternal life, peace, and rest for us. Only through His grace can we find solace in the midst of our distress and find forgiveness for our sins.
Jesus, we pray that our hearts will be filled with a burning love for You. May our affections for You increase in fervency as we grow in our relationship with You. May our eyes constantly turn towards Your cross, reminding us of the price You paid for our redemption. Let us not forget the sacrificial love that You displayed, and let it be a constant source of inspiration and motivation for us to live a life that is pleasing to You.
We long for the day when we will be reunited with You in glory, never to be separated from Your side. May the image of the cross, the symbol of Your sacrifice, be deeply engraved in our hearts forever. Let it serve as a constant reminder of Your immense love and mercy towards us. We want the message of the Crucified Savior to be etched in our minds and guide our every thought, word, and action.
Jesus, You are our refuge in times of weariness. You are our Redeemer, our Savior from above. You are the fountain that quenches our thirst in life's deserts. We are forever grateful for Your sacrificial death, which brings us life eternal, peace, and rest. May our love for You continue to grow, and may Your cross always be our focus and inspiration. Amen.
In conclusion, the hymn "Jesus, Refuge of the Weary" beautifully expresses our reliance on Jesus as our refuge and our gratitude for His redeeming love. It reminds us to never forget the sacrifice He made on the cross and to continually seek His presence in our lives. May we always turn our eyes towards His cross and let His love guide our hearts.
I hope this hymn inspired image brings you hope and peace. Share it with someone who needs it today!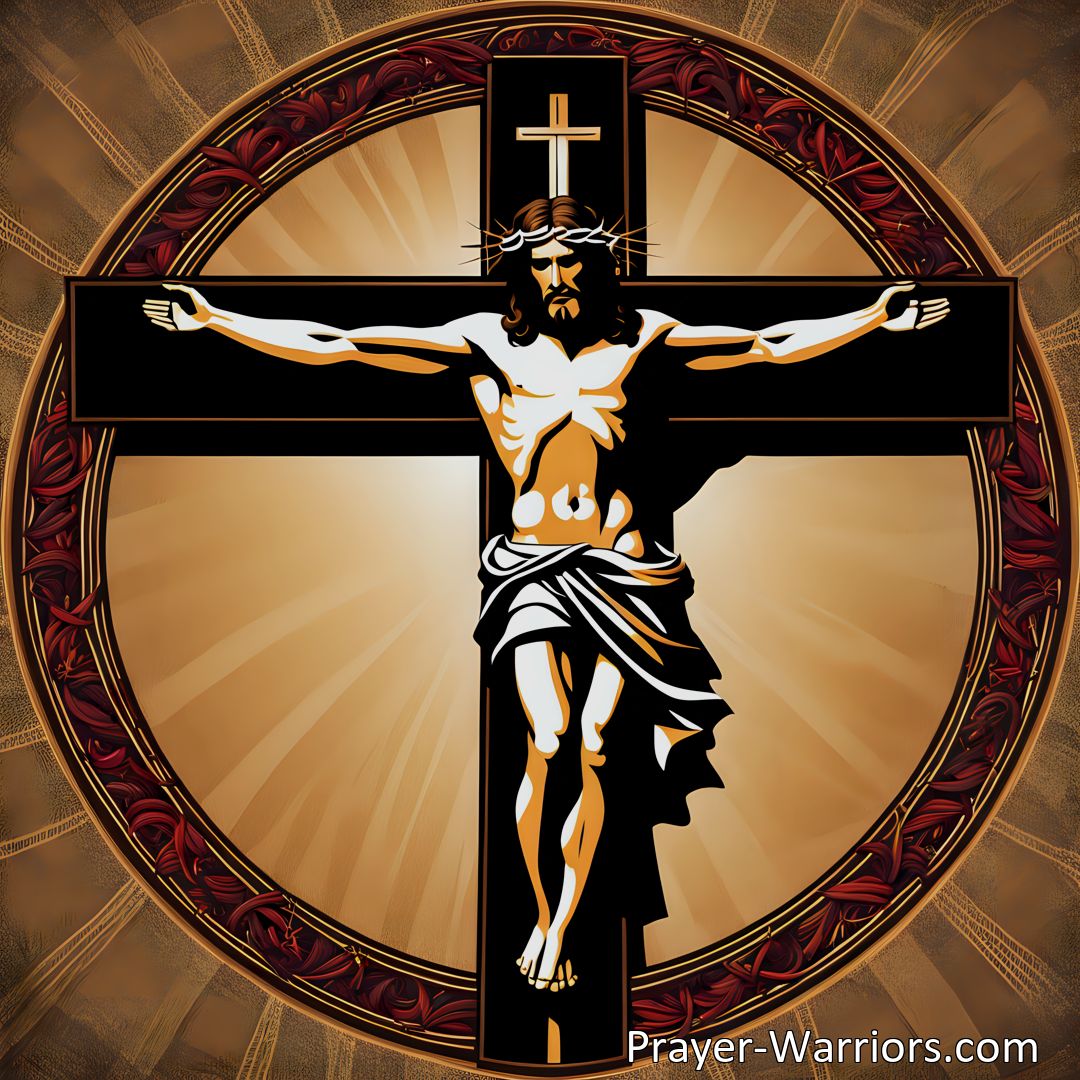 Join the Prayer Warriors Community!
Sign-up for our newsletter and embark on a transformative journey with Prayer. Enter your email below and become a part of our Prayer Warriors family.