Jesus Thy Precious Blood I Would Extol – Hymn Lyric
"Jesus Thy Precious Blood I Would Extol: A Hymn of Redemption" is a powerful hymn that speaks of Jesus' blood and its transformative impact on our souls. Through vivid imagery and expressions of gratitude, it reminds us of the depth of God's love and grace in salvation. As we extol His precious blood, we find guidance, devotion, and a deeper understanding of our faith.
---
---
Jesus Thy Precious Blood I Would Extol – Hymn Lyric
Jesus, thy precious blood,
I would extol,
Washed in its crimson flood,
I shall be whole.
Cleansed by its pow'r I know,
I shall be white as snow,
Save me from endless woe,
Pardon my soul.
O may thy will be mine,
Saviour and Friend,
Lead me by light divine,
My steps attend.
Lord, I am blest indeed,
That I thy love may plead,
Thou wilt supply my need,
Guide and defend.
Since thou hast pardoned me,
Lord, I am thine;
Saved evermore by thee,
By grace divine;
Rescued from sin's abyss,
Heir of eternal bliss,
What can I ask but this,
Saviour Divine.
Meaning of Jesus Thy Precious Blood I Would Extol
Jesus Thy Precious Blood I Would Extol: A Hymn of Redemption
In this powerful hymn, we are reminded of the profound significance of Jesus' precious blood in our lives. The hymn speaks of the transformative power of this blood, inviting us to consider the depth of its impact on our souls. Through its vivid imagery and heartfelt expressions of gratitude, we gain a deeper understanding of the divine love and grace that accompanies salvation.
The first verse begins with a recognition of the cleansing power of Jesus' blood. The hymn implores us to extol this blood, emphasizing its ability to wash away our sins. Just as crimson flood can purify and make something pure white, so too does Jesus' blood cleanse us and make our souls whole. This beautiful imagery portrays the immense power and possibilities of redemption through Christ.
As we move into the second verse, the hymn reveals a desire for alignment with God's will. The speaker acknowledges Jesus as their Savior and Friend, calling upon Him to lead them by divine light, promising to follow His steps faithfully. This demonstrates a willingness to surrender and trust in His guidance, recognizing the blessings and protection that come from walking in the light of Christ. The hymn expresses a deep sense of gratitude for the love and grace extended by Jesus, affirming that His divine supply meets all our needs.
The third verse presents a profound declaration of faith and identity. The speaker acknowledges that they belong to Jesus, having been pardoned and saved by His grace. This realization brings an everlasting assurance of salvation, as they become an heir of eternal bliss. The hymn acknowledges the depth of the rescue from the abyss of sin, emphasizing the magnitude of the transformation made possible through Jesus' blood.
Finally, the hymn reaches its climax, as it unites all these themes into a climactic expression of devotion. The speaker declares their unwavering commitment to Jesus, acknowledging their deep desire to honor and praise Him. They recognize the unparalleled gift of salvation and acknowledge that nothing else could be asked for beyond this divine connection. The hymn concludes with the powerful proclamation that Jesus is indeed a Savior Divine.
Reflecting on the hymn as a whole, it is evident that Jesus' precious blood holds a central place in the beliefs and experiences of Christians. Its redemptive power, as expressed in this hymn, touches every aspect of our lives. Through this hymn, we are encouraged to embrace the transformative and healing qualities of Jesus' blood, to seek His guidance in our daily lives, and to live as grateful and devoted followers.
In this hymn, we find words that speak not only to our individual spiritual journey but also to the collective experience of believers. It reminds us that our faith is built on the foundation of Jesus' sacrifice and that His blood remains a profound symbol of our redemption. By appreciating and extolling Jesus' precious blood, we deepen our understanding of our faith and foster a sense of connection to the wider Christian community.
When considering the hymn's potential impact on a seventh-grade reader, it is important to approach the language and concepts in a way that is both accessible and meaningful. By breaking down the hymn into its core themes and using relatable examples, we can help young readers grasp the overarching message of the hymn. Explaining the significance of Jesus' blood and drawing connections to familiar experiences can assist in their comprehension and engagement.
In conclusion, "Jesus Thy Precious Blood I Would Extol" represents a hymn that beautifully encapsulates the foundational beliefs of Christianity. Through powerful imagery and heartfelt expressions, it invites us to reflect on the redemptive power of Jesus' blood and its transformative effect on our lives. As we extol this precious blood, we find solace, guidance, and an unwavering devotion to our Savior Divine. May this hymn serve as a reminder of the grace and love that Jesus offers to all who seek Him, no matter their age or understanding.
I hope this hymn inspired image brings you hope and peace. Share it with someone who needs it today!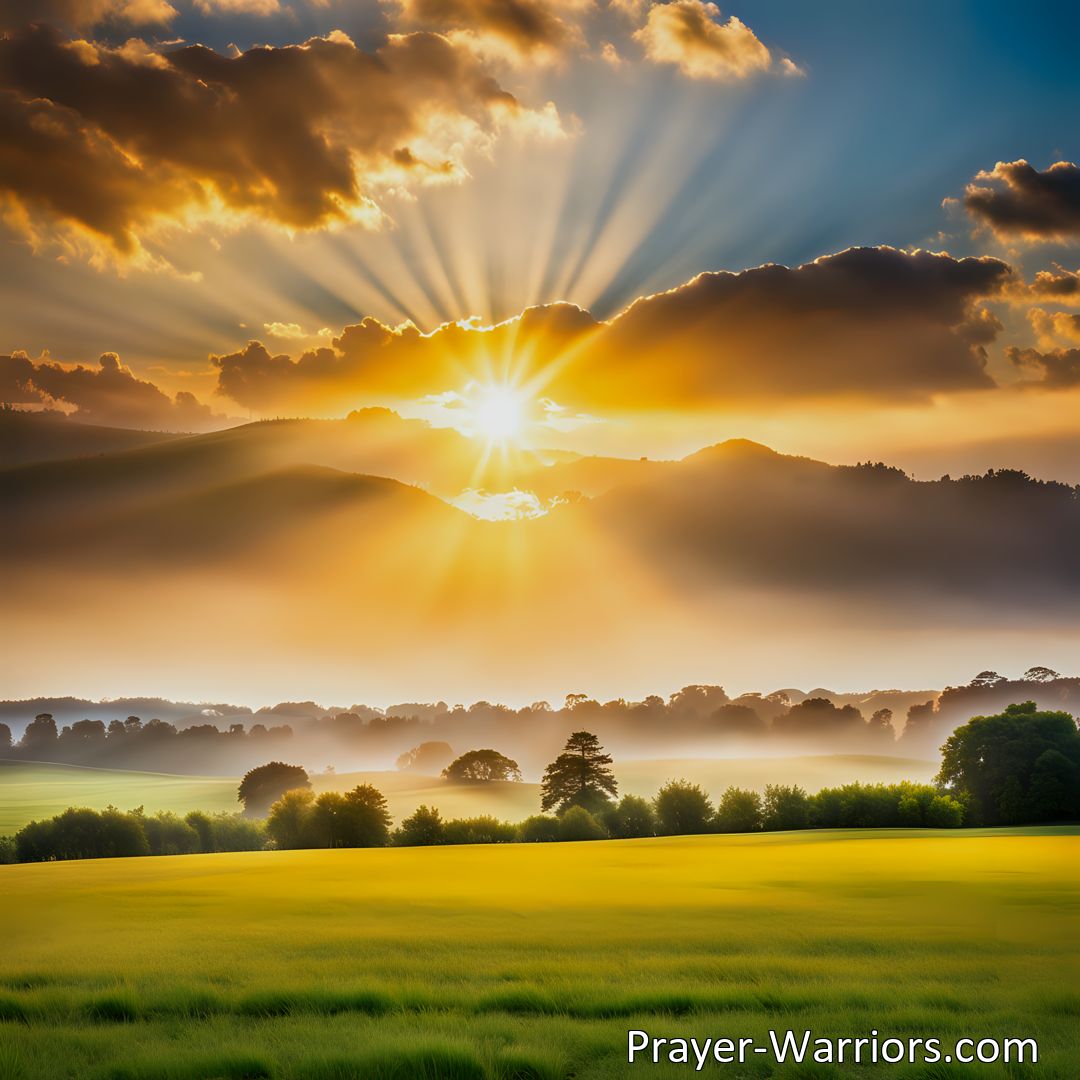 Join the Prayer Warriors Community!
Sign-up for our newsletter and embark on a transformative journey with Prayer. Enter your email below and become a part of our Prayer Warriors family.