King Jesus – Hymn Lyric
In the title "King Jesus," the content explores the idea that Jesus is our all in all. This means that he is our source of hope, love, and guidance, always ready to answer us when we call. By accepting Jesus into our lives, studying the Scriptures, and showing love to others, we can experience the peace, joy, and purpose that comes from knowing King Jesus.
---
---
King Jesus – Hymn Lyric
King Jesus is all,
My all in all,
And I know that he'll answer
Me when I call.
Walkin' by His side,
I'm satisfied.
King Jesus is all,
My all in all.
Meaning of King Jesus
King Jesus: Your All in All
Have you ever wondered who Jesus is and what role he plays in your life? Well, let me tell you, dear reader, that King Jesus is your all in all. When we talk about Jesus, we are referring to the Son of God, the savior of the world, and the one who loves and cares for each and every one of us.
In the hymn, we read the powerful words, "King Jesus is all, My all in all." These words hold so much truth and meaning for those who believe in him. Jesus is our all in all because he is our source of hope, love, and guidance. He is always there for us, ready to answer our prayers and walk alongside us in our journey of life.
One of the most amazing aspects of Jesus being our all in all is his willingness to answer us when we call upon him. The hymn emphasizes that we can approach Jesus with our needs, our joys, and our sorrows, knowing that he will respond. This is a comforting thought, especially for those who may feel lonely or isolated. With King Jesus by our side, we are never alone.
Walking by His side brings us satisfaction and contentment. When we have Jesus as our companion, we can find peace, joy, and purpose in our lives. He guides us through difficult times, provides comfort in times of sorrow, and celebrates with us in times of joy. Knowing that we have such a loving and caring ally gives us the strength to face any challenge that comes our way.
So, how can we make King Jesus our all in all? The first step is accepting him into our hearts and lives. Jesus invites us to have a personal relationship with him, to acknowledge our need for him, and to surrender our lives to his loving care. Through prayer, we can communicate with him and build a deep and meaningful connection.
Additionally, studying the Scriptures can help us understand more about Jesus and his teachings. The Bible is filled with stories, parables, and instructions that reveal his character and the way he desires us to live. By immersing ourselves in Scripture, we can gain wisdom, guidance, and a better understanding of who King Jesus truly is.
Furthermore, as followers of Jesus, we are called to love others just as he loves us. Jesus showed us the greatest example of love by sacrificing himself on the cross for our sins. In turn, we are encouraged to extend love, compassion, and forgiveness to those around us. By doing so, we reflect the character of King Jesus and spread his love to others.
In our fast-paced and often chaotic world, it is easy to forget that King Jesus is our all in all. We may get caught up in our daily routines, worries, and anxieties, but it is essential to pause and remember the truth of this hymn. Jesus is our constant companion, our source of strength, and our ultimate hope.
When we face challenges, we can turn to King Jesus and find the peace that surpasses all understanding. When we feel lost and confused, we can trust in his guidance and seek his wisdom. When we experience moments of joy and celebration, we can recognize that it is King Jesus who has blessed us with these gifts.
In conclusion, King Jesus truly is your all in all. He invites you to walk alongside him, to seek his presence, and to surrender your life to his loving care. As you embrace him as your savior and friend, you will find satisfaction, contentment, and the fullness of life that can only come from knowing King Jesus. May these words resonate deep within your heart and remind you of the incredible love and grace that King Jesus has for you.
I hope this hymn inspired image brings you hope and peace. Share it with someone who needs it today!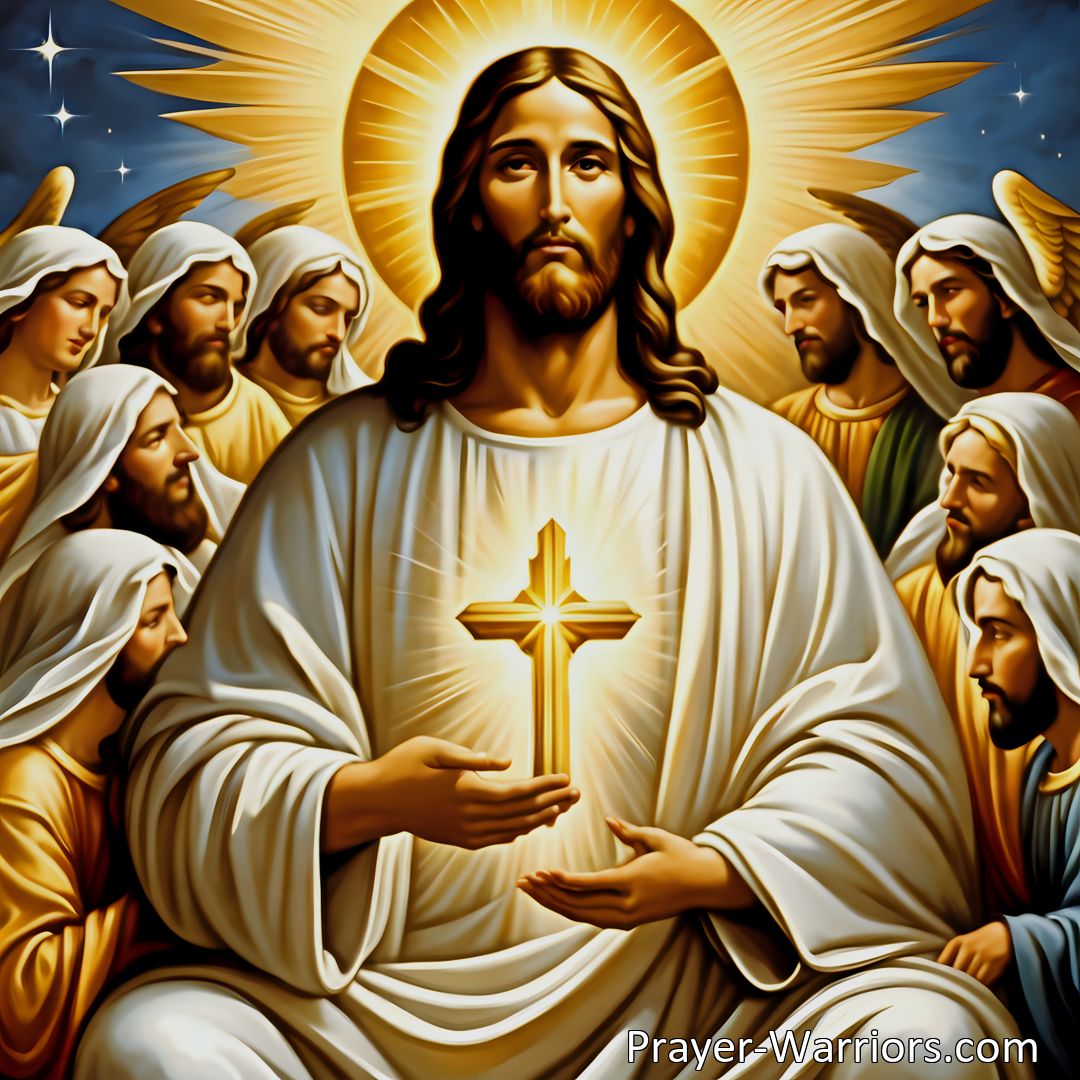 Join the Prayer Warriors Community!
Sign-up for our newsletter and embark on a transformative journey with Prayer. Enter your email below and become a part of our Prayer Warriors family.