Like My Daddy – Hymn Lyric
summary.txt
---
---
Like My Daddy – Hymn Lyric
I wanna be, I wanna be like my Daddy (just like my Dad)
I wanna be, I wanna be like my Daddy
I'd like to tell you 'bout the One I admire
About my hero and my personal friend
From the beginning He's been there to inspire
And I believe He'll be with me till the end
I want to be like my Daddy (like my Daddy)
To walk and talk in every way
He loves me more that I'll ever know
I'm growing more like Him everyday (everyday)
Let me say I want to be like my Daddy (like my Daddy)
And it's clear for to see
The reason I want to be like Him
'Cause He's so much a part of me
I wanna be, I wanna be like my Daddy (just like my Dad)
I wanna be, I wanna be like my Daddy
No better teacher could I ever have asked for
Provides for all I want and all that I need
I'm just so proud of my Daddy's example
'Cause He's exactly what I'm working to be
I want to be like my Daddy (just like my Dad)
To walk and talk in every way (every way)
He loves me more that I'll ever know (He loves me)
I'm growing more like Him everyday (everyday)
Let me say I want to be like my Daddy
And it's clear for to see
The reason I want to be like Him (I wanna be, I wanna be, I wanna be)
'Cause He's so much a part of me
I wanna be, I wanna be like my Daddy (just like my Dad)
I wanna be, I wanna be like my Daddy
The world is filled with children needing a Father
Some daddies don't know what exactly to do
My Dad will love you and to Him it's no bother
He's God the Father, let me show Him to you
I want to be like my Daddy
To walk and talk in every way
He loves me more that I'll ever know
I'm growing more like Him everyday
Let me say I want to be like my Daddy
And it's clear for to see
The reason I want to be like Him (I wanna be, I wanna be, I wanna be)
'Cause He's so much a part of me
I wanna be, I wanna be like my Daddy (just like my Dad) (I want to be)
I wanna be, I wanna be like my Daddy (just like my Dad) (like my Daddy)
I wanna be, I wanna be like my Daddy (just like my Dad)
I wanna be, I wanna be like my Daddy (I love you Daddy)
Meaning of Like My Daddy
Like My Daddy: A Reflection on the Role Model We Admire
Introduction:
The hymn "I Wanna Be Like My Daddy" beautifully expresses the desire many of us have to emulate someone we greatly admire. This catchy tune highlights the role of a father figure in our lives and emphasizes the importance of a positive influence. In this article, we will explore the significance of having a hero or role model, the qualities that make someone admirable, and the impact they can have on our lives. Join us as we reflect on what it means to be "Like My Daddy."
The Power of a Role Model:
Having a role model is crucial during our formative years. As seventh-graders, we are still discovering ourselves and figuring out our place in the world. Through the hymn's repeated chorus of "I wanna be, I wanna be like my Daddy," we can sense the deep longing to become more like someone who serves as a guiding force in our lives. Whether it be a parent, teacher, sibling, or even a fictional character, a role model offers us a blueprint for personal growth and development.
The Desire to Walk and Talk Like My Daddy:
The hymn suggests that walking and talking like our role model is an aspiration. It goes beyond mere physical resemblance; it signifies adopting their values, principles, and behavior patterns. By observing our role models' actions and listening to their words, we can cultivate positive traits within ourselves. This desire to emulate the person we admire showcases the impact they have on our lives and the lasting impression they leave on our hearts.
Undying Love and Support:
A key theme in the hymn is the profound love our role model has for us. The lyrics state, "He loves me more than I'll ever know." This unconditional love provides a solid foundation for our growth and encourages us to strive to be the best version of ourselves. Their support gives us the confidence to face challenges head-on and believe in our abilities. Just like a loving father, our role models go above and beyond to ensure our well-being – physically, emotionally, and mentally.
Growing More Like Him Everyday:
The hymn reminds us that personal growth is a continuous journey. Every day brings new opportunities for improvement, enabling us to become more like our role models. This growth is not limited to imitating their actions; it also encompasses internalizing their virtues and values. As seventh-graders, we are at a stage where we are shaping our identities and discovering what we truly believe in. Our role models guide us along this path, nurturing us to become compassionate, resilient, and determined individuals.
The Impact of Our Role Models on Others:
The hymn's perspective broadens as it acknowledges that not every child has a father figure in their life. Some may be lacking guidance, care, and someone to look up to. In this context, the hymn proposes introducing them to "God the Father," who can fulfill the role of a loving parent. By sharing our role models, we can make a positive impact on those who are searching for guidance and support. Through our actions, we can exemplify the characteristics that make our role models so admirable, inspiring others to develop similar traits within themselves.
Conclusion:
Reflecting on the hymn "I Wanna Be Like My Daddy," we are reminded of the importance of having a role model in our lives. The virtues and values they embody can help shape our character and guide us toward becoming our best selves. Whether it is a biological father, a mentor, or even a higher power, the influence of our role models can leave an indelible mark on our lives. By striving to be "Like My Daddy," we not only honor the person we admire but also inspire others to seek their own role models and embark on their own journey of self-improvement.
I hope this hymn inspired image brings you hope and peace. Share it with someone who needs it today!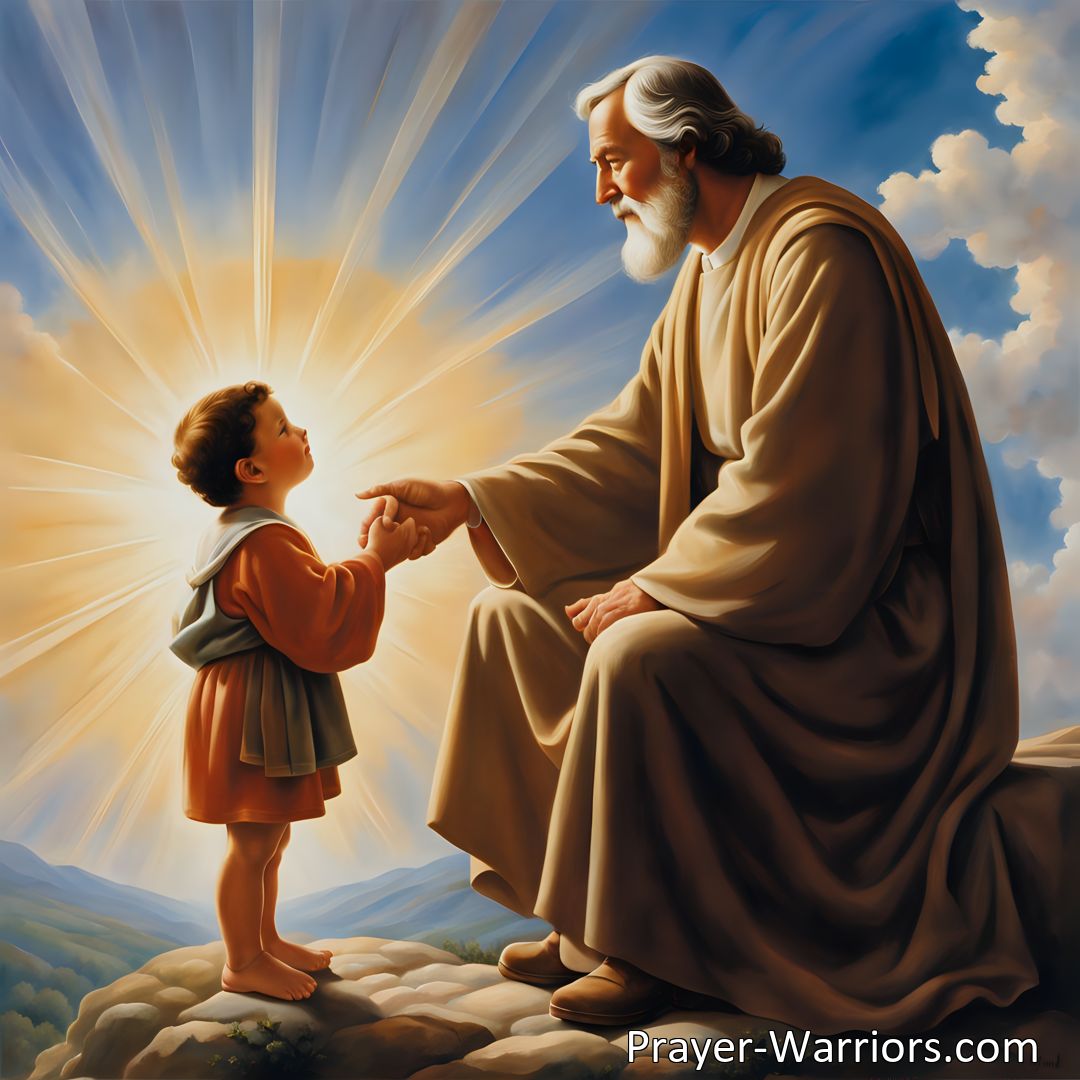 Join the Prayer Warriors Community!
Sign-up for our newsletter and embark on a transformative journey with Prayer. Enter your email below and become a part of our Prayer Warriors family.