Lord Hear My Cry And See My Case – Hymn Lyric
In times of trouble and despair, we cry out to the Lord for help. Just as a deer longs for streams of water, we seek God's grace and mercy to wash over us. We yearn for His presence to heal our wounds and bring us comfort.
---
---
Lord Hear My Cry And See My Case – Hymn Lyric
Lord, hear my cry and see my case,
As hart for streams I pant for grace:
Come, O my God, bear me above,
To bathe my wounds in thy blest love.
Are there not myriads now in bliss,
Whose cry on earth was often this?
Here in the dust how deep their groans,
But now they sit on glorious thrones.
When shall I that glad hour behold,
When sin shall quit its deadly hold;
When I my Christ unveiled shall see,
And pass through all my misery!
O that I could from sinning cease,
And wait on Pisgah my release,
Until I saw the dawn of day,
And Jesus called his child away!
If Thou wilt not complete me now,
Before my head in death I bow,
In dreary Kedar walk with me;
My life would languish losing Thee.
Meaning of Lord Hear My Cry And See My Case
In times of trouble and despair, we often find ourselves crying out to the Lord for help. Just like a deer longing for streams of water, we pant for God's grace and mercy to wash over us. We seek His presence to heal our wounds and bring us comfort.
Throughout history, countless individuals have experienced the same longing for God's intervention. They have cried out in desperation just as we do now. And although they may have faced deep groaning and anguish during their time on earth, they now enjoy the bliss of God's presence in the heavenly realms. They have found their place in glory, seated on thrones of honor and splendor.
As we journey through life, we often wonder when our turn will come, when our struggles and sins will be left behind. We yearn for that glorious day when we will finally see Christ face to face and be delivered from all our misery and pain. We eagerly await the moment when sin's deadly hold over us will be broken, when we will experience the freedom and joy that only Christ can bring.
Oh, how we long to cease from sinning! We earnestly desire to reach the summit of Pisgah, a place of waiting and anticipation, where we can catch a glimpse of the approaching dawn. We yearn for that call from Jesus, beckoning us away from our current earthly struggles, and into His loving arms.
But if, for some reason, our journey on this earth is not yet complete, and our time has not yet come to bow our heads in death, we find ourselves walking through the desolate and lonely land of Kedar. In this place of desolation, we plead with the Lord to walk beside us, for our life would waste away without Him by our side. We long for His presence to sustain us and give us hope amidst the trials and challenges of life.
Sometimes it may seem as though God is distant, as though He has turned a deaf ear to our cries. We may question why He has not yet answered our prayers and completed the work in us that we so desperately need. In these moments, we must hold tight to our faith and trust that God is working in ways we cannot see or comprehend. His timing is perfect, and He will complete the good work He has started in us.
So, as we sing this hymn, let us truly understand the depth of our cry to the Lord. May our hearts pour out with sincerity and earnestness as we seek His intervention and guidance. And may we remember that even in the times of waiting and uncertainty, God is with us. He walks beside us in the darkest valleys and sustains us with His love and grace.
Lord, hear our cry and see our case. We long for Your presence and Your healing touch. As we pant for Your grace, bear us above our troubles and immerse us in Your unfailing love. Just as the ones who have gone before us now rest on glorious thrones, may we also experience the joy of Your divine presence.
We eagerly anticipate the day when sin will release its grip on our lives, and we will behold the fullness of Christ's glory. Help us to persevere in our journey, to stay faithful and obedient until the day of our release. Keep our hearts focused on You, even in the midst of trials and tribulations.
And if, for now, our time on this earth is not yet complete, walk with us through the desolate places. Be our constant companion, for without You, our lives would languish and lose all meaning. Help us to trust in Your plan, even when we can't see the bigger picture. Strengthen our faith and remind us of Your presence, even when it feels like You are far away.
Lord, hear our cry. See our case. We lay our burdens before You and trust in Your unfailing love. Guide us, lead us, and sustain us on this journey of faith. In Your precious name, we pray. Amen.
I hope this hymn inspired image brings you hope and peace. Share it with someone who needs it today!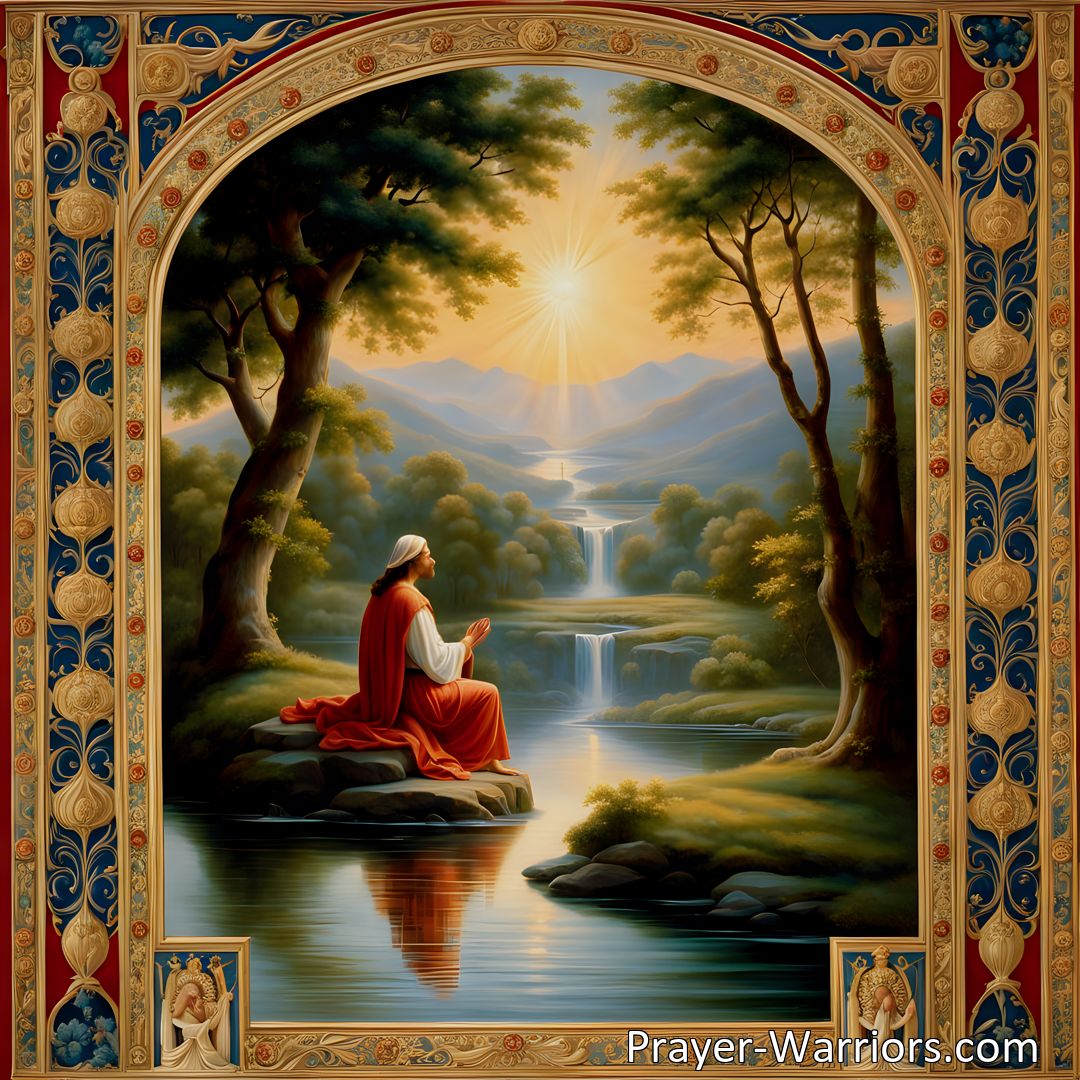 Join the Prayer Warriors Community!
Sign-up for our newsletter and embark on a transformative journey with Prayer. Enter your email below and become a part of our Prayer Warriors family.