Lord Jesus Christ My Savior Blest – Hymn Lyric
The hymn "Lord Jesus Christ, My Savior Blest" showcases the author's unwavering trust in Jesus as their hope, salvation, and source of comfort. Through their heartfelt prayer, they seek Jesus' guidance and protection, acknowledging their own shortcomings and relying on His Word to sustain them. This hymn reflects the author's deep faith and desire to faithfully serve Jesus until their last day.
---
---
Lord Jesus Christ My Savior Blest – Hymn Lyric
Lord Jesus Christ, my Savior blest,
My Hope and my Salvation!
I trust in Thee; Deliver me
From misery; Thy Word's my consolation.
As Thou dost will, Lead Thou me still
That I may truly serve Thee,
My God, I pray, Teach me Thy way,
To my last day In Thy true faith preserve me.
Most heartily I trust in Thee;
Thy mercy fails me never.
Dear Lord, abide; My Helper tried,
Thou Crucified, From evil keep me ever.
Now henceforth must I put my trust
In Thee, O dearest Savior.
Thy comfort choice, Thy Word and voice,
My heart rejoice Despite my ill behavior.
When sorrows rise, My refuge lies
In Thy compassion tender.
Within Thine arm Can naught alarm;
Keep me from harm, Be Thou my strong Defender.
I have Thy Word, Christ Jesus, Lord;
Thou never wilt forsake me.
This will I plead In time of need.
Oh, help me speed When troubles overtake me!
Grant, Lord, we pray, Thy grace each day
That we, Thy Law revering,
May live with Thee And happy be
Eternally, Before Thy throne appearing.
Meaning of Lord Jesus Christ My Savior Blest
In this hymn titled "Lord Jesus Christ, My Savior Blest," the author expresses their unwavering trust in Jesus as their hope and salvation. They rely on Jesus to deliver them from misery and find consolation in His Word. The author's earnest prayer is for Jesus to guide them throughout their life so that they may faithfully serve Him until their last day.
The hymn begins by addressing the Lord Jesus Christ as a blessed Savior. The use of the word "blessed" emphasizes the author's admiration and gratitude towards Jesus. They acknowledge Him as their source of hope and salvation, indicating their belief that He has the power to redeem them from their troubles.
Through their words, the author expresses their trust in Jesus, highlighting that His mercy never fails them. The comfort and guidance offered by Jesus are seen as invaluable in their life. They rely on Him as a helper, who is tried and tested, even pointing to the crucifixion as a reminder of His sacrifice. This shows the author's understanding that Jesus' sacrifice on the cross serves as a powerful means of protecting them from evil.
Moreover, the author recognizes their own failings but finds solace in the fact that Jesus never forsakes them. They understand that despite their shortcomings, they can find comfort in His choice to be their refuge. This acknowledgment of their imperfections demonstrates humility and a desire to be kept from harm by Jesus, who they rely on as their strong defender.
Throughout the hymn, the author repeats their reliance on the Word of Jesus. They hold onto His teachings and voice as a source of joy and guidance. This shows their understanding that Jesus' Word has the power to comfort and encourage, even in the face of their own shortcomings and the sorrows that may arise.
In times of trouble, the author pleads for Jesus' help, relying on the assurance that He will never forsake them. This demonstrates their faith and trust in Jesus' continual presence and support. They lean on the promise of His Word, knowing that it is a source of strength and comfort in times of need.
The hymn concludes with a prayer for God's grace each day. The author expresses a desire to live in accordance with God's law and to be eternally happy in His presence. They hope to appear before His throne, indicating their belief in the afterlife and their longing to be in communion with Jesus.
In summary, "Lord Jesus Christ, My Savior Blest" is a hymn that beautifully expresses the author's unwavering trust in Jesus. Their reliance on His Word, acknowledgment of their own shortcomings, and plea for His guidance and protection showcase their deep faith and desire to live a life that honors and serves Jesus.
I hope this hymn inspired image brings you hope and peace. Share it with someone who needs it today!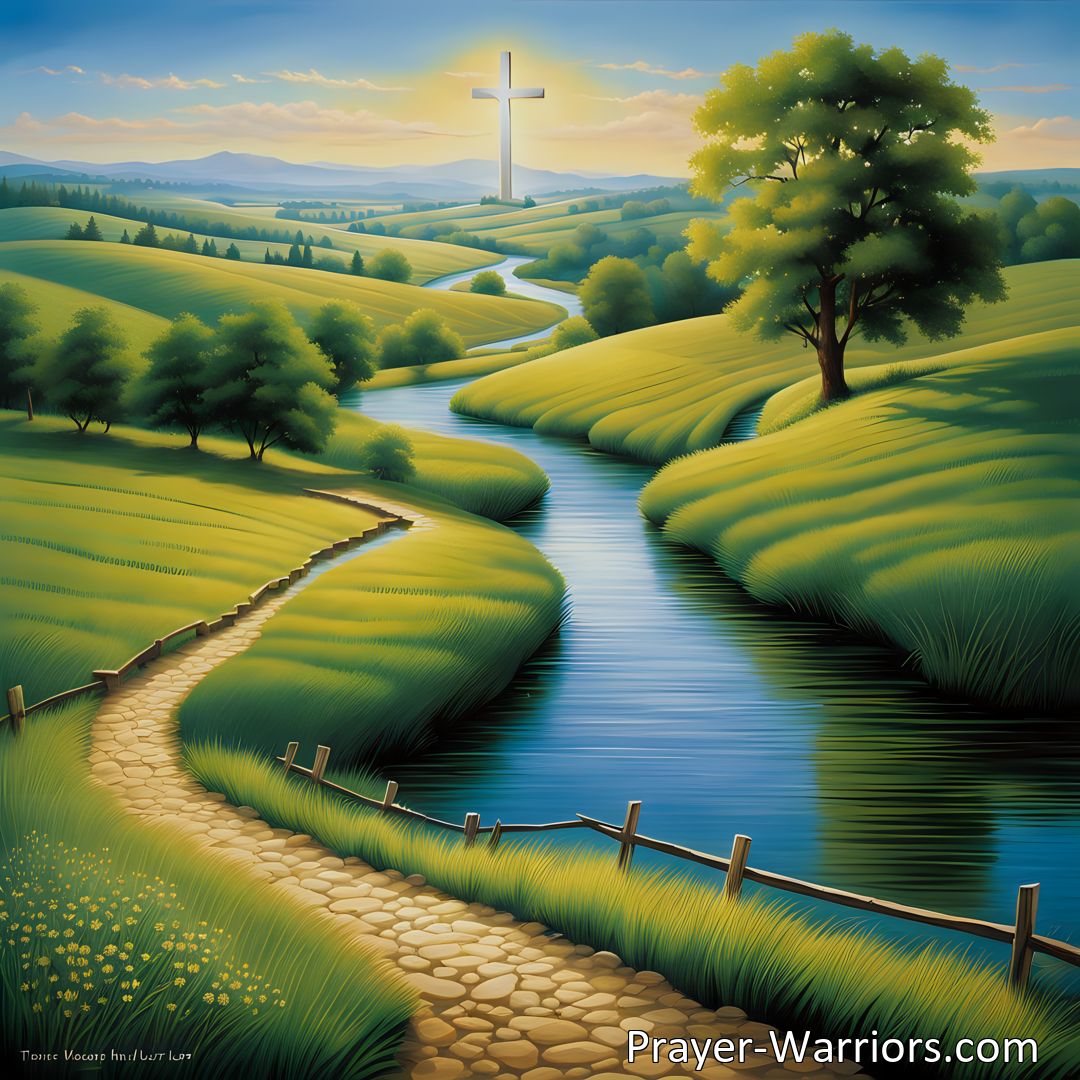 Join the Prayer Warriors Community!
Sign-up for our newsletter and embark on a transformative journey with Prayer. Enter your email below and become a part of our Prayer Warriors family.