Lord Jesus My Sweet Rose Of Sharon – Hymn Lyric
"Lord Jesus My Sweet Rose of Sharon" is a beautiful hymn that praises and honors Jesus Christ for His sacrifice, grace, and blessings. Through vivid imagery and poetic language, the hymn reminds us of Jesus' role as our Prophet, Priest, and King, and invites sinners to experience His mercy and salvation. This heartfelt expression of love and faith serves as a reminder of the incredible love and grace that Jesus offers to all.
---
---
Lord Jesus My Sweet Rose Of Sharon – Hymn Lyric
Lord Jesus, my sweet Rose of Sharon,
My Prophet, my Priest, and my King-
To Thee I will sing all my praises,
For blessings Thy mercy doth bring.
All glory and honor to Jesus,
Who offered His life on the cross,
To open a fountain for sinners,
And purchase a world that was lost.
Refrain:
Sweet Rose of Sharon,
Blooming above for me.
Oh, come help me sing of my Savior,
For He is the joy of my heart;
Come join in His service forever,
He will His rich graces impart.
I gaze at the wounds of my Savior,
From which that great fountain doth flow;
His word is my shield and my buckler,
By faith I'm made whiter than snow.
[Refrain]
In love's verdant vale I am resting,
In Christ all my hope I confide;
My heart and my life He is blessing,
As humbly I walk by His side.
I'm living low down in the valley,
Where sweet Rose of Sharon doth bloom;
Oh, glory! its heavenly odor
With fragrance my soul doth perfume.
[Refrain]
Come, sinner, thy heart like the desert,
With sweet Rose of Sharon shall bloom;
'Twill blossom as flowers of summer,
His Spirit thy heart shall illume.
He paid all thy debt on Mount Calv'ry,
He suffered that you might be free;
Oh, look, guilty one, there is mercy,
There's life and salvation for thee.
[Refrain]
Meaning of Lord Jesus My Sweet Rose Of Sharon
Lord Jesus My Sweet Rose of Sharon: A Hymn of Praise and Salvation
In the realm of beautiful hymns, "Lord Jesus My Sweet Rose of Sharon" stands out as a profound expression of love, gratitude, and faith. Written with heartfelt devotion and poetic elegance, this hymn reminds us of the incredible sacrifice made by Jesus Christ, and the abundant blessings that flow from His mercy.
The hymn begins with the enchanting title, "Lord Jesus My Sweet Rose of Sharon." The reference to Jesus as the "Rose of Sharon" may be unfamiliar to some, but it signifies His beauty, purity, and grace. Just like a rose blossoms and fills the air with its heavenly fragrance, Jesus fills our hearts with joy and hope.
As we delve into the first verse, we encounter an intimate relationship between the singer and the Savior. The vivid imagery of Jesus being a Prophet, a Priest, and a King emphasizes His multifaceted role in our lives. We can approach Jesus as our Prophet to receive divine guidance, as our Priest to find forgiveness and reconciliation, and as our King to surrender to His loving authority.
The refrain, "Sweet Rose of Sharon, Blooming above for me," echoes the profound gratitude and joy that arise from recognizing Jesus' sacrificial act on the cross. This powerful line encapsulates the central message of the hymn: Jesus came to earth, suffered, and died for the salvation of all humanity. His selfless act of love opens a fountain for sinners, providing a way for us to be cleansed from our transgressions and reconciled with God.
Moving on to the second verse, the hymn draws our attention to the wounds of Jesus from which flows the great fountain of redemption. This imagery emphasizes the significance and power of His sacrifice. As we gaze upon His wounds, we are reminded of the depth of His love for us, and the countless blessings that flow from His mercy.
The hymn continues with the declaration that Jesus' word is our shield and buckler. This means that His teachings and promises serve as our protection in times of trouble and uncertainty. By placing our faith in Him, we are made whiter than snow, symbolizing the cleansing and transformation that occurs when we accept Jesus' salvation.
The third verse paints a picturesque scene of resting in a verdant vale, finding hope and blessings in Christ's companionship. This imagery evokes a sense of peace and security that comes from entrusting our lives to Jesus. We can walk humbly in His presence, knowing that He watches over us and blesses us abundantly.
The hymn takes us to the valley where the Rose of Sharon blooms, radiating heavenly fragrance. It is in this spiritual realm that we find ourselves enveloped by the intoxicating scent of Christ's presence. The fragrance fills our souls with joy, peace, and the assurance of His everlasting love.
In the final verse, the hymn extends an invitation to sinners, promising that their hearts, like a desert, can bloom with the sweet Rose of Sharon. It assures us that we can experience the transformative power of Jesus' Spirit in our lives, blossoming into a new creation. By recognizing the immense price Jesus paid on Mount Calvary, sinners are offered mercy, life, and salvation. No matter how guilty one may feel, Jesus' sacrifice welcomes all to experience His grace.
In conclusion, "Lord Jesus My Sweet Rose of Sharon" is a hymn that encapsulates the essence of Christianity. It is a heartfelt expression of love and adoration towards Jesus, who is depicted as the beautiful Rose of Sharon. Through the rich imagery and poetic language, the hymn invites us to reflect on Jesus' sacrificial love, His role in our lives as a Prophet, Priest, and King, and the transformative power of His mercy. As we sing this hymn, let us join in the service of our Savior and allow His rich graces to imbue our lives with everlasting joy and hope.
I hope this hymn inspired image brings you hope and peace. Share it with someone who needs it today!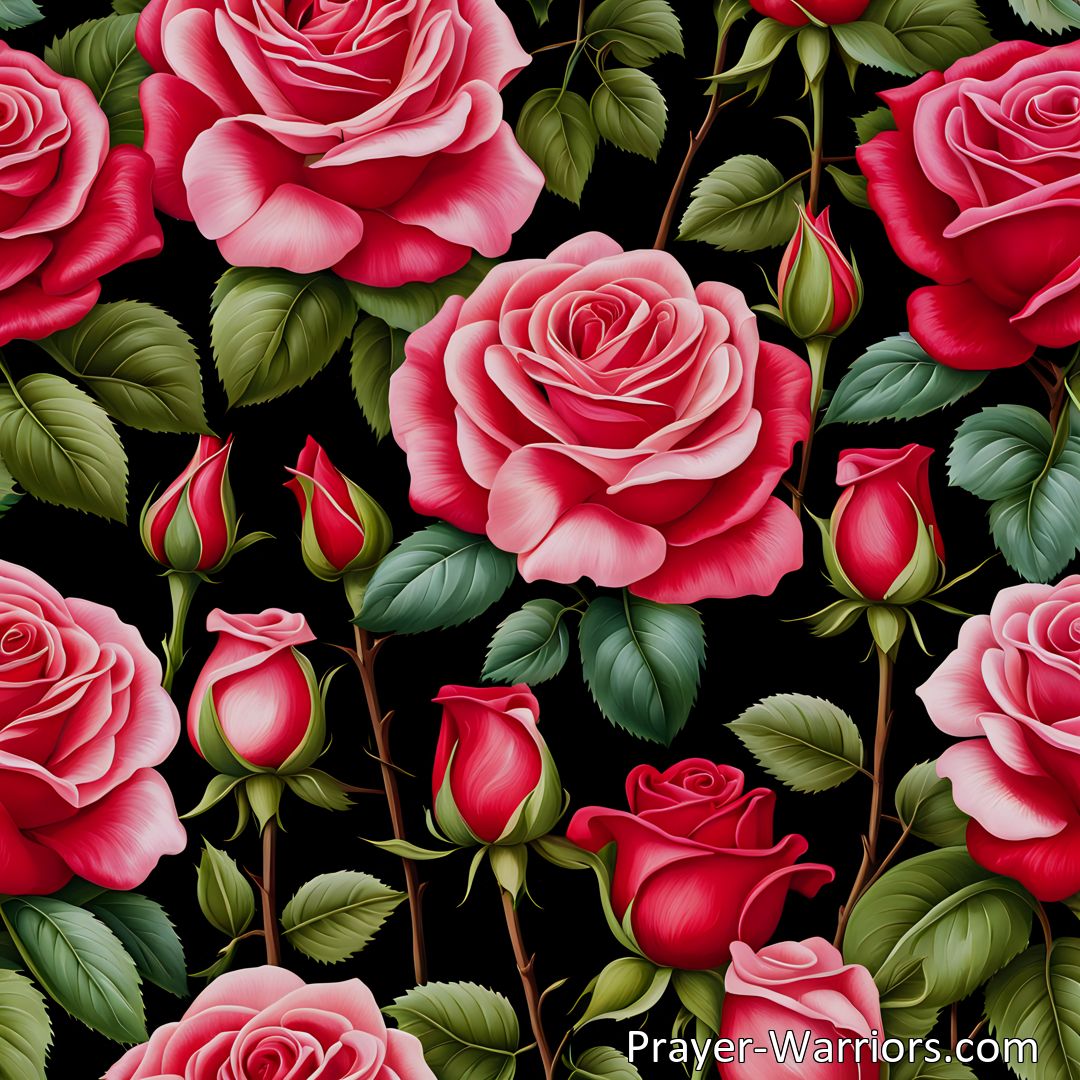 Join the Prayer Warriors Community!
Sign-up for our newsletter and embark on a transformative journey with Prayer. Enter your email below and become a part of our Prayer Warriors family.