Lord Jesus, We Give Thanks To Thee – Hymn Lyric
"Lord Jesus, We Give Thanks To Thee: Embracing Freedom and Reconciliation" is a hymn that expresses gratitude for Jesus' sacrifice and the freedom it brings. Through His blood, we are made righteous and reconciled to God, finding comfort in His support and refuge as we face challenges. This hymn serves as a reminder of Jesus' love and grace and the assurance He gives us until we enter eternal life.
---
---
Lord Jesus, We Give Thanks To Thee – Hymn Lyric
Lord Jesus, we give thanks to Thee,
That Thou hast died to set us free.
Made righteous through Thy precious blood,
We now are reconciled to God.
By virtue of Thy wounds we pray,
True God and Man, be Thou our Stay.
Our Comfort when we yield our breath,
Our Rescue from eternal death.
Defend us, Lord, from sin and shame;
Help us by Thine almighty Name
To bear our crosses patiently,
Consoled by Thy great agony.
And thus the full assurance gain
That Thou to us wilt true remain
And not forsake us in our strife
Until we enter into life.
Meaning of Lord Jesus, We Give Thanks To Thee
Lord Jesus, We Give Thanks To Thee: Embracing Freedom and Reconciliation
In this hymn, we express our gratitude to the Lord Jesus for His sacrifice that has set us free. We acknowledge that it is through His precious blood that we have been made righteous and reconciled to God. These powerful words remind us of the immense love and grace that Jesus has shown us.
In our lives, we often encounter challenges and struggles that can make us feel burdened and weary. However, we find solace in knowing that Jesus, both fully God and fully Man, is our constant support and refuge. When we face difficulties and come to the end of our strength, we can lean on Jesus and find comfort in Him. He is our unwavering source of strength and our rescue from the grip of eternal death.
One of the greatest battles we face is against sin and the shame it brings. We earnestly pray to the Lord to defend us and help us overcome these struggles. By calling upon His almighty name, we seek His guidance and assistance in bearing our crosses with patience. We take heart in knowing that Jesus Himself experienced great agony, and His understanding and compassion bring us consolation.
Through our relationship with Jesus, we can gain full assurance that He will always remain true to us. He promises never to forsake us in our everyday battles and trials. In times of strife, we may feel uncertain and vulnerable, but Jesus reminds us that He is with us, guiding and protecting us. He accompanies us until the day we enter into eternal life, where we will experience perfect peace and joy in His presence.
The power of these words acknowledges our need for Jesus and His transformative work in our lives. As believers, we find comfort and hope in knowing that Jesus has paid the price for our freedom and reconciliation with God. It is through Jesus alone that we can find true liberation from the enslavement of sin and the assurance of eternal life with Him.
Lord Jesus, We Give Thanks To Thee is a hymn that brings us together as a community of faith. It serves as a reminder of the immense love Jesus has for each one of us, regardless of our shortcomings and failures. It is through His sacrifice that we have the opportunity to experience the transformative power of His grace and forgiveness.
When we sing this hymn, we should do so with grateful hearts, acknowledging the incredible gift of freedom that Jesus has bestowed upon us. Let us be reminded that we are not alone in our struggles. Jesus is our constant companion, walking beside us and carrying us when we need it the most.
As we deeply reflect on the meaning behind these lyrics, may we cultivate a spirit of thankfulness, recognizing that our freedom and reconciliation with God come at a great cost. Let us strive to live lives that honor and glorify the Lord, knowing that through Him, we have been set free from sin and shame.
In conclusion, Lord Jesus, We Give Thanks To Thee encapsulates the profound gratitude and awe we feel towards the Lord for His sacrifice. It serves as a powerful reminder of the freedom and reconciliation we can experience through our relationship with Him. As we continue our journey of faith, let us hold onto these truths and live lives that reflect the immense love and grace of our Savior.
I hope this hymn inspired image brings you hope and peace. Share it with someone who needs it today!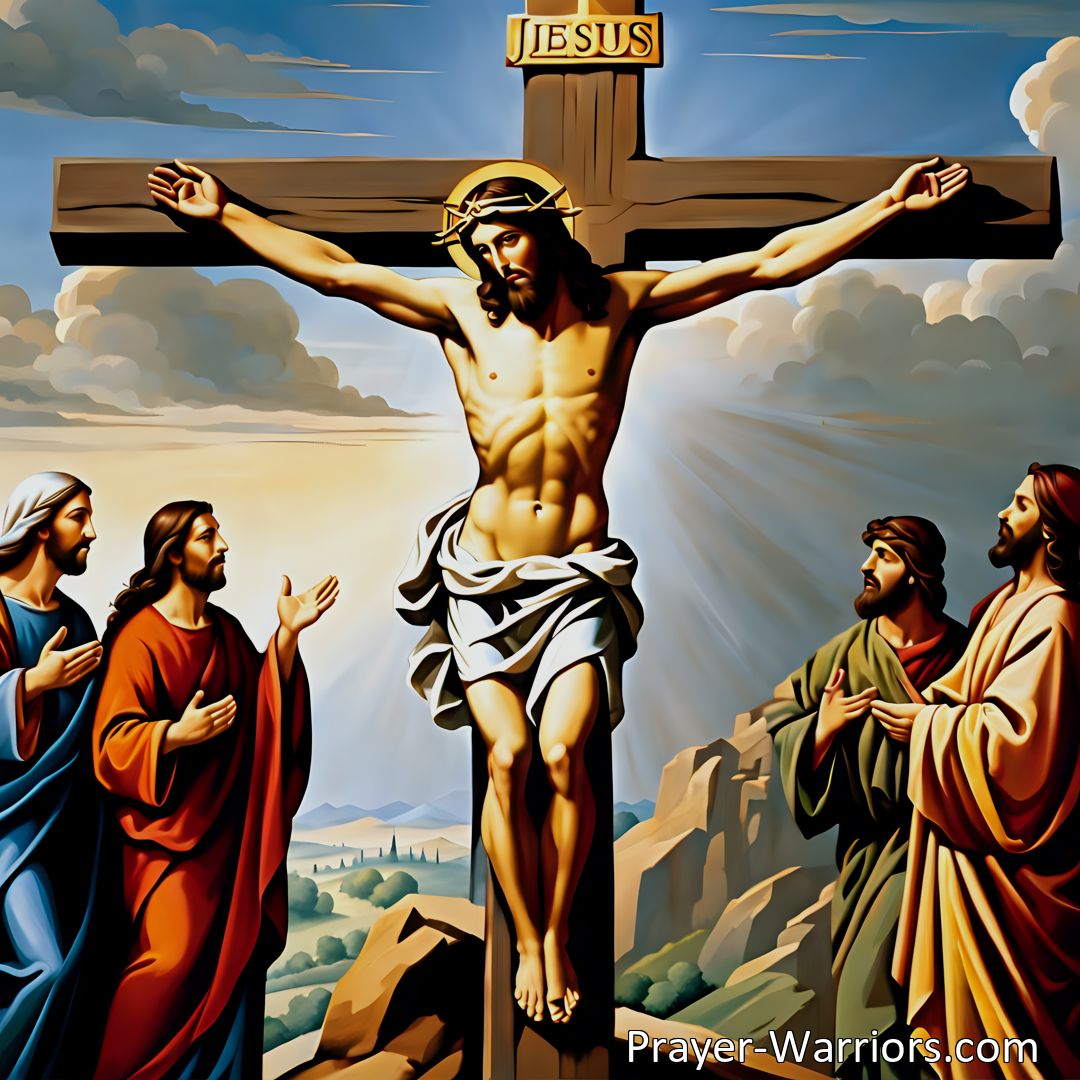 Join the Prayer Warriors Community!
Sign-up for our newsletter and embark on a transformative journey with Prayer. Enter your email below and become a part of our Prayer Warriors family.