Lord When I View Thy Mighty Power – Hymn Lyric
summary.txt
---
---
Lord When I View Thy Mighty Power – Hymn Lyric
Lord, when I view thy mighty power,
Thy wisdom and thy wondrous ways,
I stand amazed, yet evermore,
I fain would show thy love and praise.
Mine eyes behold wherever I look,
More wonders than I can relate;
To read the whole of nature's book,
It shows that thou art wondrous great.
Who sets the sun to run his route!
Who fixed and caused the change of moon?
Who brings both day and night about?
By the Almighty hand 'tis done.
Who sends the late and early rain?
Who brings the winds from South and North?
Who warms the frozen earth again?
That all her seeds and plants come forth.
It is thy great Almighty word,
Which caused all these things to be:
They show thou art the sovereign Lord,
And all the praise is due to thee.
Lord, I am thy creation too,
Created for the noblest end,
And with astonishment I view,
That thou to man shouldst condescend.
To grant thy blessings from above,
And make us heirs of endless grace:
Astonishing what wondrous love,
That God to man would show such grace.
All glory, honor, praise and power,
Be to our great Almighty King,
Who lives and reigns forevermore,
To him eternal praises sing.
Meaning of Lord When I View Thy Mighty Power
Lord When I View Thy Mighty Power: Celebrating the Wonders of Creation
Nature is full of wonders that never cease to amaze us. As we look around, we cannot help but stand in awe of the mighty power of the Lord. His wisdom and wondrous ways are evident in every corner of the world. It is a privilege to witness such beauty and grandeur, and it compels us to show our love and praise for our Creator.
Everywhere we turn, our eyes behold more wonders than we can even begin to comprehend. The intricate details of a flower petal, the majesty of a mountain range, the vastness of the ocean – these are just glimpses of the miracles that surround us. It is as if Nature itself is a book, filled with stories of the Lord's greatness. And as we read this book, the overwhelming truth is revealed – our God is truly wondrous great.
Who else but the Lord could set the sun to run its daily course? Who else could orchestrate the changing tides of the moon? It is only by the Almighty hand of God that day turns into night and vice versa. And consider the rain that nourishes the earth, the wind that blows from every direction, and the ever-changing seasons – all brought forth by the divine power of our Creator. It is through His word that these things exist, and we are reminded of His sovereignty and greatness.
But it is not just the wonders of nature that testify to the Lord's might. We ourselves are living proof of His love and grace. Each one of us is fearfully and wonderfully made, with a purpose that is far greater than we can imagine. It is a humbling thought to realize that the God who created the entire universe would condescend to create us, to bless us, and to make us heirs of His endless grace.
We are His greatest masterpiece, and His love for us is beyond comprehension. Our hearts should overflow with gratitude and amazement at the wondrous love that God has shown to humanity. We are not deserving of such grace, yet He freely gives it to us. How astonishing it is that the Almighty would choose to shower His blessings upon us.
All glory, honor, praise, and power belong to our great Almighty King. He is the one who lives and reigns forevermore. Our voices should join together in eternal praise, for He is worthy of all adoration and worship. Let us never forget the magnitude of His love and the wonders of His creation.
In conclusion, the hymn "Lord When I View Thy Mighty Power" captures the awe and wonder we feel when faced with the immense beauty and power of the Lord's creation. From the sun in the sky to the rain that nourishes the earth, every aspect of nature testifies to God's sovereignty and greatness. Moreover, we ourselves are a testament to His love and grace, as He created us with a purpose and showers us with blessings. Let us continually give thanks and praise to our great Almighty King, for He alone is deserving of all glory and honor.
I hope this hymn inspired image brings you hope and peace. Share it with someone who needs it today!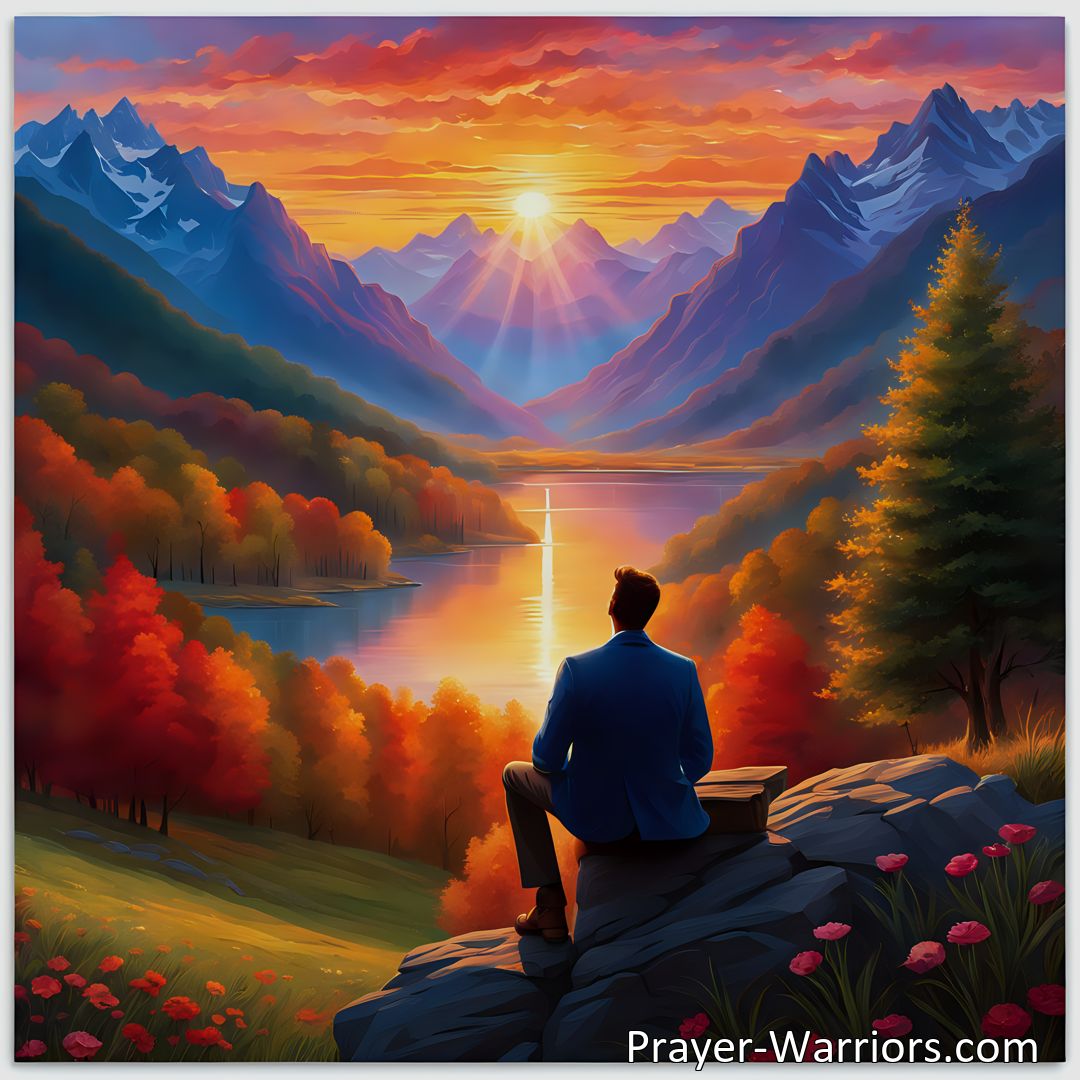 Join the Prayer Warriors Community!
Sign-up for our newsletter and embark on a transformative journey with Prayer. Enter your email below and become a part of our Prayer Warriors family.