Love Of Jesus All Divine – Hymn Lyric
The title "Love of Jesus All Divine" captures the essence of this hymn's heartfelt plea for the comfort and fulfillment found in Jesus' love. The verses express a deep longing for the divine love of Jesus, emphasizing the need for His aid and grace to overcome life's struggles. By using this title as a keyword, individuals searching for reflections on Jesus' love and finding solace in difficult times can be reminded of the profound nature of His love and the peace it brings.
---
---
Love Of Jesus All Divine – Hymn Lyric
Love of Jesus, all divine,
Fill this longing heart of mine:
Ceaseless struggling after life,
Weary with the endless strife.
Saviour, Jesus, lend Thine aid,
Lift Thou up my fainting head;
Lead me to my long-sought rest,
Pillowed on Thy loving breast.
Thou alone my trust shalt be,
Thou alone canst comfort me;
Only, Jesus, let Thy grace
Be my shield and hiding-place;
Let me know Thy saving power
In temptation's fiercest hour:
Then, my Saviour, at Thy side
Let me evermore abide.
Thou hast wrought this fond desire,
Kindled here this sacred fire,
Weaned my heart from all below,
Thee and Thee alone to know.
Thou Who hast inspired the cry,
Thou alone canst satisfy:
Love of Jesus, all divine,
Fill this longing heart of mine.
Meaning of Love Of Jesus All Divine
In this hymn, titled "Love of Jesus All Divine," we are presented with a beautiful expression of our yearning for the love and comfort of Jesus in our lives. The verses paint a picture of a heart that is tired and weary from the challenges and struggles of life, seeking solace and rest in the arms of the Savior.
The first verse introduces us to the central theme of the hymn – the love of Jesus – and the longing that fills our hearts. It describes our ceaseless striving for meaning and purpose, which often leaves us weary and exhausted. But in this weariness, we find hope in Jesus, who is called upon to lend His aid and lift our fainting heads.
As the verse continues, we are reminded that Jesus alone is worthy of our trust and able to comfort us in our times of need. The hymn emphasizes the grace of Jesus as our shield and hiding place, providing safety and refuge from the storms of life. It speaks of the desire to experience the saving power of Jesus in the midst of temptation's fiercest hours, and to abide in His presence forever.
The second verse delves deeper into the longing for Jesus and the profound impact that His love has on our hearts. It acknowledges that it is Jesus Himself who has sparked this desire within us and has drawn us towards Him. It is through His love that our hearts have been weaned from all earthly distractions and turned solely towards Him.
The hymn acknowledges that only Jesus can satisfy the cry of our hearts, as He alone is the source of true fulfillment and contentment. It is in His divine love that our longing hearts can find rest and peace. This repetitive plea for the love of Jesus to fill our hearts underscores the central message of the hymn – that in Jesus alone can we find ultimate satisfaction and fulfillment.
As we reflect on this hymn, we can see the importance of Jesus' love in our lives. It is a love that goes beyond simple affection or sentimentality – it is a divine love, the love of our Savior who sacrificed Himself for our sake. This love is a powerful force that can transform our weary hearts and provide us with the strength and comfort we need.
Furthermore, this hymn reminds us of the need to continually seek and experience this love of Jesus, especially during times of struggle and temptation. It is in these moments that we can truly understand the saving power of His love and find the strength to overcome.
The title of this hymn, "Love of Jesus All Divine," encapsulates the essence of the heartfelt plea expressed in its verses. By using this title as an SEO keyword, someone searching for reflections on Jesus' love or guidance on finding comfort in difficult times may be directed to this piece. In doing so, they will be reminded of the profound nature of Jesus' love and the solace it can provide.
To experience the love of Jesus is to experience a love like no other – a divine love that brings peace, rest, and fulfillment to our longing hearts. May we always seek to know and abide in this love, for it is in Jesus alone that we find true comfort and joy.
I hope this hymn inspired image brings you hope and peace. Share it with someone who needs it today!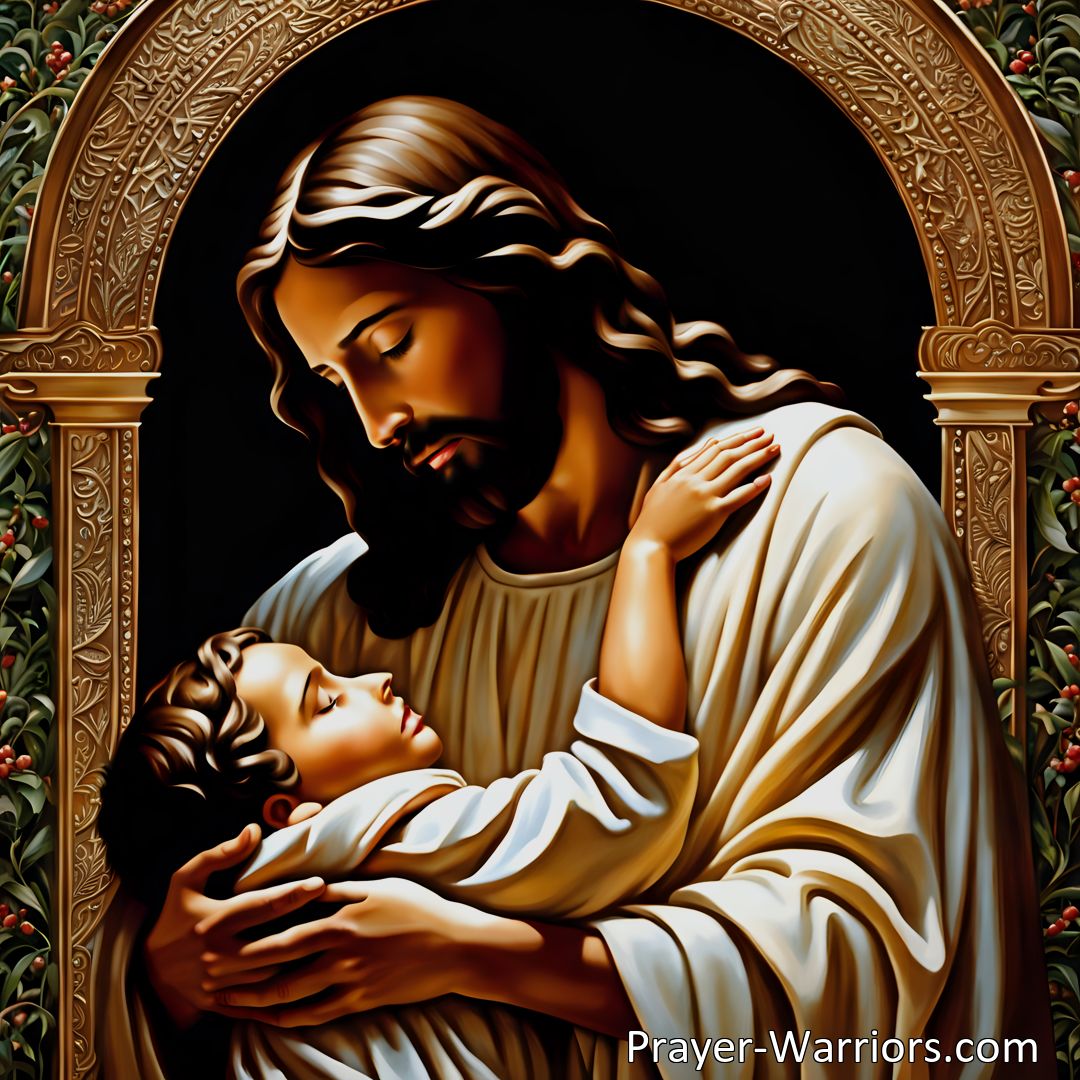 Join the Prayer Warriors Community!
Sign-up for our newsletter and embark on a transformative journey with Prayer. Enter your email below and become a part of our Prayer Warriors family.