O Father Lift Our Souls Above – Hymn Lyric
"O Father Lift Our Souls Above" is a heartfelt hymn that calls upon God to lift our souls above worldly troubles so that we can find rest in His love. It reminds us to seek divine peace, trust in God's provision, and live harmoniously with others. By embracing these principles, we can experience lasting contentment and fulfillment in God's deep peace.
---
---
O Father Lift Our Souls Above – Hymn Lyric
O Father! Lift our souls above,
Till we find rest in Thy dear love.
And still that Peace divine impart,
Which sanctifies the inmost heart.
It makes each morn and setting sun,
But bring us nearer to Thy throne.
May we our daily duties meet,
Tread sin each day beneath our feet.
And win that strength which doth Thy will,
And seeth Thee, and so is still.
And fixed on Thy sustaining arm,
Find daily food and know no harm.
Help us with man in peace to live,
Our brother's wrong in love forgive.
And day and night the tempter flee,
Through strength which comes alone from Thee!
Thus will our spirits find their rest,
In Thy deep Peace forever blest.
Meaning of O Father Lift Our Souls Above
O Father Lift Our Souls Above: Finding Rest in God's Love
In this beautiful hymn, the songwriter calls upon God to lift our souls above worldly troubles so that we may find rest in His love. The essence of this prayer is to seek the divine peace that can only be granted by God, which has the power to sanctify our hearts and bring us closer to His throne.
Today, we live in a fast-paced world filled with various challenges and distractions that can easily consume our thoughts and energy. It is easy to become overwhelmed and burdened by the weight of our daily responsibilities. However, this hymn reminds us that there is a place of refuge where we can find solace and tranquility – God's love.
When we find rest in God's love, it means we trust Him completely and rely on His grace to sustain us. It is a state of surrendering our worries and fears, knowing that God is in control and will provide for our needs. It is in this rest that we can truly experience peace – a peace that surpasses all understanding.
The hymn also speaks of the importance of daily duties and the need to tread sin beneath our feet. These words remind us that even though we seek rest in God's love, it does not mean we can neglect our responsibilities. We are called to meet our daily duties with diligence and integrity. By doing so, we not only bring glory to God but also grow in strength and wisdom.
Moreover, the hymn highlights the significance of having a steadfast faith in God. It encourages us to fix our gaze upon Him and trust in His sustaining arm. Just as a parent provides for the needs of their child, God promises to be our provider and protector. When we rely on Him for our daily sustenance, we can rest assured knowing that He will supply all our needs.
Additionally, the hymn emphasizes the importance of living in peace with others and forgiving those who wrong us. It reminds us that as recipients of God's love and forgiveness, we are called to extend the same love and forgiveness to our fellow human beings. By living in harmony and forgiveness, we not only honor God's commandments but also cultivate a peaceful and loving community.
The hymn also acknowledges the presence of the tempter, who seeks to lead us astray from God's path. However, it reassures us that through the strength that comes from God alone, we can resist the tempter and remain steadfast in our faith. This serves as a comforting reminder that we are not alone in our struggles, and God's power is greater than any force that tries to separate us from His love.
Ultimately, when our spirits find their rest in God's deep peace, we are forever blessed. This deep peace is not dependent on our circumstances or possessions but is rooted in our relationship with God. It is a peace that goes beyond temporary happiness, offering a lasting sense of contentment and fulfillment.
In conclusion, "O Father Lift Our Souls Above" is a hymn that reminds us of the importance of finding rest in God's love. It encourages us to seek His peace, trust in His provision, and live in harmony with others. By embracing these principles and fixing our gaze upon Him, we can experience the true rest that our souls long for. May we always find solace in His love and strive to live in His deep peace.
I hope this hymn inspired image brings you hope and peace. Share it with someone who needs it today!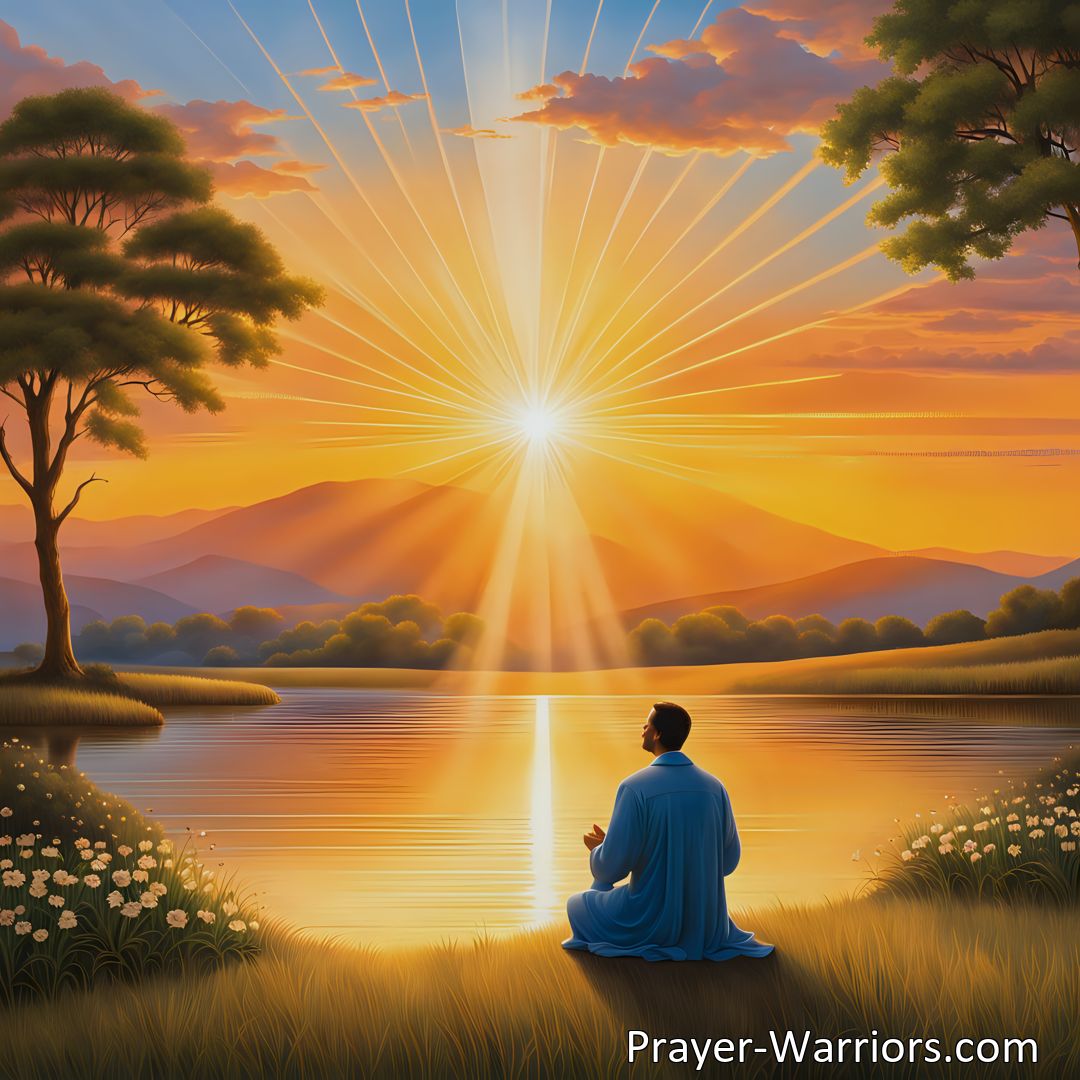 Join the Prayer Warriors Community!
Sign-up for our newsletter and embark on a transformative journey with Prayer. Enter your email below and become a part of our Prayer Warriors family.