O God Of Love On Bended Knee – Hymn Lyric
"O God Of Love On Bended Knee" is a heartfelt hymn that expresses our need for God's mercy and the freedom we find in His love. Through the sacrifice of Jesus Christ, we can approach God with humble hearts, acknowledging our guilt as sinners and seeking His grace and redemption. This hymn reminds us of the boundless love and forgiveness that God offers to all who earnestly seek Him.
---
---
O God Of Love On Bended Knee – Hymn Lyric
I
O God of love, on bended knee,
We, guilty sinners, call on Thee;
Now, by the cross that Jesus bore,
Extend Thy mercy, we implore.
II
We have no plea to urge but this,
Our own exceeding sinfulness,
And all the love to sinners shown
Who claim His merits as their own.
III
Ah, weary with the toil of sin,
We seek Thy matchless grace to win;
Lord, break the fetters that enslave,
And let us know Thy power to save.
IV
Rise on the darkness of the way
That leads from night to perfect day,
And let the joy that light awakes
Possess the soul that sin forsakes.
V
O Christ, to Thee our praise ascends,
Whose love the needy soul befriends;
For, by Thy cross our souls are free
To love and praise, eternally.
Meaning of O God Of Love On Bended Knee
O God Of Love On Bended Knee: Finding Mercy and Freedom in God's Love
In our lives, there are moments when we feel the weight of our mistakes and wrongdoings. We recognize our guilt as sinners and understand that we need to seek forgiveness. It is during these times that we turn to God, the source of love and mercy, with humble hearts on bended knee, seeking His grace and redemption.
God, in His infinite love, sent His Son Jesus Christ to bear the cross on our behalf. This act of sacrifice and love shows us the depth of God's mercy. It is through the cross that we find hope and restoration. As we approach God, we implore Him to extend His mercy to us, acknowledging our guilt and placing our trust in the merits of Jesus Christ.
As sinners, we have no plea to present before God except our own exceeding sinfulness. Our shortcomings and failures remind us of our need for God's forgiveness and grace. Yet, we are comforted by the fact that God's love is not limited to those who are righteous, but extends to all sinners who earnestly seek Him. It is through His boundless love that He calls us to Himself, embracing us and offering forgiveness.
We often find ourselves worn down by the struggles and toil of sin. We long for God's matchless grace to free us from the bondage that sin creates in our lives. Just as chains restrict and confine, our sins can hold us captive, preventing us from experiencing the fullness of God's love and joy. In our plea for deliverance, we ask the Lord to break these fetters that enslave us and to reveal His power to save. We trust in His ability to set us free from the burden of sin.
In the midst of darkness and despair, we yearn for the light that comes from knowing God. We recognize that the path we have been on leads only to darkness, but through God's love, we can find our way to a perfect day. As we surrender ourselves to Him, His light shines on our hearts and leads us towards an eternal joy. It is through this journey of forsaking sin and embracing God's love that our souls are transformed, allowing us to experience true joy and happiness.
As we reflect on the immeasurable love and sacrifice of Jesus Christ, our hearts overflow with praise. We acknowledge Him as the one who befriends the needy soul, offering freedom and redemption to all who seek Him. Through His cross, He has set us free from the chains of sin, enabling us to love and praise God eternally. His love is the foundation of our faith and the source of our salvation.
In conclusion, "O God Of Love On Bended Knee" is a beautiful hymn that captures the essence of our relationship with God. It reminds us of our need for mercy, our dependence on His love, and the freedom we find in surrendering ourselves to Him. As we humbly approach God with our hearts bowed down, seeking His grace and forgiveness, we are met with His boundless love and the assurance of eternal joy. Let us embrace His love and praise Him for His unfailing goodness.
I hope this hymn inspired image brings you hope and peace. Share it with someone who needs it today!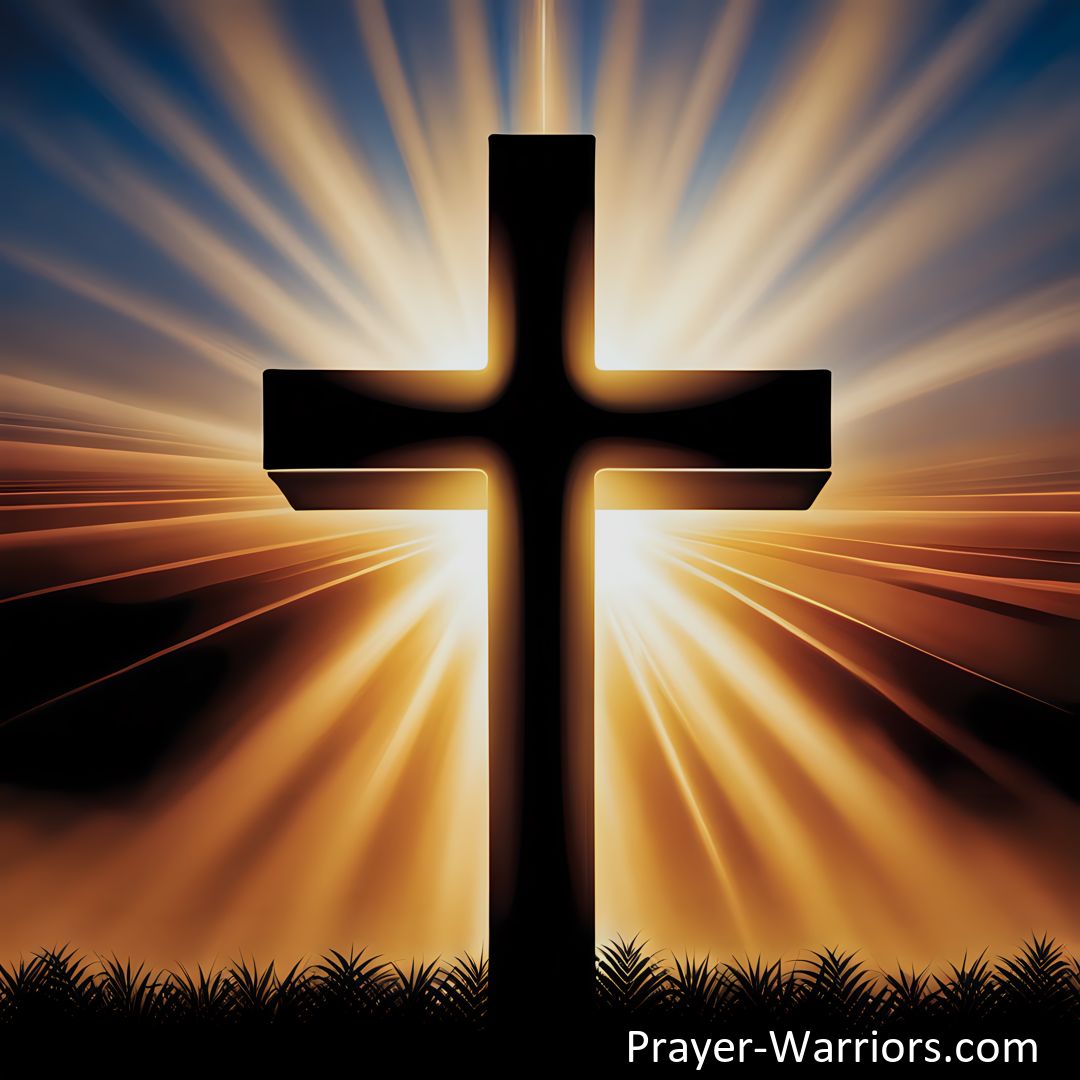 Join the Prayer Warriors Community!
Sign-up for our newsletter and embark on a transformative journey with Prayer. Enter your email below and become a part of our Prayer Warriors family.