O God We Bear The Imprint Of Your Face – Hymn Lyric
Title: O God We Bear The Imprint Of Your Face "O God We Bear The Imprint Of Your Face: Embracing the Beauty of Diversity" is a powerful hymn that reminds us of our unique identities and the beauty in our differences. It challenges us to confront hate and discrimination, honoring the worth of every human being. Through the love of Christ, we can learn to embrace diversity and build a world of respect and equality.
---
---
O God We Bear The Imprint Of Your Face – Hymn Lyric
O God, we bear the imprint of your face:
the colors of our skin are your design,
and what we have of beauty in our race
as man or woman, you alone define,
who stretched a living fabric on our frame
and gave to each a language and a name.
Where we are torn and pulled apart by hate
because our race, our skin is not the same,
while we are judged unequal by the state
and victims made because we own our name,
humanity reduced to little worth,
dishonored is your living face on earth.
O God, we share the image of your Son
whose flesh and blood are ours, whatever skin,
in humanity we find our own,
and in his family our proper kin:
Christ is the brother we still crucify,
his love the language we must learn, or die.
Meaning of O God We Bear The Imprint Of Your Face
O God We Bear The Imprint Of Your Face: Embracing the Beauty of Diversity
In this powerful hymn, we are reminded of the beauty and significance of our diverse identities as children of God. It speaks to the truth that each one of us is uniquely created in God's image, with our own distinct skin color, language, and name. This hymn challenges us to confront the divisions caused by hate and discrimination, and calls upon us to honor and value the inherent worth of every human being.
God, the ultimate creator, has fashioned each one of us with care and purpose. Just as an artist carefully selects the colors to paint a picture, God has chosen the shades and hues of our skin. Our diverse skin colors are not meant to divide us, but rather to showcase the richness and variety in God's creation. It is through our differences that we collectively reflect the beauty and wonder of our Creator.
However, it is disheartening to acknowledge that our world is often marred by hate and discrimination. People are judged and mistreated solely because their race or skin color differs from the majority. The hymn points out the injustice of such prejudice and the damaging consequences it has on humanity. When we reduce individuals to mere stereotypes or assign them unequal value based on their appearance, we dishonor the very face of God that resides within each person.
Yet, within the complexity of our broken world, there is hope. The hymn also reminds us of our shared connection through Jesus Christ, God's Son. Regardless of our individual skin colors, we are all part of his human family. In his life, death, and resurrection, Jesus taught us the true meaning of love, compassion, and acceptance. He showed us that no matter our differences, we are all deserving of dignity and respect.
Christ's love serves as a guide for us to follow in our interactions with one another. We are called to embrace our diverse identities and recognize the value of every person, regardless of their race or ethnicity. Jesus extended his love even to those who crucified him, teaching us that a genuine love for others should transcend prejudice and hate.
Learning the language of Christ's love is both a rewarding and challenging endeavor. It requires us to embody compassion, understanding, and empathy. It compels us to actively listen and seek to understand the experiences and perspectives of those different from ourselves. By doing so, we can dismantle the barriers built by ignorance and fear. Only by embracing the diversity within our human family can we truly experience the fullness of God's love and bring about the healing that our world so desperately needs.
So, let us reflect on the profound message hidden within this hymn. Let us recognize and celebrate the imprint of God's face that we all bear. Rather than allowing our differences to divide us, let us embrace them as a testament to the beauty and creativity of our Creator. And, above all, let us love one another as equals, with Christ's love as our guide. Only then can we hope to create a world where every person, regardless of their race or skin color, is respected, valued, and honored for the divine spark they carry within.
I hope this hymn inspired image brings you hope and peace. Share it with someone who needs it today!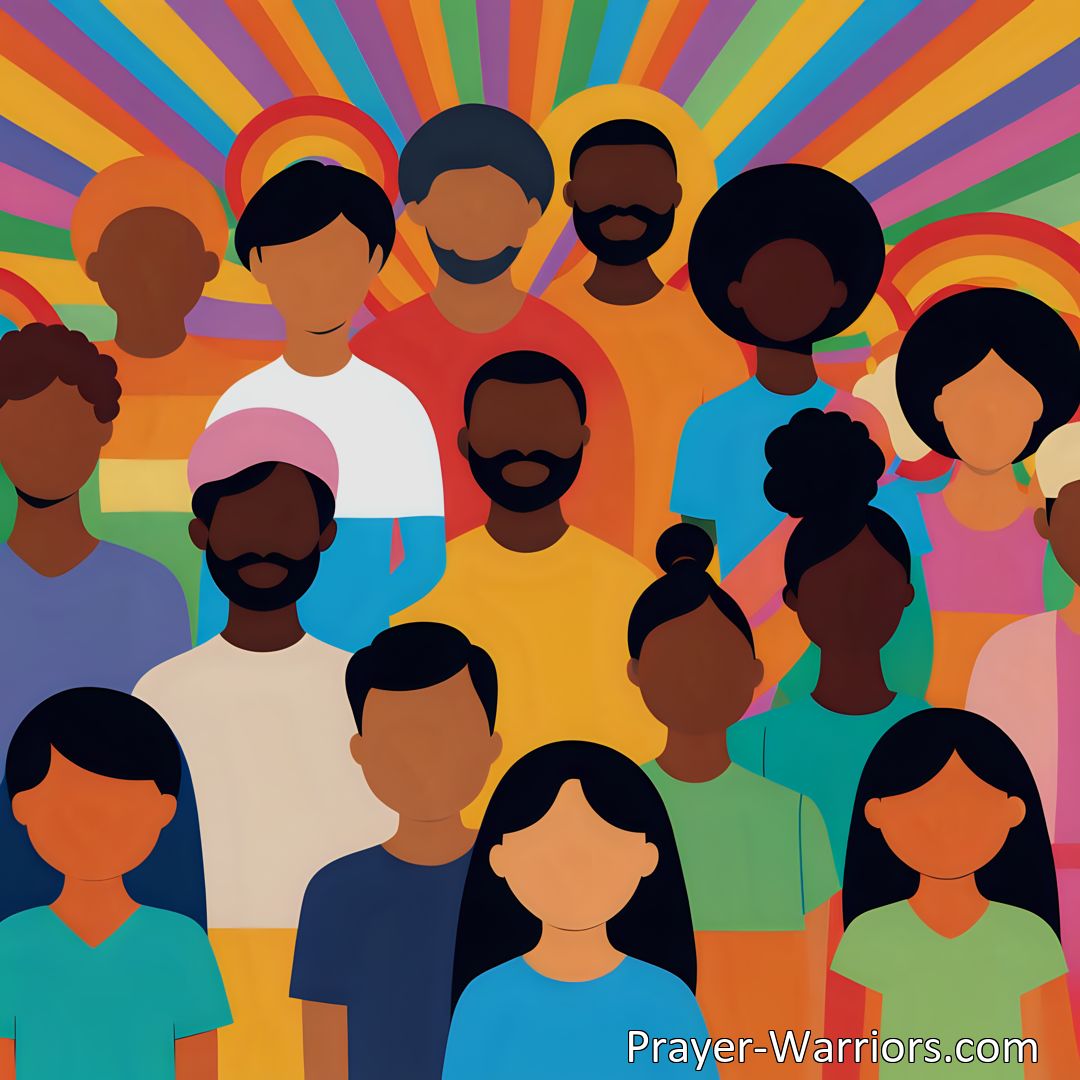 Join the Prayer Warriors Community!
Sign-up for our newsletter and embark on a transformative journey with Prayer. Enter your email below and become a part of our Prayer Warriors family.