O Happy Are Those Who Fear The Lord – Hymn Lyric
summary.txt
---
---
O Happy Are Those Who Fear The Lord – Hymn Lyric
O happy are those who fear the Lord and walk in his ways.

Meaning of O Happy Are Those Who Fear The Lord
O Happy Are Those Who Fear The Lord: Embracing a Life of Purpose and Blessings
In the whirlwind of life's challenges, it's easy to lose sight of what truly matters. We often find ourselves caught up in petty disagreements, worries about material possessions, and the pursuit of empty accomplishments. However, there is a timeless wisdom embedded in a powerful hymn that reminds us of the secret to happiness and fulfillment. This hymn, titled "O Happy Are Those Who Fear The Lord," sheds light on the virtues of living a life filled with reverence for the divine and walking in the ways of goodness and righteousness.
To fear the Lord may sound daunting, but it is not about trembling with fear or being scared of divine punishment. Instead, it is about recognizing the greatness and majesty of God, acknowledging His authority, and humbly submitting ourselves to His will. When we truly fear the Lord, we open ourselves up to a world of blessings and wisdom that can guide us on our life's journey.
Walking in His ways speaks to the choices we make and the actions we take. It means aligning our lives with the principles of love, compassion, integrity, and justice that are fundamental to the teachings of numerous faith traditions. By following the path of righteousness, we become beacons of light in a world often shrouded by darkness, for our choices have the power to spark positive change in ourselves and those around us.
In a society that often glorifies wealth, power, and worldly success, the hymn reminds us of the true source of happiness. It highlights that true happiness lies not in material possessions or achievements, but rather in the quality of our character and our relationship with the divine. By fearing the Lord and walking in His ways, we cultivate traits such as gratitude, humility, patience, and forgiveness. These virtues help us find contentment in life's simplest joys and navigate difficulties with resilience and inner peace.
Living a life rooted in the fear of the Lord and walking in His ways does not exempt us from challenges. Rather, it equips us with the necessary tools to face adversity with courage and strength. The hymn suggests that those who fear the Lord and follow His path will be sustained and supported through life's ups and downs. It assures us that we are not alone in our struggles, for the divine presence offers comfort, guidance, and protection.
In a world filled with constant distractions and temptations, it can be challenging to stay steadfast in our commitment to fearing the Lord and walking in His ways. However, the hymn reminds us that the rewards of such a life far outweigh the fleeting pleasures that come from indulging in sinful desires. It reassures us that by embracing a life of purpose and integrity, we will find true happiness and lasting fulfillment.
But how do we practically apply these teachings in our everyday lives? It starts with cultivating a genuine relationship with the divine. This can be achieved through regular prayer, meditation, and reflection. Taking time out of our busy schedules to connect with God allows us to experience His presence and align our hearts and minds with His will.
Furthermore, nurturing relationships with others who share our commitment to fearing the Lord and walking in His ways can provide immense support and encouragement. Joining a faith community or engaging in service to others can help strengthen our resolve to live a life of purpose and goodness.
Part of walking in God's ways includes striving to be the best versions of ourselves. This means pursuing lifelong learning, seeking wisdom from trusted sources, and being open to personal growth. Honoring our responsibilities, being mindful of our words and actions, and always treating others with kindness and respect are crucial aspects of living a life that reflects our fear of the Lord.
In conclusion, "O Happy Are Those Who Fear The Lord" is a beautiful hymn that reminds us of the timeless wisdom embedded in embracing a life of purpose and blessings. By fearing the Lord and walking in His ways, we open ourselves up to the transformative power of divine guidance and align our lives with principles that lead to true happiness and fulfillment. Let us remember that the path may not always be easy, but the rewards are immeasurable. So, let us embrace the teachings of this hymn and embark on a journey of reverence, righteousness, and unyielding hope.
I hope this hymn inspired image brings you hope and peace. Share it with someone who needs it today!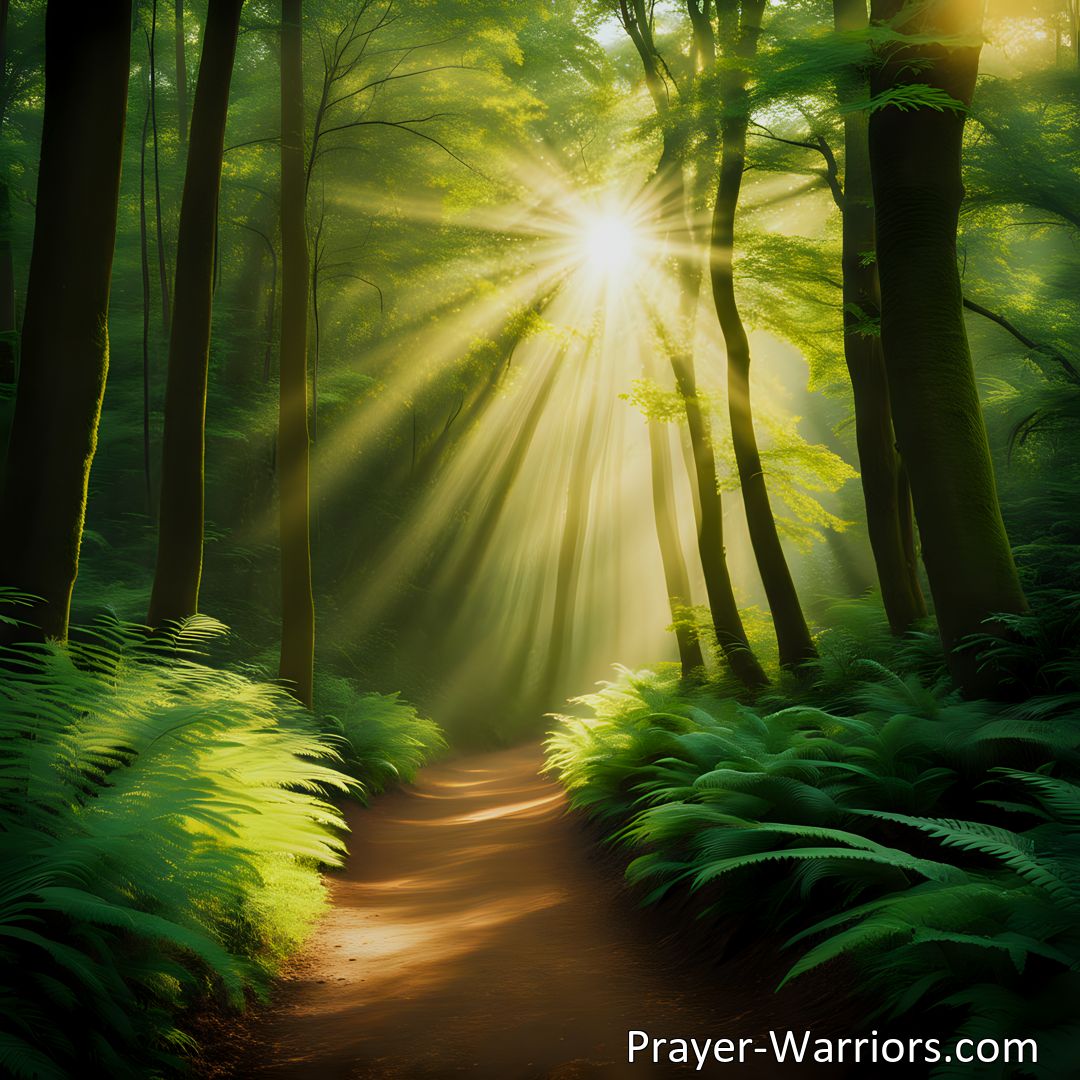 Join the Prayer Warriors Community!
Sign-up for our newsletter and embark on a transformative journey with Prayer. Enter your email below and become a part of our Prayer Warriors family.