O I Love To Think How Jesus – Hymn Lyric
O I Love To Think How Jesus Embraced the Little Children with Love – This hymn takes us back to the time when Jesus walked on earth and blessed the little children, showing his deep love for them. It reminds us to value and cherish children, just as Jesus did, creating a heavenly kingdom where they feel safe, loved, and nurtured. Let us be agents of Jesus's love, embracing and nurturing children so they can flourish in His grace.
---
---
O I Love To Think How Jesus – Hymn Lyric
Oh, I love to think how Jesus
When He walked on earth below,
Used to bless the little children,
For He loved them, loved them so!
Refrain:
Unto me, unto me,
Of the little ones saith He:
For the blessed heavenly kingdom
Of such as they shall be.
When the mothers came and brought Him,
Tender infants, young and small,
And so earnestly besought Him
For His blessing on them all.
[Refrain]
Tho' disciples would rebuke them,
Turn the little ones away,
In His gentle arms He took them,
And they heard Him sweetly say-
[Refrain]
Little children, now from Jesus,
Will you His dear blessing seek?
From His home on high He sees us,
Hear Him kindly to us speak.
[Refrain]
Just as close His arms will hold you;
Just as kind His blessings fall;
Just as warm His love enfold you,
Just as sweetly doth He call.
[Refrain]
Meaning of O I Love To Think How Jesus
O I Love to Think How Jesus Embraced the Little Children with Love
When we think about Jesus, we often picture Him surrounded by people, delivering powerful teachings or performing miraculous healings. But there is something truly special and heartwarming about the way He interacted with children. In this hymn, we are reminded of the tender moments when Jesus blessed and embraced the little ones, showing his deep love for them.
The verses take us back to a time when Jesus walked on earth among us. It was a time when mothers would bring their tender infants to Him, seeking His blessing. Despite the disciples' initial hesitation, Jesus lovingly received the children into His arms, teaching us the importance of valuing and cherishing the youngest members of our society.
In a world where children were often overlooked or disregarded, Jesus saw their purity, innocence, and potential. He recognized that the heavenly kingdom belonged not just to adults, but also to the little ones. This message continues to resonate with us today, reminding us of the significance of children in God's eyes.
We can imagine the scene as mothers approached Jesus, their babies in tow, filled with hope and longing for Him to touch their lives. They knew that His blessing had the power to bring grace and protection to their children. It was a plea from devoted hearts, a plea that He did not turn away.
Jesus, in His infinite wisdom and love, saw beyond society's norms and expectations. He knew the importance of nurturing the next generation and the impact it would have on building a better world. In His arms, the children found comfort, security, and acceptance. They heard His gentle voice assuring them that they were seen, heard, and loved.
This hymn prompts us to ask ourselves if we, too, are embracing children with the same love and tenderness that Jesus displayed. Are we creating spaces where all children feel valued, acknowledged, and supported? It reminds us that we are entrusted with the responsibility of molding young minds and souls, just as Jesus did.
In today's fast-paced and technology-driven world, it is easy to overlook the needs and dreams of children. We must strive to be present, to listen, and to actively engage with them. Jesus's actions teach us that even the smallest acts of kindness or words of encouragement can leave lifelong impressions on young hearts.
The refrain of the hymn emphasizes Jesus's message directly to us: "Unto me, unto me, of the little ones saith He." It is a call to action, a reminder that we are called to create a heavenly kingdom here on earth for children. We must ensure that they feel safe, loved, and nurtured by our words and actions.
We are reminded that Jesus continues to watch over us from His home on high. His love for the little children remains unwavering, and we, too, must strive to follow in His footsteps. Just as He held the children close and blessed them, we are called to embrace children with open hearts and open minds.
The hymn also reminds us that His blessings are not limited to a specific time or place. Just as Jesus's arms held the children, His love can enfold us all. Regardless of our age, we can feel His love, guidance, and compassion surrounding us. His blessings extend to everyone who seeks them, including the young at heart.
As we reflect on these words, let us cherish the imagery of Jesus's love for the little ones. Let us be inspired to create a world where children are valued, where their voices are heard, and where their dreams are supported. In doing so, we embody the true essence of Jesus's teachings and spread His love to all corners of the earth.
O how wonderful it is to think about Jesus's love for the little children! May we be agents of that same love, embracing them and nurturing them so that they may flourish and grow in the light of His grace.
I hope this hymn inspired image brings you hope and peace. Share it with someone who needs it today!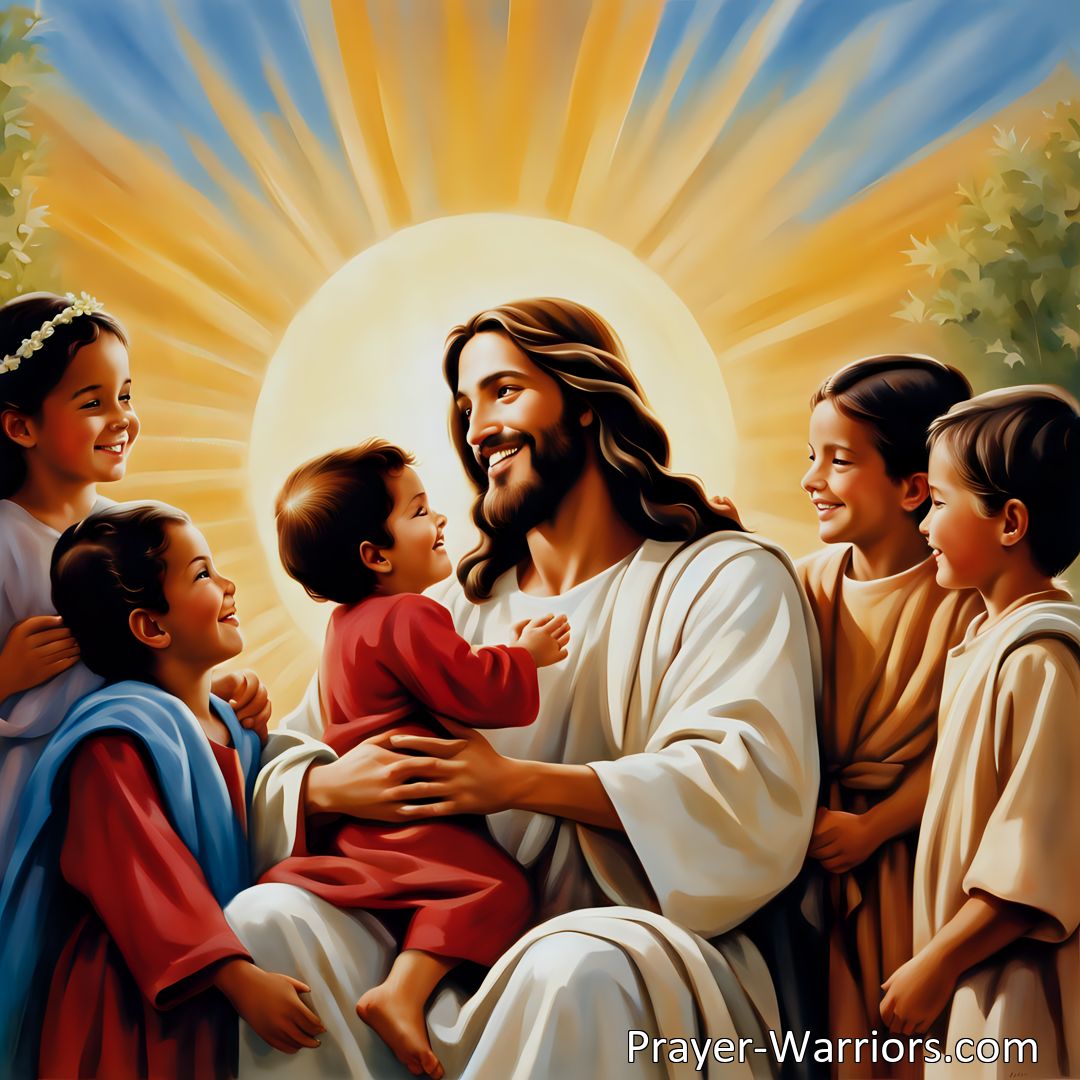 Join the Prayer Warriors Community!
Sign-up for our newsletter and embark on a transformative journey with Prayer. Enter your email below and become a part of our Prayer Warriors family.