O I Love To Walk With Jesus – Hymn Lyric
ERROR
---
---
O I Love To Walk With Jesus – Hymn Lyric
O I love to walk with Jesus
Like the publicans of old,
When He gathered them about Him,
And the blessed tidings told;
How He came to bring deliverance
To the captives in distress,
Take away our ev'ry burden,
Giving perfect peace and rest.
I will follow where He leadeth;
I will pasture where He feedeth.
I will follow all the way, Lord,
I will follow Jesus ev'ry day.
O I love to walk with Jesus
Like the man of long ago
Who had tarried by the wayside
Near the gates of Jericho.
Jesus heard his cry for mercy,
Gave him back his sight that day,
And immediately he followed
Jesus all along the way.
O I love to walk with Jesus
All the way to Calv'ry's brow,
Gaze upon that scene of suffering
While my tears of sorrow flow.
There He tells me how He loves me—
Takes my ev'ry sin away;
So I follow Him so gladly,
Lead me anywhere He may.
O sometime I'll walk with Jesus
In that land of endless day,
When our journey here is over
And we've reached our home to stay.
Then I'll walk with him forever,
Sing His praises o'er and o'er,
And with all the saints in glory;
Love, and worship, and adore.
Meaning of O I Love To Walk With Jesus
O I Love To Walk With Jesus: Finding Peace and Joy in Following Him
Walking with Jesus is an incredible experience that brings us joy, peace, and a sense of purpose. Just like the publicans of old, we have the opportunity to gather around Him and listen to His blessed tidings. Jesus came to bring deliverance to those in distress and to take away all our burdens, giving us perfect peace and rest.
When we choose to follow Jesus, we are committing ourselves to walk in His footsteps and abide by His teachings. It is not always an easy path, but the rewards are immeasurable. Each step we take with Him leads us closer to the abundant life He promises.
Just as the man near the gates of Jericho cried out for mercy, we too find solace in Jesus' open arms. He hears our every plea and stands ready to answer our prayers. When the man was blind, Jesus restored his sight, and that very day, the man became a devoted follower of Jesus. This reminds us that Jesus has the power to heal us, both physically and spiritually.
One of the most profound walks with Jesus is the journey to Calvary's brow. As we gaze upon the scene of suffering, our hearts are filled with a mix of sorrow and gratitude. Our tears flow, not only for the pain Jesus endured but also because of the overwhelming love He shows us. In that moment, Jesus takes away our sins and assures us of His great love.
Following Jesus on this path of suffering is not always easy, but we willingly do it because of the love He has shown us. As He leads us, we take comfort in knowing that wherever He may guide us, we are in His loving care. We trust that He knows the way and will provide for all our needs.
Although our earthly journey will come to an end, our walk with Jesus is eternal. Someday, we will walk with Him in that land of endless day, where sorrow and pain will be no more. Our home will be with Him forever, and we will sing His praises over and over again. Joined by all the saints in glory, we will love, worship, and adore Him for all eternity.
The love and joy we experience by walking with Jesus are unmatched. It is a love that surpasses all understanding and fills our hearts to overflowing. When we choose to follow Him, we find fulfillment, purpose, and a true sense of belonging. There is no greater joy than knowing that we are walking hand in hand with the Savior.
As we continue to walk with Jesus each day, let us reflect on the hymn's message and internalize its truth. Let us embrace the love He offers and commit ourselves to follow Him wherever He may lead. Walking with Jesus is not only a privilege, but it is also a life-transforming experience that brings us immeasurable joy and peace.
In conclusion, the hymn "O I Love To Walk With Jesus" beautifully captures the essence of what it means to follow Jesus. It reminds us of the peace and joy we can find in His presence, the power of His love and forgiveness, and the promise of an eternal home with Him. Let us hold onto these truths and continue to walk in His footsteps, knowing that we are never alone.
I hope this hymn inspired image brings you hope and peace. Share it with someone who needs it today!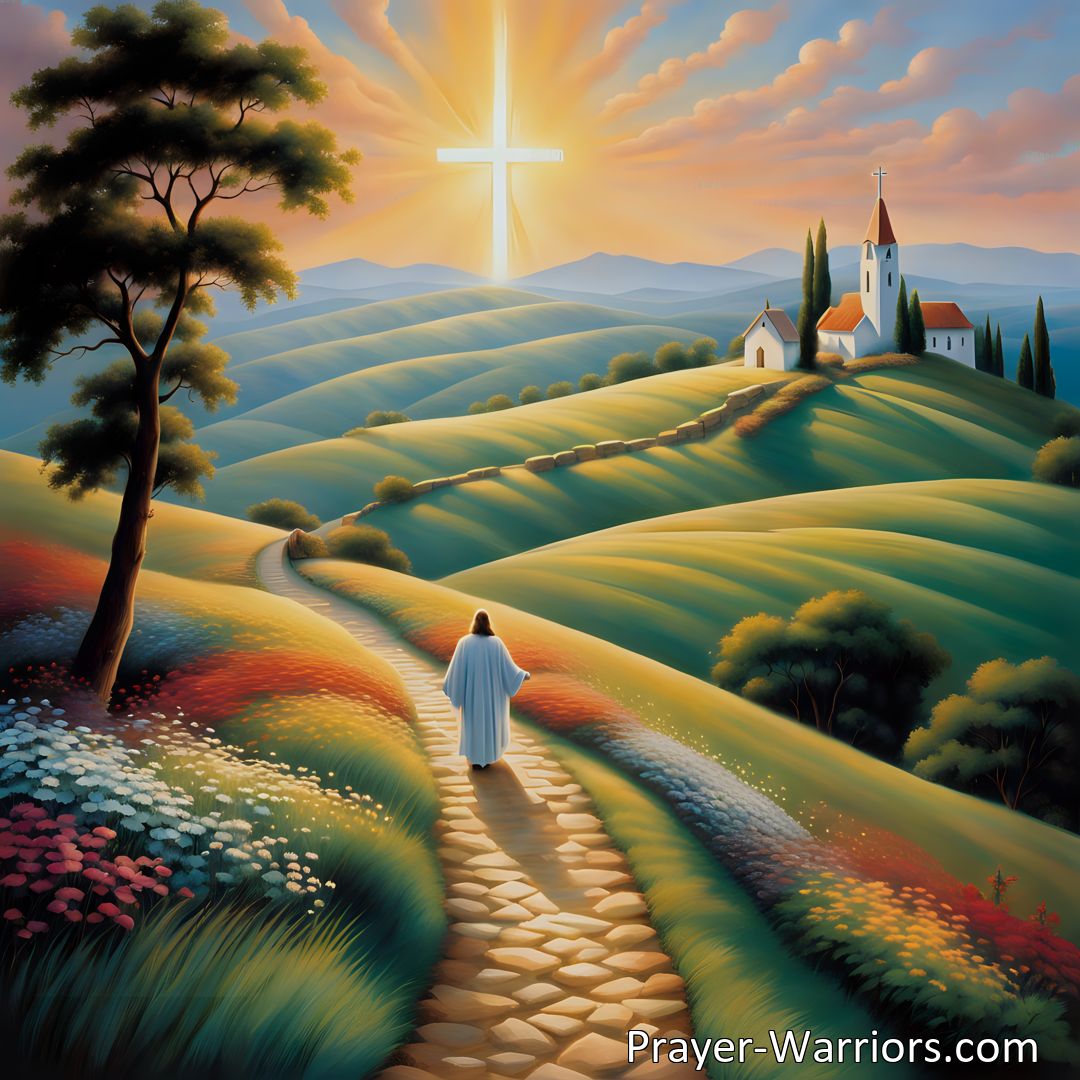 Join the Prayer Warriors Community!
Sign-up for our newsletter and embark on a transformative journey with Prayer. Enter your email below and become a part of our Prayer Warriors family.