O Jesus Blessed Lord To Thee – Hymn Lyric
The title "O Jesus Blessed Lord To Thee" reminds us to express our thanks and praise to Jesus. This hymn teaches us that Jesus dwells within our souls, bringing healing and wholeness. It is a message of gratitude, comfort, and hope that resonates with people of all ages and literacy levels.
---
---
O Jesus Blessed Lord To Thee – Hymn Lyric
O Jesus, blessed Lord, to you my heartfelt thanks and praise are due;
you have so lovingly bestowed on me your body and your blood.
Break forth, my soul, for joy and say: What wealth is come to me today!
My Savior dwells within my soul and makes my wounded spirit whole!
Meaning of O Jesus Blessed Lord To Thee
O Jesus, Blessed Lord To Thee, these words encompass a deep sense of gratitude and praise. As I ponder on this hymn, I am reminded of the overwhelming love and grace extended to us by our Savior.
The verse begins with a heartfelt expression of thanks and praise towards Jesus. It acknowledges that everything good and wonderful comes from Him. This sentiment is so significant, as it reflects the recognition of a divine presence that has bestowed blessings upon us.
The hymn beautifully highlights the profound act of communion and the significance of partaking in the body and blood of Christ. It acknowledges that Jesus, in His incredible love, has chosen to dwell within our souls. This realization is a cause for joy and celebration.
As the verse suggests, my soul breaks forth in joy at the recognition of the immense wealth bestowed upon me. This wealth does not refer to monetary possessions or material abundance, but rather to the spiritual wealth and blessings that come from embracing the presence of Jesus within our lives.
When we fully grasp the idea that our Savior dwells within our souls, it brings about a transformation in our wounded spirits. It is a healing balm that restores our brokenness and brings us wholeness. The hymn reminds us that Jesus is the ultimate source of healing and restoration.
Reflecting on these words, it is a humbling realization that such a revered and powerful being would choose to reside within us. It speaks to the immeasurable love and compassion Jesus has for each one of us.
This hymn holds a message that is accessible to all, regardless of age or literacy level. It encompasses a theme that crosses boundaries and resonates with people from all walks of life. Its simple yet profound teachings have the power to touch hearts and transform lives.
In a world filled with challenges and difficulties, this hymn offers comfort and hope. It reminds us that we are not alone in our struggles. Jesus, our blessed Lord, walks with us every step of the way. His presence within us gives us strength and courage to face whatever comes our way.
For a seventh-grader, these words may hold a special significance. As they navigate the tricky path of adolescence, they may feel overwhelmed by insecurities, peer pressure, and academic stress. The hymn can serve as a reminder that they are never alone. They have an ever-present Savior who loves them unconditionally and provides them with the comfort and support they need.
At this crucial stage of development, the concept of having Jesus dwell within their souls can have a transformative impact on a seventh-grader's perspective on life. It can nurture their sense of self-worth, knowing that they are valued and loved by the Creator of the universe.
Furthermore, this hymn encourages an attitude of gratitude. It teaches seventh-graders to be thankful for the blessings they receive daily. It reminds them to pause and reflect on the goodness that surrounds them, regardless of the challenges they face.
As the hymn states, our hearts should overflow with thanks and praise to Jesus. This gratitude fuels a joyful spirit within us, enabling us to find beauty even in the darkest of times.
In the context of search engine optimization (SEO), the title of this article, "O Jesus Blessed Lord To Thee," serves as a powerful keyword. By incorporating this title, we ensure that individuals who are searching for content related to this specific hymn and its meaning will find our article.
By crafting an article that expands upon the ideas encapsulated within this hymn, we not only rank in search but also serve as a valuable resource for those seeking a deeper understanding of its significance.
In conclusion, "O Jesus Blessed Lord To Thee" is a hymn that invites us to express our heartfelt thanks and praise to Jesus. It teaches us the profound truth that our Savior dwells within our souls, bringing healing and wholeness. This hymn holds a universal message of gratitude, comfort, and hope that transcends age and literacy levels. May its words continue to resonate within our hearts as we journey through life, knowing that we are never alone, and that Jesus' love and grace are constantly surrounding us.
I hope this hymn inspired image brings you hope and peace. Share it with someone who needs it today!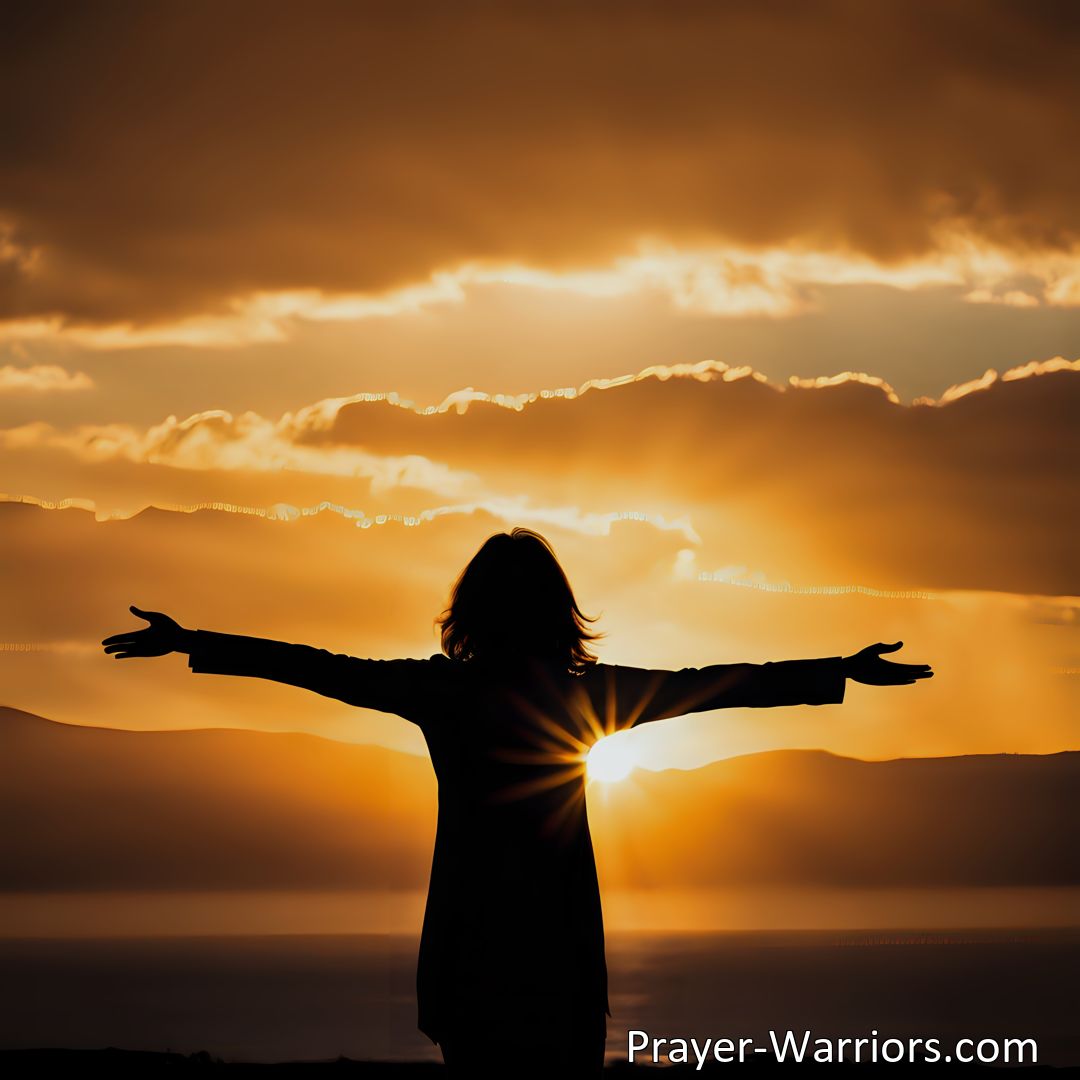 Join the Prayer Warriors Community!
Sign-up for our newsletter and embark on a transformative journey with Prayer. Enter your email below and become a part of our Prayer Warriors family.