O Joy Of Joys God So Did Love – Hymn Lyric
TITLE : O Joy Of Joys God So Did Love: A Reminder of God's Love and Salvation This hymn beautifully expresses the magnitude of God's love for humanity and His ultimate act of compassion through the sacrifice of His Son, Jesus Christ. It highlights the power of Jesus' death and resurrection in breaking the chains of sin and offering salvation to those who trust in Him. The hymn also emphasizes the importance of remaining faithful to Christ and warns of the consequences of turning away from Him. Overall, it is a powerful reminder of the depth of God's love and the joy and peace that come from embracing His salvation.
---
---
O Joy Of Joys God So Did Love – Hymn Lyric
Oh, joy of joys! God so did love
This world and show compassion,
That He sent down from heaven above
His Son for our salvation.
So deep in sin this world was bound,
Had God His Son not given,
Our bonds thus riven,
No help had e'er been found,
However man had striven.
This doth our hearts now satisfy,
And quiets all our terrors,
That Jesus Christ our Lord did die
To save us from our errors.
O God, Thy love to us is great!
Thy mercies are most tender!
Our sole defender,
None in this earthly state
Thee ample praise can render.
He who on Jesus Christ doth trust,
Shall happy be in heaven;
The happiness which once was lost
Through Jesus Christ is given,
For God His Son did never send
Here for our condemnation;
His incarnation
Had for its gracious end
Our joy and our salvation.
But all who turn from Christ away
Shall be condemned forever;
Their doom is sealed this very day,
And death awaits them ever.
For since they willfully refused
Salvation to inherit
Through Jesus' merit,
They stand of sin accused,
And so must suffer for it.
All who are faithful unto death
Are given life forever,
The life which is the fruit of faith
In Jesus Christ our Savior.
Give us, O Lord, the faith to come
And ever cling to Jesus!
When death releases
Our souls, oh, take them home,
To dwell in heavenly places.
Meaning of O Joy Of Joys God So Did Love
O Joy Of Joys God So Did Love: Understanding God's Love and Salvation
In this hymn, we are reminded of the immense love that God has for us and the compassion He showed by sending His Son, Jesus Christ, for our salvation. The depth of our sin was such that without God's intervention, we would have been left helpless. However, through Jesus Christ, our bonds have been broken and we have found the help and deliverance we so desperately needed.
The hymnist marvels at the satisfaction and peace that comes from knowing that Jesus died to save us from our errors. It is a reminder that God's love for us is great and His mercies are tender. In fact, no one in this earthly state can truly render enough praise to fully express the magnitude of His love and grace.
It is emphasized that those who trust in Jesus Christ will find happiness in heaven. The hymn reveals that the happiness that was once lost due to sin has been restored through Jesus' sacrifice. God did not send His Son for our condemnation, but rather for our joy and salvation.
However, the hymn also warns of the consequences for those who turn away from Christ. Those who reject the salvation offered through Jesus will face condemnation and eternal separation from God. Their fate is sealed, and they will suffer the consequences of their willful refusal to accept Jesus' saving grace.
On the other hand, those who remain faithful to Christ until death will be given eternal life. This life is not something that can be earned or achieved through our own efforts, but rather it is a gift that is bestowed upon us through faith in Jesus Christ. It is a life that is rooted in a deep and unwavering trust in Jesus as our Savior.
The hymn concludes with a prayer, asking God to grant us the faith to continuously come to Jesus and cling to Him. It acknowledges the reality of death as the release of our souls and requests that God take them home to dwell in heavenly places.
When we reflect upon this hymn, we are reminded of the boundless love that God has for us and the incredible sacrifice He made in sending His Son. It is a love that surpasses all human understanding and a grace that we can never fully comprehend. God's love and salvation are available to all who accept and trust in Jesus Christ as their Savior.
Understanding God's love and salvation should bring us great joy and peace. It is a joy that surpasses any earthly pleasure or happiness, for it is rooted in the eternal hope we have in Christ. We can find comfort in the fact that God's love is not contingent on our own efforts or worthiness. It is a love that is freely given, offering forgiveness and redemption to all who seek it.
As we continue to navigate through life, let us hold fast to the truth of God's love and salvation. Let us trust in Jesus and cling to Him, knowing that He alone is our source of hope and eternal life. May our hearts be filled with gratitude and praise for the joy of joys – God's immeasurable love for us.
I hope this hymn inspired image brings you hope and peace. Share it with someone who needs it today!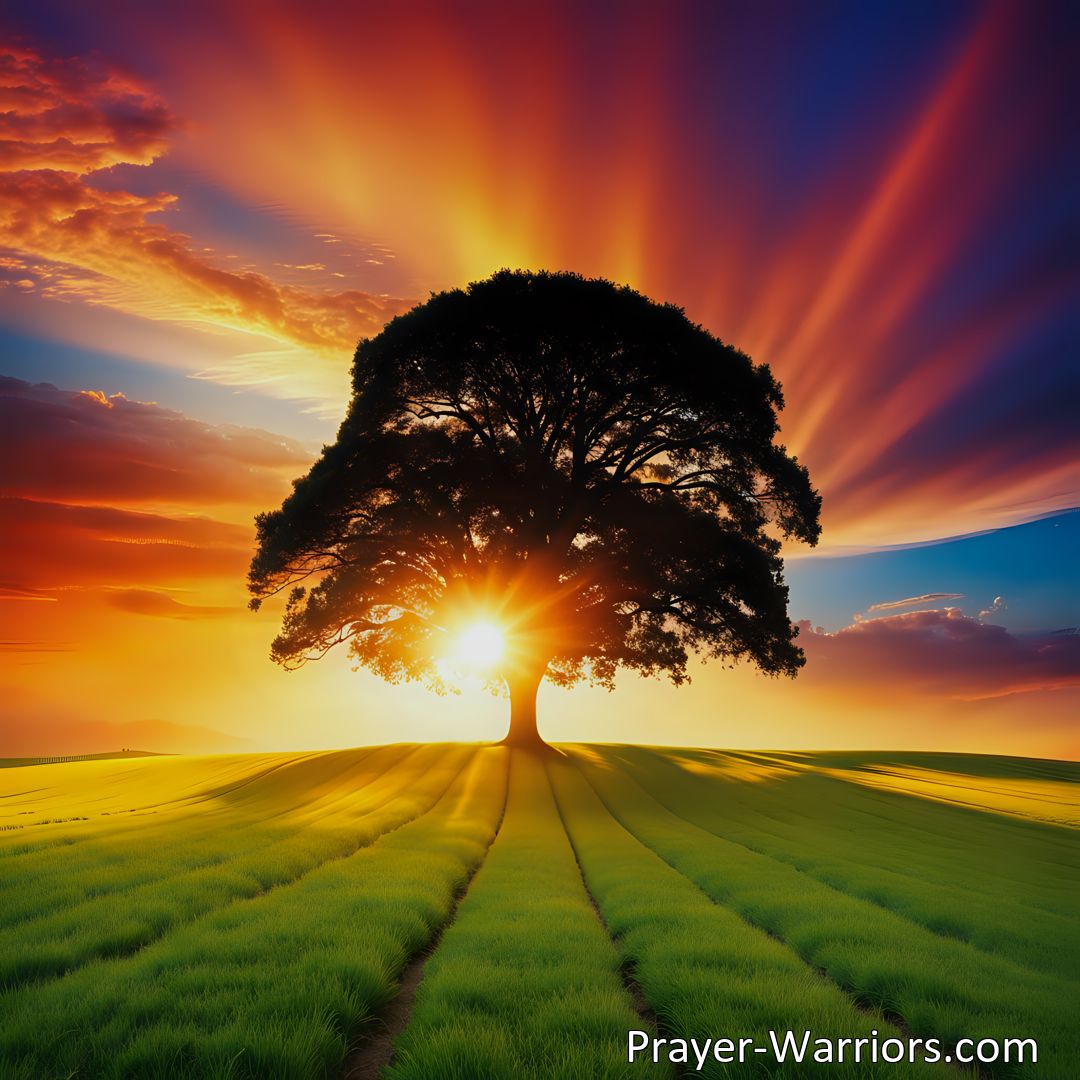 Join the Prayer Warriors Community!
Sign-up for our newsletter and embark on a transformative journey with Prayer. Enter your email below and become a part of our Prayer Warriors family.