O Love How Cheering Is Thy Ray – Hymn Lyric
"O Love, How Cheering Is Thy Ray" is a heartfelt hymn that celebrates the immense power of love. It reminds us that love has the ability to chase away pain, care, and sorrow, leaving us filled with joy and peace. The hymn encourages us to pursue God's love with unwavering devotion, guarding it as a precious treasure within our souls.
---
---
O Love How Cheering Is Thy Ray – Hymn Lyric
O Love,
how cheering is Thy ray!
All pain before
Thy presence flies;
Care, anguish,
sorrow, melt away,
Where'er Thy healing
beams arise:
O Father!
nothing may I see,
And nought desire or seek,
but Thee.
Unwearied may I
this pursue,
Dauntless to this high
prize aspire;
Each hour within
my soul renew
This holy flame,
this heavenly fire;
And day and night
be all my care
To guard the sacred
treasure there.
O, that I as a little
child
May follow Thee,
and never rest,
Till sweetly Thou
hast breathed a mild
And lowly mind
into my breast!
Nor ever may we
parted be,
Till I become as
one with Thee.
Still let Thy love
point out my way;
How wondrous things
that love hath wrought!
Still lead me, lest I
go astray;
Direct my word,
inspire my thought;
And if I fall,
soon may I hear
Thy voice,
and know Thy
love is near.
Meaning of O Love How Cheering Is Thy Ray
O Love, how cheering is Thy ray! This beautiful hymn brings forth a message of hope, comfort, and devotion to the power of love. Love has the incredible ability to uplift us and chase away all forms of pain, care, anguish, and sorrow. In its presence, these burdens simply melt away, leaving us with a renewed sense of joy and peace.
The hymn begins by acknowledging that when surrounded by the love of the Divine Father, there is nothing else that we need to see or desire. The love of God is all-encompassing and fulfilling, and when we fully grasp its magnitude, our hearts are content. In this pursuit, we are encouraged to remain unwavering, continuously aspiring to reach the high prize of God's love. We are driven to renew the flame of this holy love within our souls, allowing it to burn bright like a heavenly fire.
The hymn reminds us that nothing should be of greater importance than guarding the sacred treasure of God's love within us. Just as we would protect a valuable possession, we must protect this love and nurture it. This love becomes the center of our existence, guiding our actions and decisions each day and night. It becomes our utmost care and priority.
The hymn takes us on a journey of childlike faith, expressing the desire to follow God without rest. It yearns for the innocence and humility of a little child who completely trusts and obeys. The truest form of devotion is found in constantly seeking to have a mild and lowly mind, a heart that is open and receptive to the gentle whispers of the Divine. The ultimate goal is to become one with God, to be united with Him in spirit and purpose.
The hymn acknowledges that love is not only a guiding force but also a source of miracles. It asks for God's love to continue pointing out the way, guiding the path before us. It recognizes the wondrous things that love has already brought about in our lives – the grace, mercy, and blessings that we have received. In moments of uncertainty, we call upon this love to lead us, keeping us from going astray. We depend on its guidance to inspire our thoughts, shape our words, and direct our actions.
Furthermore, the hymn recognizes that even when we stumble and fall, God's love is always near. It acknowledges that we are not perfect, and there will be moments when we make mistakes or lose our way. However, it reassures us that we need not fear or despair in these times. We can find solace knowing that God's voice will reach our ears, gently reminding us of His love and encouraging us to rise again.
In conclusion, "O Love, How Cheering Is Thy Ray" beautifully captures the essence of God's love and our desire to be in harmony with it. It speaks to the transformative power of love, its ability to heal, uplift, and guide. This hymn encourages us to pursue God's love with unwavering devotion, guarding it as a precious treasure within our souls. It calls us to cultivate a childlike faith and humility, allowing God's love to shape our minds and mold our hearts. May this hymn be a reminder of the endless joy, comfort, and inspiration that can be found in the ever-shining ray of God's love.
I hope this hymn inspired image brings you hope and peace. Share it with someone who needs it today!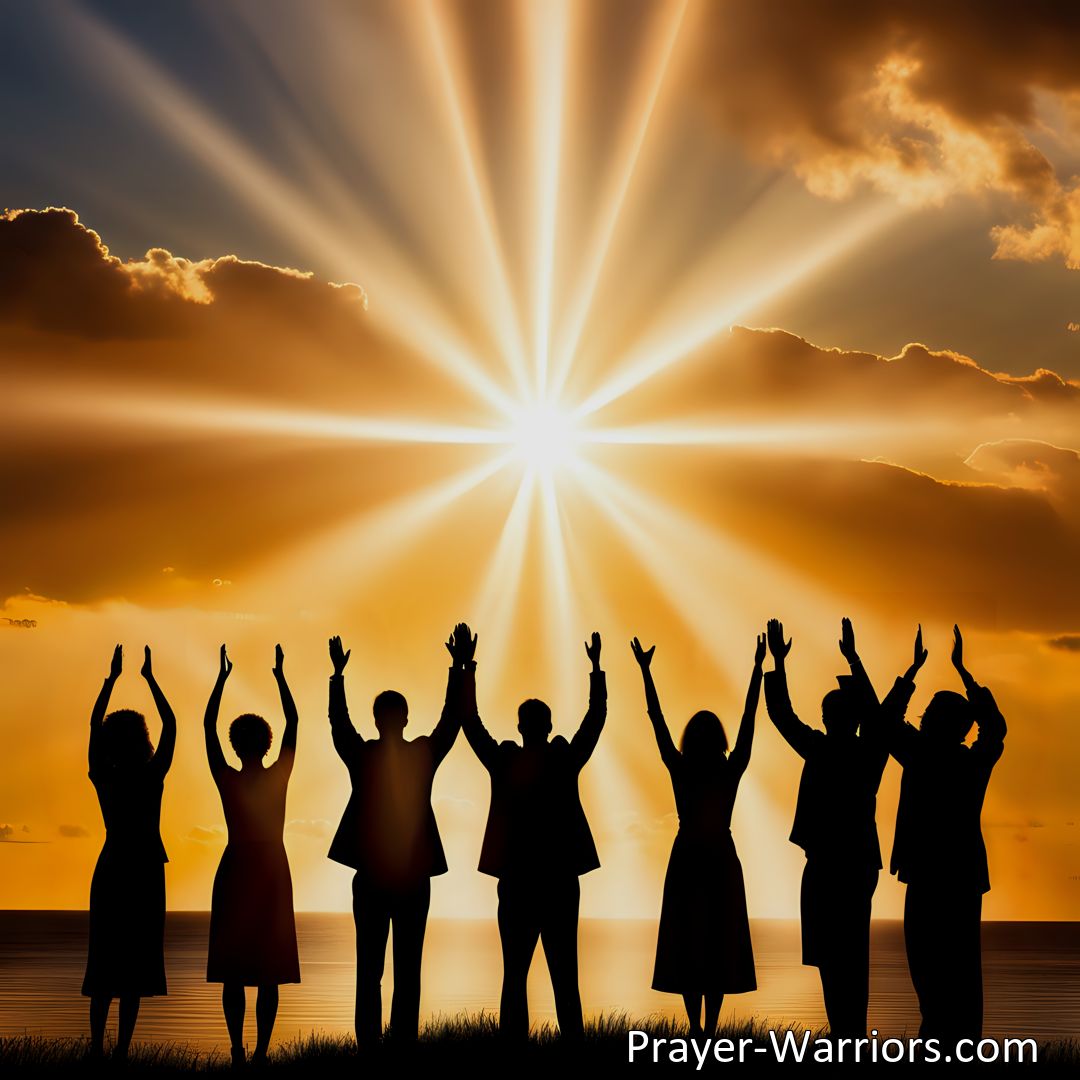 Join the Prayer Warriors Community!
Sign-up for our newsletter and embark on a transformative journey with Prayer. Enter your email below and become a part of our Prayer Warriors family.