O Speak To Me My Savior – Hymn Lyric
summary.txt
---
---
O Speak To Me My Savior – Hymn Lyric
Oh, speak to me, my Saviour,
Some words of holy cheer,
That I in joy or sorrow
May know that thou art near;
O Lord, how condescending
To stoop and talk with me!
I know I am unworthy,
But hear my humble plea.
Refrain:
Oh, speak to me, my Saviour,
I wait with listening ear,
Thy words, so full of comfort,
My soul delights to hear.
Oh, speak to me, my Saviour,
And tell me of thy grace,
Sufficient for thy people,
For ev'ry time and place;
Oh, speak to me in trouble
Some consolations dear,
Be with me in the conflict,
And I shall feel no fear.
[Refrain]
Oh, speak to me, my Saviour,
I long to hear thy voice,
For when I am despondent
It makes my heart rejoice;
Thou lovest me my Saviour,
Thy love I feel, I know,
But oh, my soul is waiting
To hear thee tell me so.
[Refrain]
Meaning of O Speak To Me My Savior
O Speak To Me My Savior: Finding Comfort in God's Words
Life can sometimes leave us feeling overwhelmed and uncertain. In moments of joy or sorrow, we often find solace in the presence of a loved one, someone who can offer guidance and support. And in our spiritual journey, we have the ultimate source of comfort: our Savior, Jesus Christ.
The hymn "O Speak To Me My Savior" beautifully captures the yearning of our hearts to hear God's words of holy cheer. It speaks to the humble plea we have to connect with our Savior, to know that He is near us in all circumstances. Though we may feel unworthy at times, the hymn reminds us of the condescending love of Jesus, who stoops down to talk with us.
In this bustling and often chaotic world, it's easy to feel disconnected from God. But just as we long to hear the voice of a loved one, we also long to hear the voice of our Savior. The hymn invites us to wait with listening ears, eagerly anticipating His words of comfort. It is in His words that we find the assurance and peace our souls crave.
As the hymn suggests, we yearn for our Savior to tell us about His grace, which is sufficient for all people, in every time and place. The grace of God is a powerful force that encompasses forgiveness, love, and acceptance. When we find ourselves in trouble or facing challenges, it is this grace that sustains us. By speaking to us in times of trouble, Jesus offers us consolations that are dear to our hearts.
Moreover, the hymn reminds us that Jesus is with us in our conflicts. Life's battles can be intimidating and cause us great fear, but knowing that our Savior is by our side can provide us with the strength and courage to face them head-on. His words of guidance and support during moments of conflict give us the peace we need to navigate through difficult situations.
The longing to hear our Savior's voice is not only present in times of trouble but also in moments of despondency. There are moments when our hearts feel heavy and burdened, and in those times, hearing His voice brings us joy and assurance. The hymn beautifully expresses this sentiment, acknowledging that the love of Jesus is felt, yet the yearning to hear Him say, "I love you," still remains.
In our relationship with God, communication is essential. Just as we long to hear our Savior speak to us, He also longs for us to speak to Him through prayer and reflection. It is in these moments of connection that our faith is deepened, and our relationship with Him is strengthened. We must not only listen for His words but also actively engage in conversation with Him, sharing our hopes, fears, and desires.
When we feel distant from our Savior, it is important to remember that He is always listening. In those moments, we can lean on the words of this hymn as a reminder of His nearness. It echoes the truth that God's words are full of comfort, and our souls delight in hearing them. Through His words, He reassures us, uplifts us, and offers us the guidance we need to navigate this journey of life.
So, as we sing this hymn, let us do so not just with our voices but with an open heart and a willingness to truly listen. Let us embrace the joy that comes from knowing we have a Savior who speaks to us, who walks with us through every joy and sorrow, and who offers us the comfort we so desperately seek.
In conclusion, "O Speak To Me My Savior" is not just a hymn; it is a heartfelt expression of our yearning for connection with God. It reminds us that in our moments of joy or sorrow, in times of trouble and despondency, our Savior is there, ready to speak words of holy cheer. His words are full of comfort and grace, sufficient for every time and place. So, let us open our hearts, listen, and engage in conversation with our loving Savior, for in His words, we find true solace and peace.
I hope this hymn inspired image brings you hope and peace. Share it with someone who needs it today!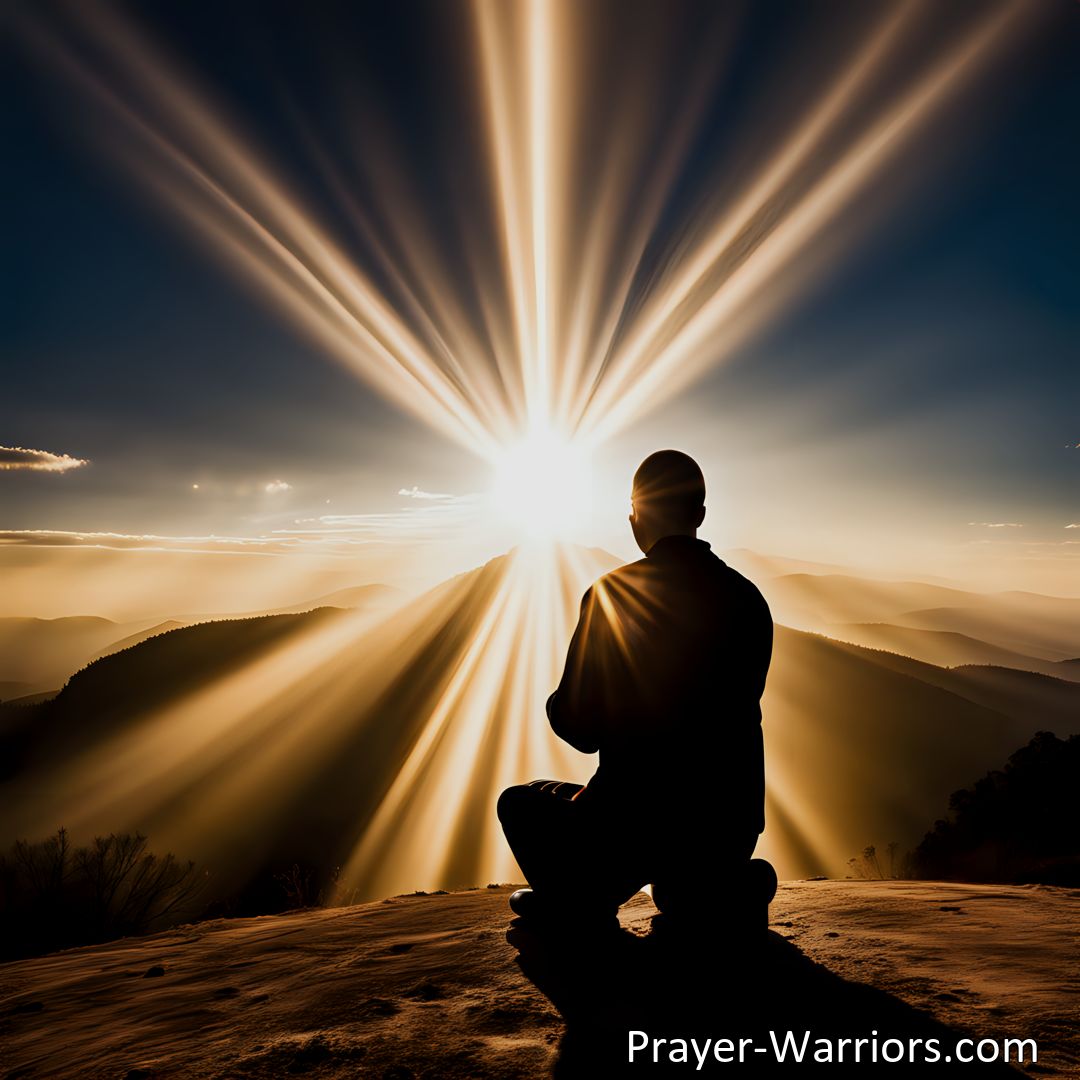 Join the Prayer Warriors Community!
Sign-up for our newsletter and embark on a transformative journey with Prayer. Enter your email below and become a part of our Prayer Warriors family.