Once Jesus Was A Child Like Me – Hymn Lyric
summary.txt
---
---
Once Jesus Was A Child Like Me – Hymn Lyric
Once Jesus was a child like me,
But O, so kind and true;
His ever watchful eye can see
The very things I do.
Refrain
Yes, Jesus was a child like me,
But O, so pure and true;
My blessed Savior He will be,
If I but love Him, too.
He played upon the village street,
In such a pleasant way;
And ran with glad and willing feet,
His parents to obey.
[Refrain]
I want to be His little child,
And more like Him to grow;
And ever truthful, good and mild,
Because He loves me so.
[Refrain]
And now to Jesus I will pray,
To pardon me from sin;
And if I serve Him every day,
His blessing I shall win.
[Refrain]
Meaning of Once Jesus Was A Child Like Me
Once Jesus was a child like me, exploring the world with wonder and innocence. Despite His divinity, Jesus experienced childhood just like any other child. This verse reminds me that Jesus understands and empathizes with the trials and joys of being a child, as He too once roamed the village streets, playing and obeying His parents.
As a child, Jesus displayed kindness and truthfulness, setting an example for all of us to follow. His watchful eye was always alert, observing the actions of those around Him. This knowledge reassures me that Jesus sees everything I do, both the good and the not-so-good. It serves as a gentle reminder to strive for kindness and truth in my own actions.
The refrain of the hymn emphasizes the purity and truthfulness of Jesus, contrasting it with our own imperfect nature. While Jesus was perfect, we are called to emulate His example and love Him in return. The hymn reminds us that if we love Him and strive to be like Him, Jesus will become our blessed Savior.
As I reflect on Jesus' childhood, I imagine Him running with joy and enthusiasm through the village streets. His glad and willing feet carried Him to His parents, obeying them with a willing heart. This paints a picture of a happy child, content and eager to please those He loved. It inspires me to approach my own relationships with family and authority figures with a similar attitude of love and obedience.
The verse also conveys the desire to be Jesus' little child, growing to be more like Him each day. Jesus' love for me motivates me to be truthful, good, and mild in my interactions with others. His love is unconditional, and I want to reflect that same love back to Him and others.
Prayer is an integral part of our relationship with Jesus, and the hymn acknowledges this. It encourages me to pray to Jesus, asking for forgiveness of my sins. Prayer is a way of humbling ourselves before God, acknowledging our shortcomings and seeking His mercy and grace. The hymn reminds us that if we sincerely serve Him every day, we will receive His blessings.
In conclusion, the hymn "Once Jesus Was A Child Like Me" beautifully illustrates the connection between Jesus' childhood and our own. It reminds us that Jesus understands and empathizes with our experiences as children. His purity and kindness serve as an example for us to follow, and His love motivates us to be truthful, good, and mild. The hymn encourages us to pray for forgiveness and to serve Jesus daily, knowing that we will be blessed by His love. Let us remember that Jesus was once a child like us, and through our love for Him, He becomes our blessed Savior.
I hope this hymn inspired image brings you hope and peace. Share it with someone who needs it today!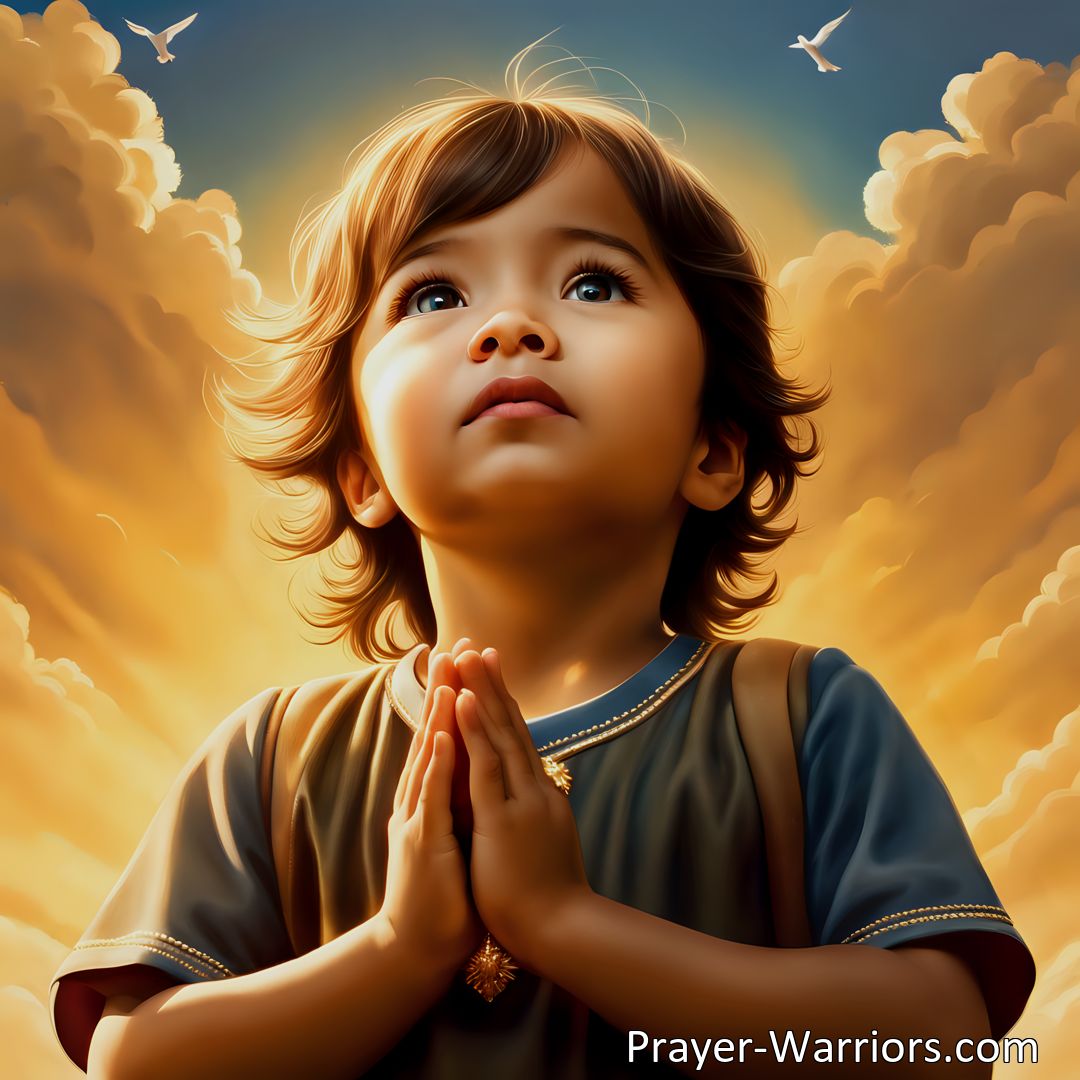 Join the Prayer Warriors Community!
Sign-up for our newsletter and embark on a transformative journey with Prayer. Enter your email below and become a part of our Prayer Warriors family.