Prayer for Healing: How It Can Improve Physical and Emotional Wellbeing Discover how prayer can positively impact your physical and emotional health. Whether you're religious or not, prayer offers comfort, reduces stress levels, strengthens the immune system, promotes emotional balance, and fosters a sense of community. Embrace the power of prayer and experience peace, comfort, and improved wellbeing in your life.
---
---
Prayer for Healing: How It Can Improve Physical and Emotional Wellbeing
Prayer for Healing: How It Can Improve Physical and Emotional Wellbeing
When we talk about healing, we often focus solely on medical treatments and interventions. However, in addition to medical care, there is another powerful tool that can improve our physical and emotional wellbeing: prayer. Prayer has been practiced for centuries in various cultures and religions, and its benefits extend beyond just spiritual nourishment. In this article, we will explore how prayer for healing can positively impact our physical and emotional health.
Prayer is a deeply personal and unique practice, but its effects can be universally beneficial. Whether you are religious or not, prayer can provide a sense of comfort, hope, and connection to something greater than ourselves. Numerous scientific studies have highlighted the positive impact of prayer on our overall wellbeing.
Let's first delve into how prayer can improve our physical health. When we are physically ill or in pain, turning to prayer can offer solace and assist in our recovery. Prayer has been shown to reduce stress levels, which, in turn, can promote healing. When we pray, our bodies enter a state of relaxation, allowing our nervous system to calm down and our blood pressure to decrease. This relaxation response enhances the body's ability to heal itself.
Moreover, prayer can also boost our immune system. Studies have found that individuals who engage in regular prayer have higher levels of immune cells, such as natural killer cells and lymphocytes, which are crucial in protecting our bodies from illnesses. Prayer can strengthen our immune system, making us less susceptible to various diseases and infections.
Furthermore, prayer can have a positive impact on our emotional wellbeing. Life can often be filled with stress, anxiety, and overwhelming emotions. Turning to prayer can provide a source of comfort and relief, reducing feelings of distress and promoting emotional balance. Prayer allows us to express our worries and fears, providing a sense of release and reassurance.
When we pray, our minds shift from the chaos around us to a more peaceful and centered state. This change in focus can lead to reduced cortisol levels, the hormone responsible for stress. By reducing stress, prayer can help alleviate symptoms of anxiety and depression. It offers a moment of respite, allowing us to find solace and find strength to face challenges with a more positive mindset.
Prayer can also foster a sense of community and connection, which is essential for our emotional wellbeing. Engaging in group prayer, whether it be at a religious institution or within a community, can provide a support network for individuals going through difficult times. The act of coming together to pray creates a sense of unity and shared experience, promoting feelings of love, compassion, and empathy.
In addition to its direct impact on our physical and emotional health, prayer can also improve our overall sense of purpose and meaning in life. It assists in developing a positive mindset and cultivating gratitude. Through prayer, we become more aware of the blessings in our lives, allowing us to focus on the positive aspects rather than dwelling on the negatives. Prayer enables us to shift our perspective and maintain a hopeful outlook on life.
It is important to note that prayer is not a substitute for medical treatment or professional help. Rather, it should be seen as a complementary practice that can work hand in hand with medical interventions. It is always advisable to consult a healthcare professional for any medical concerns and to seek appropriate treatment.
In conclusion, prayer for healing holds powerful potential to improve our physical and emotional wellbeing. By reducing stress, boosting our immune system, promoting emotional balance, fostering a sense of community, and enhancing our overall sense of purpose, prayer can positively impact our lives. Whether you practice prayer within the framework of religion or as a personal spiritual practice, taking the time to connect with something greater than ourselves can bring immense benefits. So, let us embrace the power of prayer for healing, and may it bring us peace, comfort, and improved wellbeing in our lives.
I hope this prayer inspired image brings you hope and peace. Share it with someone who needs it today!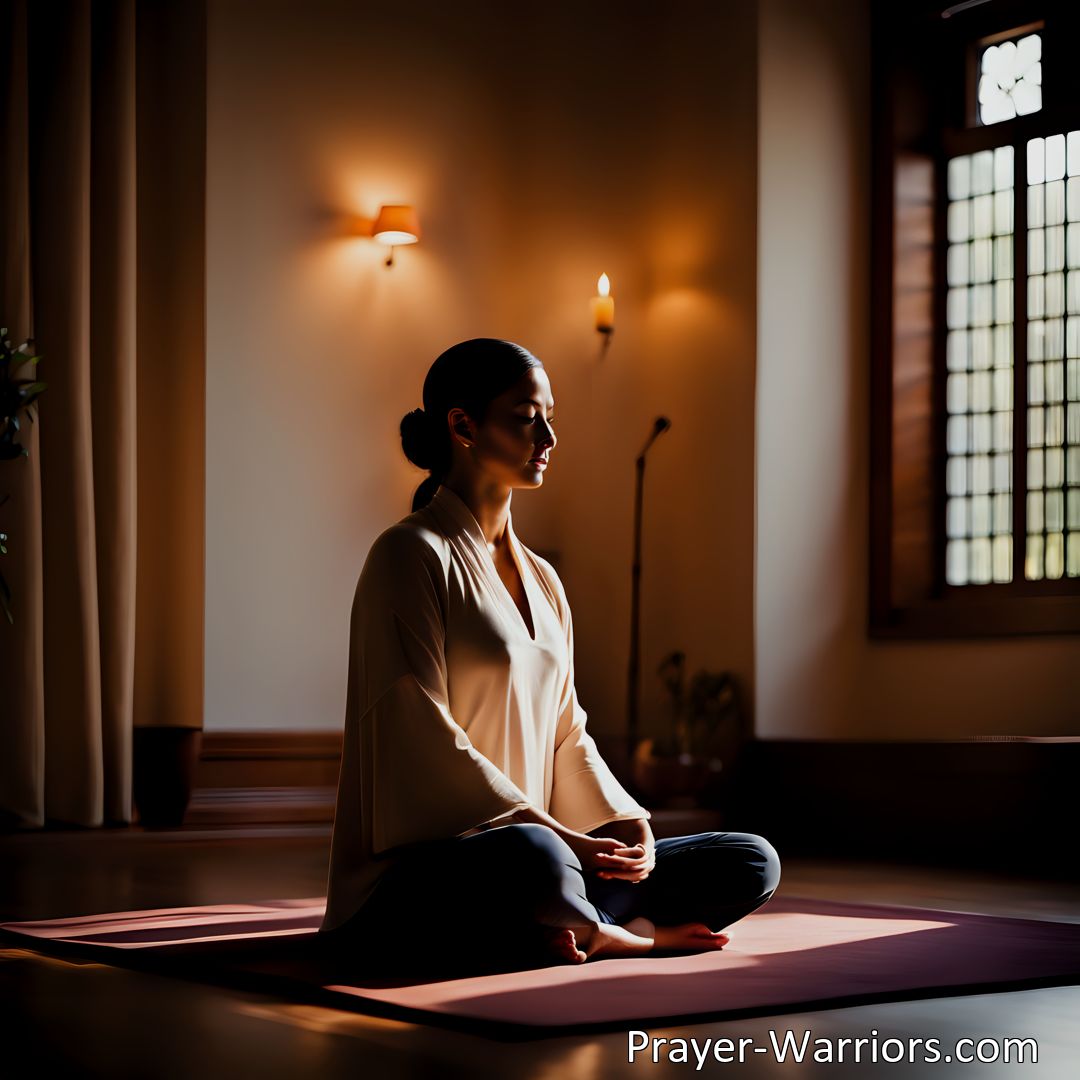 Join the Prayer Warriors Community!
Sign-up for our newsletter and embark on a transformative journey with Prayer. Enter your email below and become a part of our Prayer Warriors family.