Prayer and Healing from Past Trauma: Restoring Wholeness with Faith Discover the transformative power of prayer in healing from past trauma. By combining prayer with faith, individuals can find solace, hope, and strength to confront and recover from painful experiences, ultimately restoring wholeness to their lives.
---
---
Prayer and Healing from Past Trauma: Restoring Wholeness with Faith
Prayer and Healing from Past Trauma: Restoring Wholeness with Faith
In times of distress and hardship, finding ways to heal and restore our inner peace is crucial. One powerful method that has been practiced for centuries is the combination of prayer and faith. By turning to prayer, individuals seek solace, strength, and guidance from a higher power, allowing them to confront and heal from past trauma. This article explores how prayer can be a vital tool in the healing process, offering comfort, hope, and ultimately, restoring wholeness.
When we talk about past trauma, we refer to experiences that have deeply affected us, leaving emotional scars that linger and influence our daily lives. Traumatic events can vary from personal losses, such as the death of a loved one, to experiences like abuse, accidents, or witnessing violence. These incidents can have a profound impact on our mental, emotional, and physical well-being. However, prayer can provide a path towards healing.
Prayer acts as a channel of communication with a higher power, offering a safe space to unload our burdens, share our pain, and seek support. It allows individuals to express their emotions, fears, and doubts with complete honesty, knowing that they are heard and understood. This act of surrender brings a sense of relief as the weight of past trauma is shared with a compassionate force.
In prayer, we find solace in the belief that we are never alone in our struggles. Connecting with a higher power reminds us that we are part of something bigger, and that someone is always listening, supporting, and guiding us. This connection is essential in the healing process, as it provides comfort during moments of despair and helps rebuild trust in ourselves and others.
Moreover, prayer instills hope in our hearts. It opens our minds to the possibility of transformation and resilience, showing us that healing from past trauma is not only attainable but also within our grasp. Through prayer, we invite divine intervention into our lives, trusting that healing is possible and choosing to believe in a brighter future.
As we pray, our faith in a higher power grows stronger. This faith not only enables us to endure difficult times but also empowers us to take proactive steps towards healing. Faith allows us to let go of bitterness and resentment, making room for forgiveness and compassion. By embracing these virtues, we free ourselves from the shackles of past trauma, unburdening our souls and opening doors to true restoration.
Furthermore, prayer strengthens our inner resilience, imparting a sense of purpose and empowerment. It encourages us to reflect on our experiences, identify lessons learned, and grow from them. Instead of being defined solely by our pain, prayer helps us discover new identities as survivors, warriors, and ambassadors of hope. This transformational process uplifts us, fostering self-compassion, and paving the way for emotional healing and personal growth.
In addition to the emotional and psychological benefits, scientific studies have shown that prayer can also have a positive impact on physical healing. Studies conducted on various patient populations have demonstrated that prayer can reduce stress, lower blood pressure, ease physical pain, and boost the immune system. These findings illustrate that prayer not only addresses our spiritual needs but also promotes overall well-being.
It is important to emphasize that prayer should not be considered a standalone solution for healing from past trauma. Seeking professional help, such as therapy or counseling, is crucial in addressing the psychological and emotional aspects of trauma. However, incorporating prayer into the healing process can enhance and complement other therapeutic interventions, providing individuals with a holistic approach to healing.
In conclusion, prayer serves as a powerful tool for healing from past trauma. By embracing prayer, individuals can find solace, hope, and strength to confront and recover from their painful experiences. Prayer grants us the courage to confront our emotions, the comfort of knowing we are not alone, and a renewed sense of purpose. It ignites our faith, empowers forgiveness, and fosters resilience. With prayer as our guide, we can embark on the journey of restoring wholeness, gradually reclaiming our lives from the grip of past trauma.
I hope this prayer inspired image brings you hope and peace. Share it with someone who needs it today!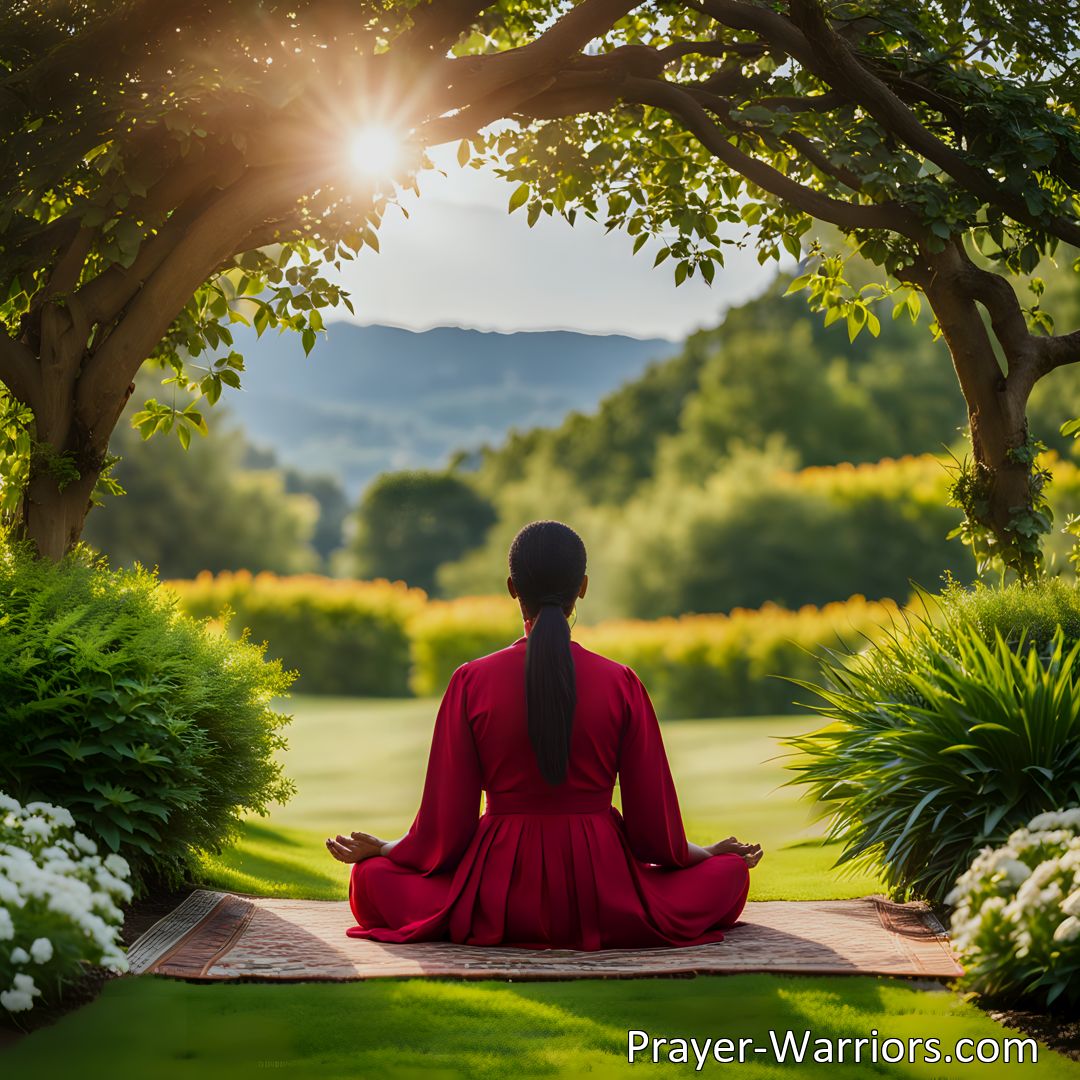 Join the Prayer Warriors Community!
Sign-up for our newsletter and embark on a transformative journey with Prayer. Enter your email below and become a part of our Prayer Warriors family.