Prayers for Overcoming Loneliness: Finding Companionship in God's Presence offers heartfelt prayers to help those feeling lonely. By surrendering to God, seeking assurance in His presence, and praying for community, strength, gratitude, healing, and guidance, individuals can find solace and overcome the depths of their loneliness. These prayers remind us that God is always there, ready to provide love and companionship if we seek Him.
---
---
Prayers for Overcoming Loneliness: Finding Companionship in God's Presence
Prayers for Overcoming Loneliness: Finding Companionship in God's Presence
Loneliness can be a difficult emotion to face. Feeling disconnected and isolated from others can lead to a sense of emptiness and despair. However, there is solace to be found in turning to God and seeking companionship in His presence. Through heartfelt prayers, we can find comfort, strength, and ultimately overcome our loneliness. In this article, we will explore various prayers that can help us find companionship and solace in God's loving embrace.
1. Prayer of Surrender:
Dear God, I come to You with a heavy heart, burdened by loneliness. I surrender my feelings of isolation to You, knowing that You are the source of true companionship. Help me find solace in Your presence, knowing that You are always with me, even in my loneliest moments. I trust in Your divine plan for my life and pray for the strength to walk this journey, knowing that You are guiding me every step of the way. Amen.
2. Prayer for Assurance:
Heavenly Father, I feel lost and alone. Please remind me of Your unfailing love and presence. Help me to know deep in my heart that You are always there for me, even when I cannot feel Your presence. Strengthen my faith, Lord, and let me find assurance in knowing that Your love is everlasting. Grant me the peace that comes from knowing I am never truly alone, for You are always by my side. Amen.
3. Prayer for Community:
Dear God, I pray for meaningful connections and true companionship in my life. Guide me to find a community of like-minded individuals who share my values and will support me on this journey. Help me to forge bonds of friendship that will lift me up and alleviate my loneliness. Fill my life with kindred spirits who will walk alongside me, offering love, understanding, and support. Amen.
4. Prayer for Gratitude:
Gracious God, even in my moments of loneliness, I am grateful for Your presence in my life. Thank You for listening to my prayers and for providing me comfort in times of need. Thank You for the blessings You have bestowed upon me, even if I struggle to see them at times. Help me to cultivate an attitude of gratitude, recognizing the goodness in my life and the many ways You have shown Your love to me. Amen.
5. Prayer for Strength and Courage:
Lord, I feel overwhelmed by loneliness and the challenges it brings. Grant me the strength and courage to face this battle head-on. Help me to lean on Your promises and find solace in Your presence. Give me the confidence to step outside my comfort zone, to reach out to others and seek companionship. Fill me with Your Holy Spirit, that I may radiate love and attract meaningful connections in my life. Amen.
6. Prayer for Healing:
Heavenly Father, I pray for healing from the wounds of loneliness. Mend my broken heart and soothe my aching soul. Remove any barriers or walls I have erected to protect myself from hurt or rejection. Heal the past hurts that have contributed to my feelings of isolation, that I may open myself up to receiving love and companionship. Help me to find forgiveness and extend grace to myself and others. Amen.
7. Prayer for Guidance:
Loving God, guide me on the path towards overcoming loneliness. Show me the steps I need to take to cultivate companionship and meaningful relationships. Give me discernment to recognize healthy connections and the wisdom to navigate through any toxic influences. Lead me towards individuals who will support and uplift me, and guide me away from those who may lead me astray. Amen.
In conclusion, when faced with feelings of loneliness, turning to prayer can provide comfort, strength, and guidance. By surrendering our emotions to God, seeking assurance in His presence, and praying for companionship, we can find solace and overcome the depths of our loneliness. Let these prayers serve as a reminder that God is always with us and ready to offer His love and companionship. We need only seek Him and trust in His divine plan for our lives.
I hope this prayer inspired image brings you hope and peace. Share it with someone who needs it today!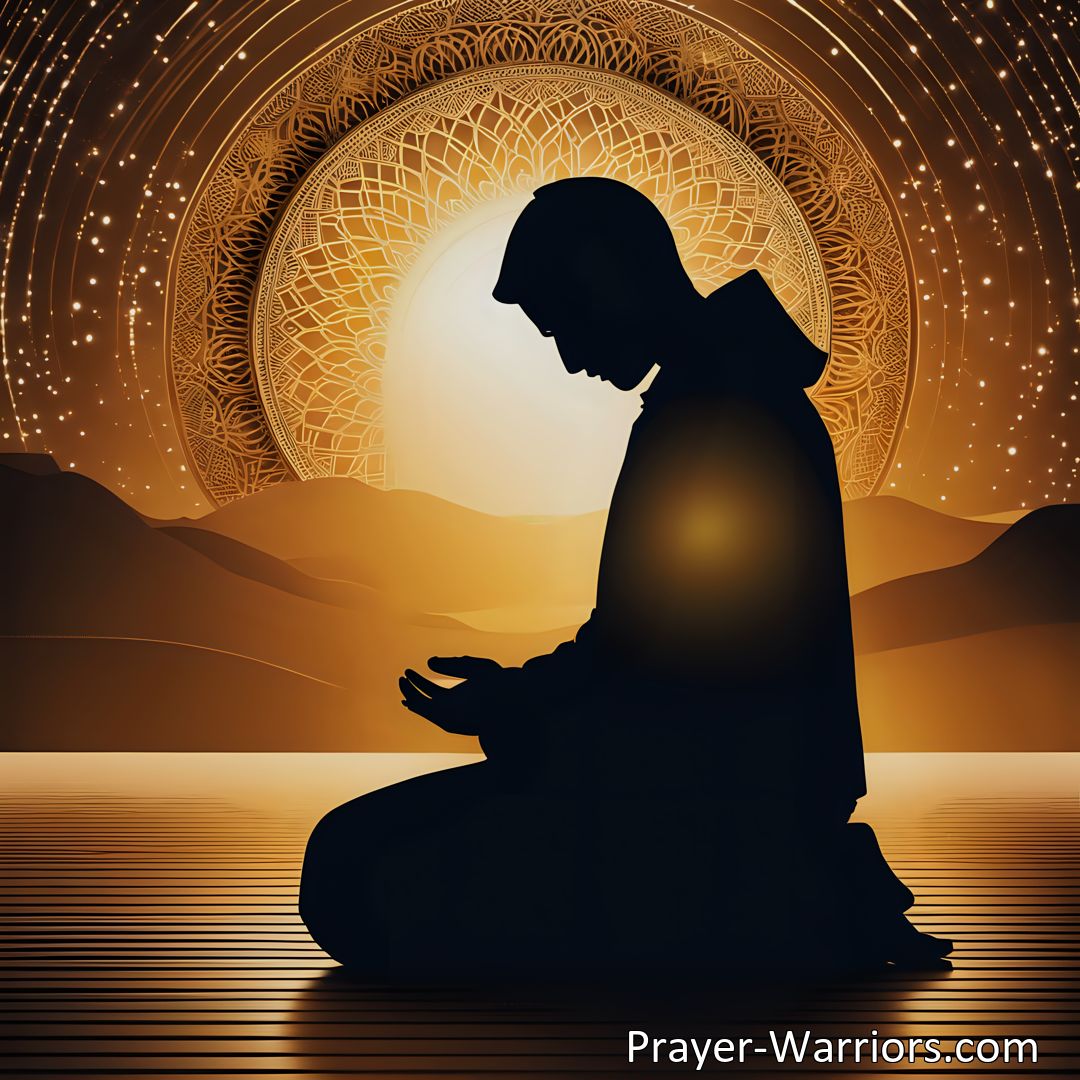 Join the Prayer Warriors Community!
Sign-up for our newsletter and embark on a transformative journey with Prayer. Enter your email below and become a part of our Prayer Warriors family.