Prayers for Protection in Spiritual Warfare: Guarding Your Heart and Mind provides a collection of prayers for individuals seeking comfort and guidance in times of uncertainty and spiritual battles. These prayers aim to shield hearts and minds from negative influences, provide strength to overcome trials, and foster peace, healing, and discernment in the face of spiritual warfare. They serve as a reminder that individuals are not alone in their battles and can find solace in their faith.
---
---
Prayers for Protection in Spiritual Warfare: Guarding Your Heart and Mind
Prayers for Protection in Spiritual Warfare: Guarding Your Heart and Mind
In times of uncertainty and struggles, it is important to find solace in our spirituality. Many people turn to prayer as a source of comfort and guidance, especially when it comes to protecting their hearts and minds in spiritual warfare. Through these prayers, individuals seek to shield themselves from negative influences and find strength to combat any spiritual battles they may face.
Spiritual warfare refers to the struggle against unseen forces and spiritual influences that aim to lead people away from their faith. These battles can manifest in various forms, such as temptations, doubt, fear, or negative thoughts. They often target vulnerable areas of our lives, seeking to damage our spiritual well-being.
Understanding the need to guard our hearts and minds, many individuals turn to prayer for protection. By engaging in these prayers, people can strengthen their faith, find courage, and overcome the trials that come their way. Let us explore some prayers for protection in spiritual warfare that may provide peace and comfort to those facing such battles.
Prayer for Spiritual Protection:
"Dear Heavenly Father, I come before you seeking your divine protection in this spiritual warfare. Guard my heart and mind from any negative influences that may seek to weaken my faith. Strengthen me in times of trials and temptations, and grant me the wisdom to discern right from wrong. Surround me with your loving presence and guide me through this journey. Amen."
This prayer serves as a humble request to God, asking for protection and guidance during spiritual battles. It acknowledges the need to guard one's heart and mind and seeks strength to face the challenges that come their way.
Prayer for Strength:
"Almighty God, I confess that I feel weary amidst the spiritual battles I face. I pray for strength to endure and overcome. Fill me with your supernatural power, so I may stand firm against the enemy's schemes. Thank you for being my refuge and strength in challenging times. Amen."
When individuals find themselves feeling overwhelmed by spiritual warfare, this prayer helps them seek strength from a higher source. By acknowledging their weariness and asking for endurance, they find comfort in knowing that God is with them throughout their struggles.
Prayer for Protection from Fear:
"Dear Lord, fear grips my heart during these spiritual battles. I come before you, asking for your protection from all that causes me to feel afraid. Replace my fear with courage and remind me of your presence. Grant me the peace that surpasses all understanding, and help me trust in your plans for my life. Amen."
Fear is a common emotion experienced during spiritual warfare. This prayer aims to provide relief from the overwhelming feeling of fear by inviting God's protection and peace into their lives. By placing their trust in the divine, individuals gain the courage needed to face their battles with confidence.
Prayer for Discernment:
"Gracious Father, I need your guidance and discernment in distinguishing the lies of the enemy from your truth. Teach me to recognize the spiritual battles I am facing and help me stand firm on your word. Shield my mind against any doubts or misconceptions. Fill me with your wisdom and reveal your plans for my life. Amen."
Discernment is essential in spiritual warfare, as it allows individuals to differentiate between the enemy's deceptive tactics and God's truth. This prayer asks for divine guidance and clarity of mind, enabling individuals to stay true to their faith and reject any falsehoods that may arise.
Prayer for Peace and Healing:
"O Lord, I pray for peace and healing in my heart and mind. I surrender all the wounds and hurts caused by the battles I have faced. I ask for your divine restoration, filling every void with your love and grace. Grant me the strength to forgive those who have wronged me and guide me towards a path of healing and reconciliation. Amen."
This prayer acknowledges the emotional and spiritual wounds inflicted during spiritual battles. By seeking peace and healing, individuals find comfort and strength to let go of past hurts. It also reinforces the importance of forgiveness and overcoming negative emotions to regain inner peace.
As individuals engage in these prayers, they align their hearts and minds with God's protection, guidance, and healing. By acknowledging the need for spiritual protection and seeking divine intervention during spiritual warfare, they find strength and comfort amidst their struggles. These prayers serve as a reminder that they are not alone and that they can overcome any battle with faith and perseverance.
I hope this prayer inspired image brings you hope and peace. Share it with someone who needs it today!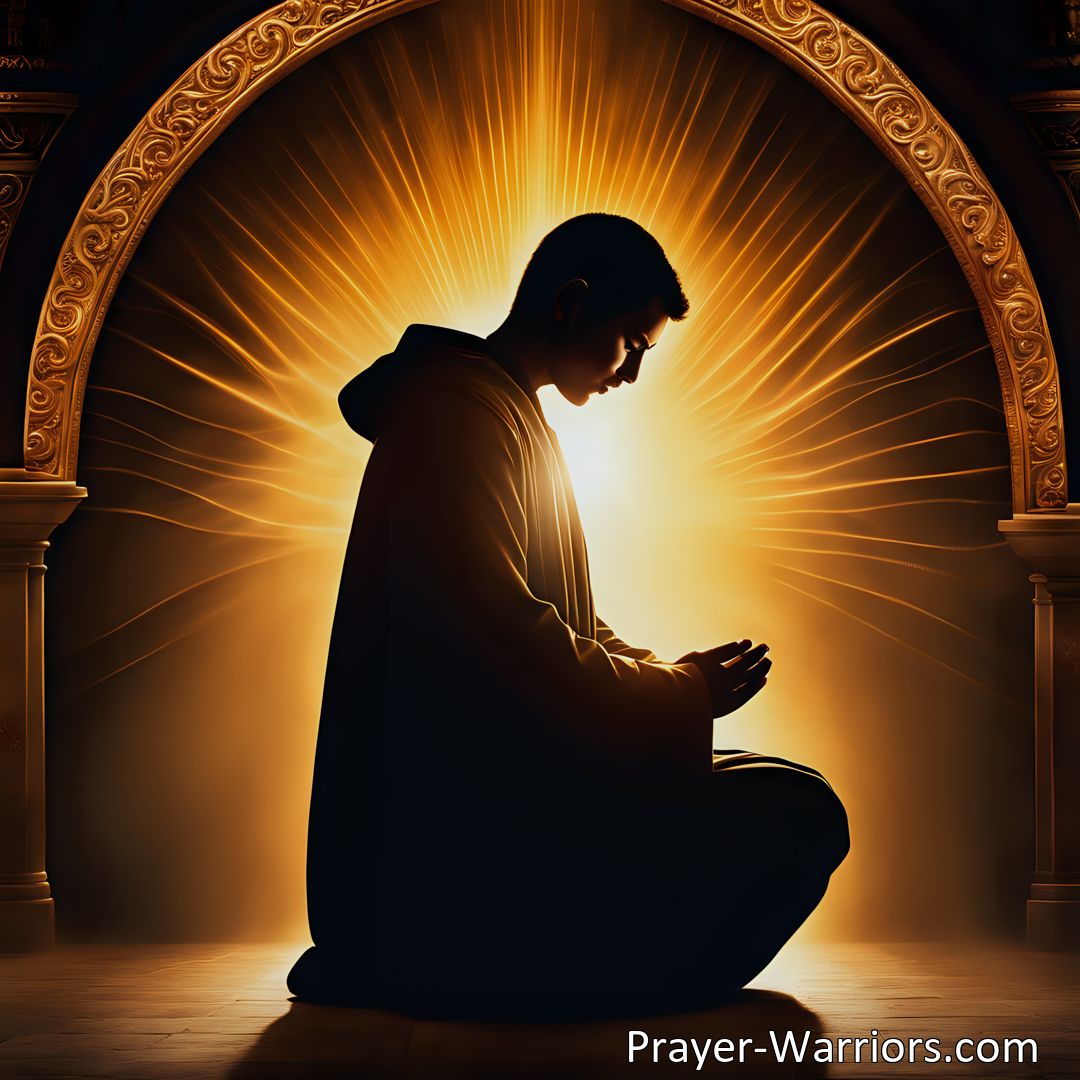 Join the Prayer Warriors Community!
Sign-up for our newsletter and embark on a transformative journey with Prayer. Enter your email below and become a part of our Prayer Warriors family.