Prayers for Strength and Comfort in Times of Loss: Finding Hope in God's Promises offers solace and guidance to those struggling with the pain of losing a loved one. Through prayer, we can find the inner strength to navigate through grief and lean on the reassurance of God's promises. These prayers provide a lifeline of hope, reminding us that we are not alone in our journey towards healing.
---
---
Prayers for Strength and Comfort in Times of Loss: Finding Hope in God's Promises
Prayers for Strength and Comfort in Times of Loss: Finding Hope in God's Promises
Losing a loved one can be one of the most challenging experiences we face in life. The pain, sadness, and overwhelming emotions can sometimes feel too much to bear. In such difficult times, it's essential to find solace and comfort to help us navigate through the grieving process. Many people turn to the power of prayer to seek strength and find reassurance in God's promises. In this article, we will explore prayers for strength and comfort in times of loss while finding hope in God's promises.
Loss comes in many forms – the passing of a family member, friend, or even the end of a significant chapter in our lives. Regardless of the nature of the loss, it is natural to feel a sense of emptiness and confusion. During these times, turning to prayer can provide a powerful source of comfort and guidance.
One of the fundamental aspects of prayer is that it allows us to connect with a higher power, providing a sense of spiritual support and understanding. Through prayer, we can express our deepest emotions and vulnerabilities, knowing that we are being heard by a loving and compassionate God.
In times of loss, praying for strength becomes vital. It's not uncommon to feel weak, lost, and without direction. By praying for strength, we acknowledge our human limitations and invite God into our lives to provide the necessary inner power to cope with our grief. We can pray for strength to endure the pain, to find meaning in our loss, and to navigate the journey of healing with grace and resilience.
Furthermore, seeking comfort through prayer is also crucial during periods of bereavement. God's promises are a constant source of reassurance and hope. By focusing our prayers on finding comfort in His promises, we allow ourselves to lean on His unwavering love and divine presence.
One prayer for strength and comfort in times of loss could be:
"Dear God, I come before you with a heavy heart, burdened by the loss I am experiencing. I feel weak, lost, and confused. I humbly ask you for the strength to face each day and to navigate through this challenging period of my life. Please grant me the courage to accept what I cannot change, the patience to heal slowly, and the faith to trust in your promises. Wrap your loving arms around me, and provide me with the comfort I seek. I know that in you, I will find solace and the strength to continue on my journey. Amen."
In addition to praying for strength and comfort, reflecting on God's promises can provide us with an anchor of hope during times of loss. God promises to be with us always, even in our darkest moments. He promises to bring beauty from ashes, strength from weakness, and healing from pain. When we trust in these promises, we open ourselves up to the possibility of finding light within the darkness.
An example of a prayer focusing on God's promises could be:
" Lord, in my grief, I lean on your promises. I find solace in knowing that you are with me, holding me in the palm of your hand. When I feel hopeless, I hold on to your promise to bring beauty from ashes. May you transform my pain into something purposeful and meaningful. When I feel weak, I remember your promise to provide strength in my weakness. Help me to rely on your power when I am at my lowest. When my heart is shattered, I find comfort in your promise of healing. Please mend my brokenness and restore my soul. Thank you, God, for your unfailing love and the hope that your promises bring. Amen."
As we embark on this journey of healing and find strength in prayer, it is essential to remember that grief takes time to process. There is no specific timeline for healing, and it's okay to have good days and bad days. Prayer is a constant companion that we can turn to whenever we need support and feel the need for connection.
In conclusion, prayers for strength and comfort in times of loss provide us with a lifeline of hope. Whether we are seeking inner strength or searching for solace in God's promises, prayer allows us to tap into a divine source of support during our darkest moments. It reminds us that we are not alone and that there is light at the end of the tunnel. May our prayers for strength and comfort guide us on the path of healing and help us find the hope we need to continue our journey.
I hope this prayer inspired image brings you hope and peace. Share it with someone who needs it today!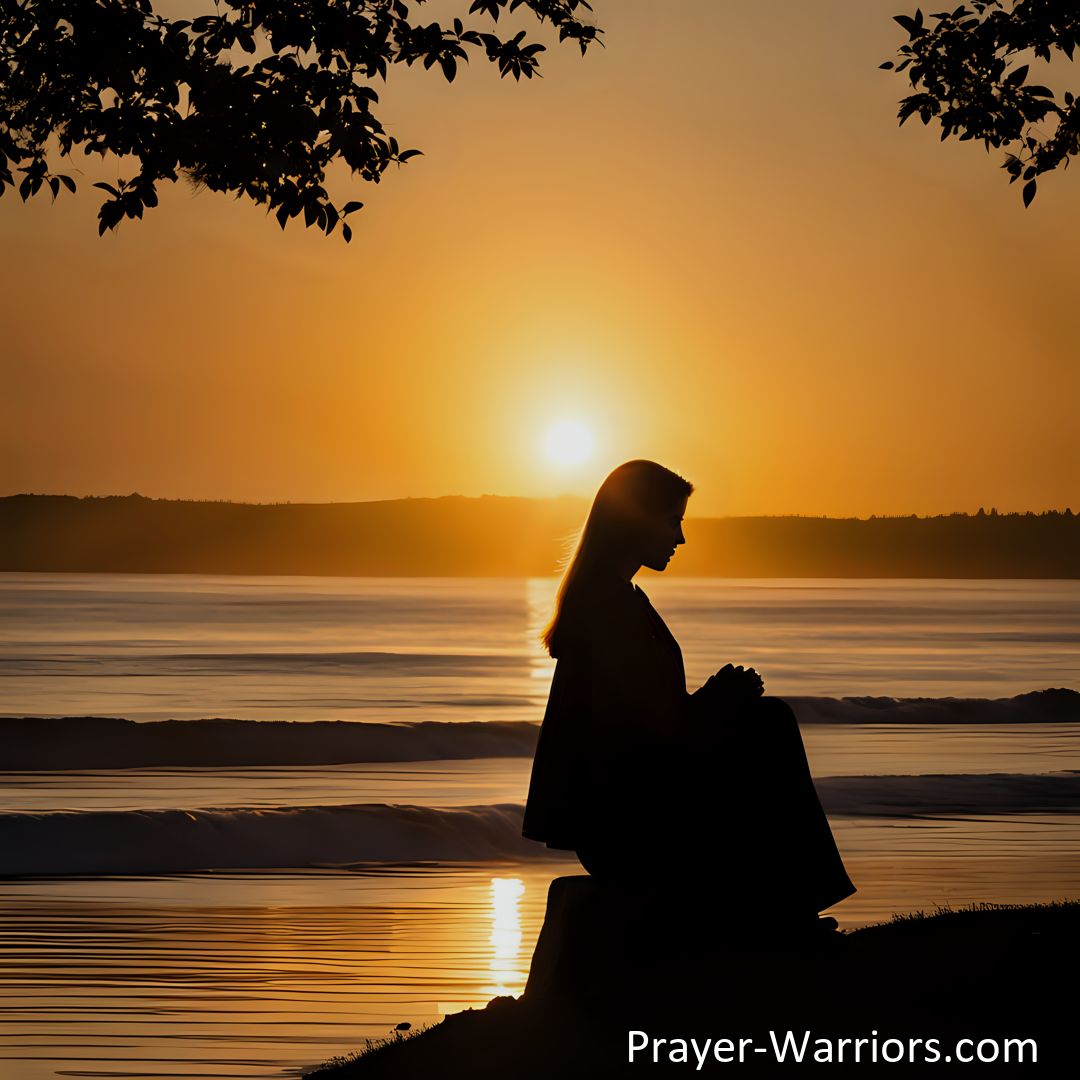 Join the Prayer Warriors Community!
Sign-up for our newsletter and embark on a transformative journey with Prayer. Enter your email below and become a part of our Prayer Warriors family.