Praying for Divine Encounters: Cultivating Intimacy with God is about developing a close and personal relationship with God through prayer. By approaching God with humility and sincerity, studying His Word, and nurturing relationships with others, we can cultivate intimacy with Him. Consistency and perseverance in prayer are key to experiencing divine encounters and strengthening our bond with the Almighty.
---
---
Praying for Divine Encounters: Cultivating Intimacy with God
Praying for Divine Encounters: Cultivating Intimacy with God
In our spiritual journey, one of the most important aspects is developing a close and intimate relationship with God. Just like any other relationship, cultivating intimacy with God requires effort, time, and a genuine desire to connect on a deep level. Prayer serves as a powerful tool to establish and nourish this divine bond. Through praying for divine encounters, we open ourselves up to experiencing God's presence and receiving his guidance, love, and blessings.
Prayer is a direct line of communication with God, allowing us to pour out our hearts, express our gratitude, seek forgiveness, and request direction or assistance. However, when we pray for divine encounters, our focus shifts from simply communicating with God to desiring a personal encounter and experience with the divine. It is a conscious decision to invite God into our lives in a more profound and tangible way.
To cultivate intimacy with God, we must first develop a regular and consistent prayer routine. Just like any habit, the more we practice, the stronger it becomes. Starting with a few minutes of prayer each day and gradually increasing the duration can help us establish this routine. It is essential to find a comfortable and quiet place where we can fully concentrate and connect with God, free from distractions.
When praying for divine encounters, it is crucial to approach God with humility and sincerity. Acknowledge his greatness, express your desire to know him more intimately, and seek his guidance. Remember that intimacy with God is a two-way street. While we bring our prayers and desires to him, we must also be open to listening and receiving his messages. Cultivating intimacy includes quieting our minds and spirits to hear his still, small voice.
In addition to regular prayer, reading and meditating on God's Word is instrumental in strengthening our relationship with him. The Bible is the ultimate guidebook that offers wisdom, comfort, and insights into God's character. It is through studying the scriptures that we gain a better understanding of who God is and his desires for our lives.
Praying for divine encounters is not only about seeking personal experiences but also surrendering our will to God's. Trusting in God's plan and submitting to his guidance allows us to grow closer to him. As we pray for divine encounters, let us remember that God's timing is perfect, and our encounters with him may come in various forms, including moments of great joy or challenging times that shape and refine us.
Moreover, as we cultivate intimacy with God, we should also nurture our relationship with others. Jesus taught us the importance of loving one another, and this includes forgiving, serving, and showing compassion towards others. Our love for God is reflected in how we treat our fellow human beings. By actively engaging in acts of kindness and spreading love to those around us, we create an environment where divine encounters can flourish.
Prayer is not a one-size-fits-all approach. Just as our relationships with friends and family members differ, our relationship with God is unique and personal. Therefore, it is essential to find prayer practices that resonate with our individual personalities and preferences. Some may find solace in silent meditation and contemplation, while others may prefer reciting prayers or singing hymns. What matters most is the genuine connection we establish with God, regardless of the method we choose.
Lastly, consistency is key in cultivating intimacy with God. Even when we face difficulties or doubts in our faith, it is important to persevere in prayer. Just as any relationship requires effort during challenging times, our relationship with God needs the same commitment. Through consistent prayer and seeking divine encounters, we can continue to cultivate intimacy and strengthen our bond with the Almighty.
In conclusion, praying for divine encounters is a deliberate and intentional act of seeking a closer relationship with God. It goes beyond regular prayer by desiring personal encounters and experiences with him. By establishing a regular prayer routine, approaching God with humility and sincerity, studying his Word, surrendering to his will, nurturing relationships with others, and maintaining consistency, we can cultivate intimacy with God. May our prayers lead us to divine encounters, where we experience the profound presence and love of our Creator.
I hope this prayer inspired image brings you hope and peace. Share it with someone who needs it today!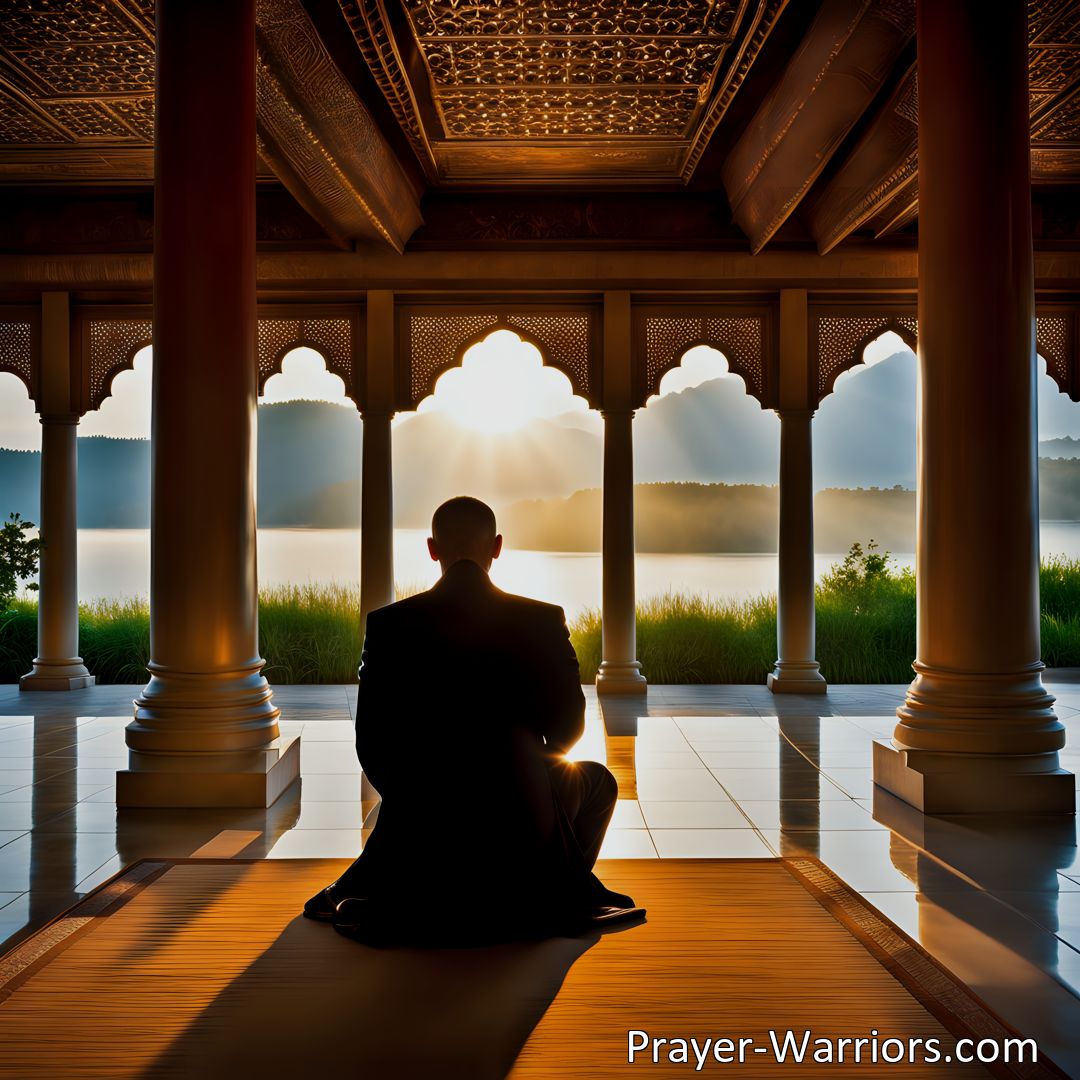 Join the Prayer Warriors Community!
Sign-up for our newsletter and embark on a transformative journey with Prayer. Enter your email below and become a part of our Prayer Warriors family.