Praying for a Grateful Heart: Cultivating Thankfulness in Daily Life Discover the power of prayer and mindfulness in cultivating a grateful heart. By shifting our perspective and actively seeking out reasons to be thankful, we can find joy and contentment in the small blessings that surround us. Incorporating gratitude into our daily lives through prayer and mindfulness can improve overall well-being, boost relationships, and bring more happiness into our lives.
---
---
Praying for a Grateful Heart: Cultivating Thankfulness in Daily Life
Praying for a Grateful Heart: Cultivating Thankfulness in Daily Life
In our fast-paced world, it is easy to get caught up in the busyness of daily life and forget to appreciate the small blessings that surround us. However, taking the time to cultivate a grateful heart can have a profound impact on our overall well-being and happiness. Through prayer and conscious effort, we can develop a sense of thankfulness that permeates our daily lives.
Prayer is a powerful tool that connects us to a higher power and allows us to express our gratitude. When we pray for a grateful heart, we are asking for assistance in shifting our perspective and seeing the world through grateful eyes. It is a way to acknowledge and appreciate the abundance of blessings that often go unnoticed in our hectic schedules.
Cultivating thankfulness starts with mindfulness. It involves being present in the moment and paying attention to the little things that bring us joy. Whether it's the warmth of the sun on our faces, the laughter of loved ones, or the taste of a delicious meal, we can find countless reasons to be grateful if we train ourselves to look for them.
One way to develop gratitude is by keeping a gratitude journal. This simple practice involves writing down three to five things we are grateful for each day. It could be as simple as a new book we enjoyed, a kind gesture from a friend, or a beautiful sunset. By taking the time to reflect on the positive aspects of our lives, we become more attuned to the blessings that surround us.
Another way to cultivate thankfulness is by expressing gratitude to others. Taking the time to thank someone for their kindness or help not only makes them feel appreciated but also reminds us of the goodness in the world. Whether it's a handwritten note, a heartfelt conversation, or a small gift, acts of gratitude have the power to strengthen relationships and bring joy to both the giver and the receiver.
Prayer can also play a vital role in developing a grateful heart by shifting our focus from what we lack to what we have. Instead of constantly striving for more, prayer allows us to recognize the abundance that is already present in our lives. It helps us let go of comparison and envy, leading to a sense of contentment and gratitude.
In our prayers, we can express our gratitude for the simple things that we often take for granted, such as good health, a roof over our heads, and the love of our family and friends. By acknowledging these blessings, we cultivate a deeper appreciation for the richness of life.
Furthermore, prayer can provide comfort and strength during challenging times. It allows us to find gratitude even in the midst of difficulties. Through prayer, we can seek solace in the knowledge that we are not alone and that our challenges are temporary. This reassurance helps us develop resilience and encourages us to find silver linings in every situation.
Incorporating gratitude into our daily lives through prayer and mindfulness can have numerous benefits. Studies have shown that practicing gratitude can improve overall well-being, boost physical health, and enhance relationships. It reduces stress and anxiety, increases resilience, and even improves sleep quality. By consciously cultivating thankfulness, we create a positive shift in our mindset that impacts every aspect of our lives.
Praying for a grateful heart and actively cultivating thankfulness in daily life can transform our perspective and bring more joy and contentment. It reminds us of the abundance of blessings we often overlook and helps us appreciate the little things that make life beautiful. So let us take a moment each day to connect with gratitude through prayer and consciously cultivate a grateful heart.
I hope this prayer inspired image brings you hope and peace. Share it with someone who needs it today!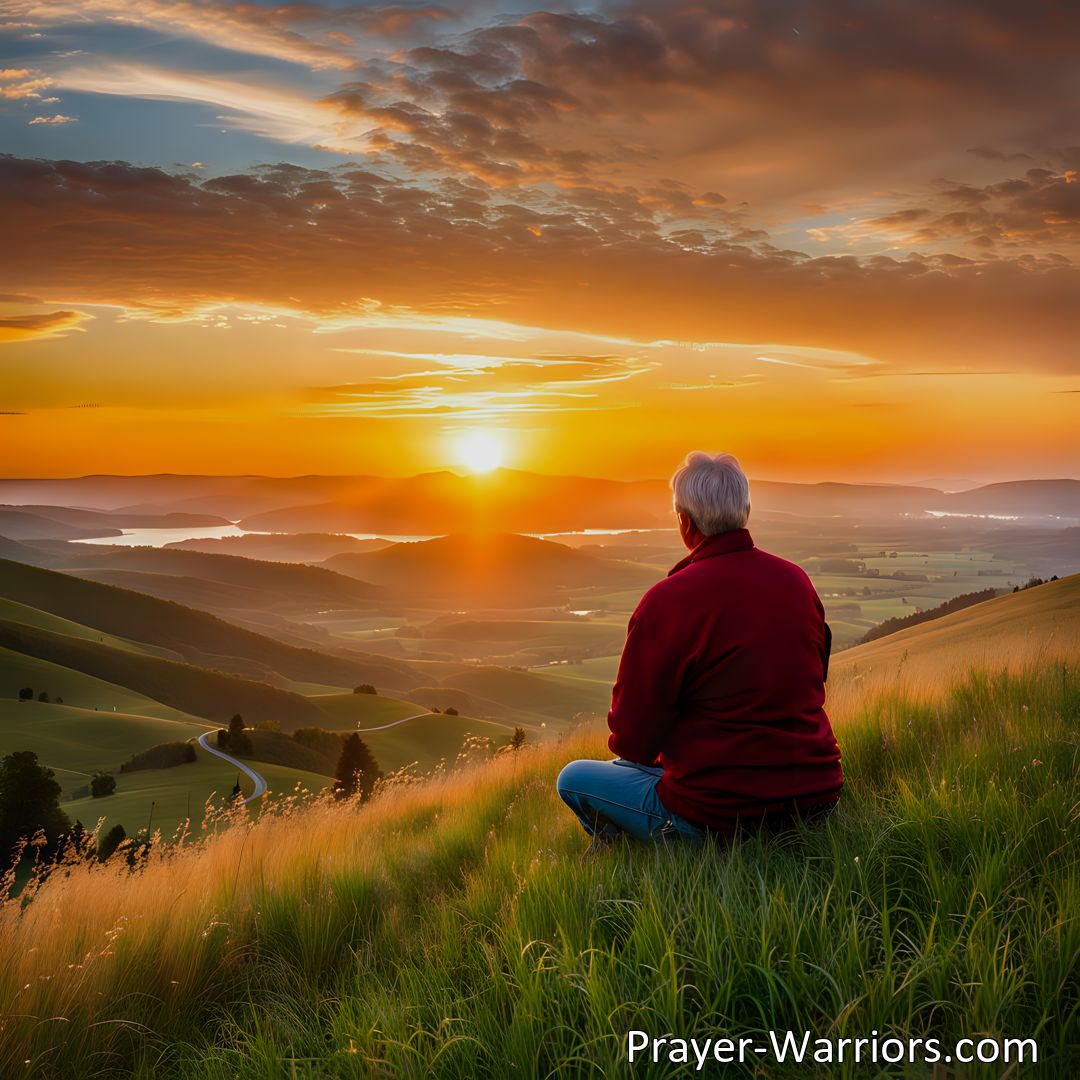 Join the Prayer Warriors Community!
Sign-up for our newsletter and embark on a transformative journey with Prayer. Enter your email below and become a part of our Prayer Warriors family.