Praying for Healing from Anxiety: Embracing God's Peace and Rest is a guide that emphasizes the power of prayer in finding relief from anxiety. By embracing God's peace and rest, individuals can find comfort and regain control over their anxious thoughts. This resource encourages vulnerability, trust, and surrender to a higher power in order to overcome the challenges of anxiety.
---
---
Praying for Healing from Anxiety: Embracing God's Peace and Rest
Praying for Healing from Anxiety: Embracing God's Peace and Rest
Anxiety is something that many people, regardless of age or background, struggle with. It can make you feel overwhelmed, restless, and constantly on edge. If you are experiencing this, know that you are not alone. In times of anxiety, turning to prayer can be a powerful tool for finding peace and healing. By embracing God's peace and rest, you can regain control over your anxious thoughts and find comfort in the presence of a higher power.
When faced with anxiety, it is important to remember that God is always there for you. He is ready and willing to listen to your prayers and provide you with the strength and peace you need. By praying for healing from anxiety, you are not only expressing your feelings and concerns but also inviting God into your life to help carry your burdens.
One way to pray for healing from anxiety is to find a quiet and comfortable space where you can relax and connect with God. Take a moment to take a few deep breaths and center yourself. Close your eyes and imagine God's presence surrounding you, embracing you with love and understanding.
As you begin your prayer, acknowledge your anxiety and its impact on your life. Share your thoughts and worries with God, being honest and vulnerable. Let Him know how it feels to carry this burden on your own and ask for His guidance and strength. Remember that God knows your heart, so there is no need to hide your true emotions from Him.
In your prayer, ask God for healing from anxiety. Trust that He is capable of granting you the peace and comfort you seek. Surrender your worries and concerns to Him, letting go of the need to control everything. Embrace the idea that God's plan for you is greater than your fears and anxieties.
Praying for healing from anxiety is not just about asking for relief, but also about embracing God's peace and rest. In your prayer, express your desire to let go of the weight of anxiety and fully embrace the tranquility that only God can provide. Seek His guidance on how to find rest in His presence, and trust that He will lead you to it.
In addition to prayer, it can also be helpful to incorporate certain practices into your daily routine to support your journey towards healing from anxiety. Reading and meditating on scripture related to peace, trust, and rest can bring comfort and reassurance. Some passages that may be helpful include Psalm 23:1-3, Philippians 4:6-7, and Matthew 11:28-30.
Engaging in calming activities such as deep breathing exercises, mindfulness, or gentle exercise like yoga can also help alleviate anxiety. These practices can help you to become more mindful of the present moment and bring your focus back to God's presence in your life.
Remember that healing from anxiety is a process, and it may take time. Be patient with yourself and continue to seek God through prayer. Surround yourself with a supportive community, such as a church or youth group, where you can share your struggles and find encouragement.
As you embrace God's peace and rest, you may also find it helpful to journal or write down your prayers and reflections. This can serve as a way to track your progress, express your emotions, and discover patterns or triggers for your anxiety. By documenting your journey, you can also look back and see how far you have come.
In conclusion, prayer can be a powerful tool for finding healing from anxiety. By embracing God's peace and rest, you can surrender your worries and learn to trust in His plan for your life. Remember that anxiety is not an insurmountable obstacle, but rather a challenge that can be overcome with the help of a higher power. Have faith, be patient, and allow God's loving presence to guide you on your journey towards healing and peace.
I hope this prayer inspired image brings you hope and peace. Share it with someone who needs it today!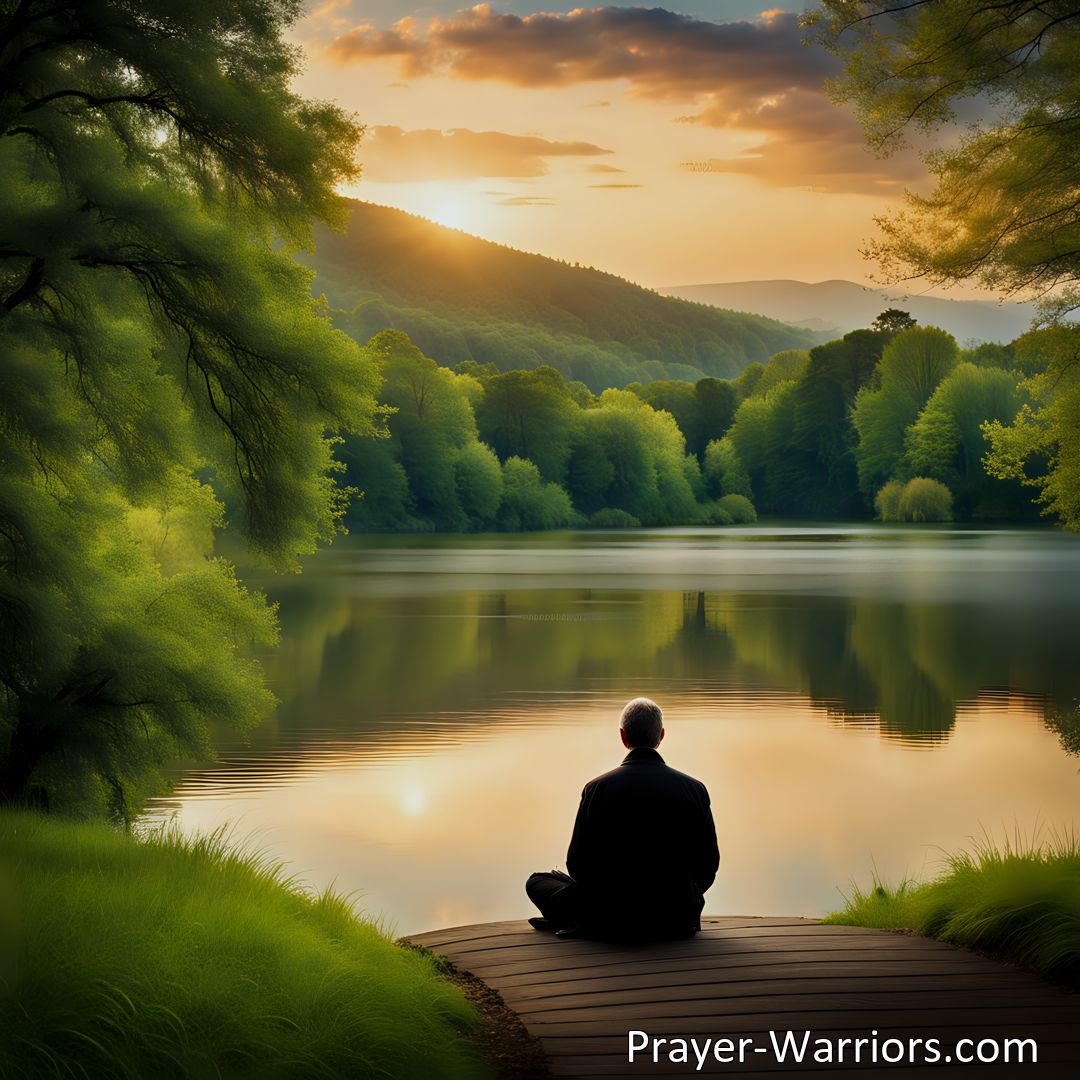 Join the Prayer Warriors Community!
Sign-up for our newsletter and embark on a transformative journey with Prayer. Enter your email below and become a part of our Prayer Warriors family.