Redemption Is Offered By Jesus The Lord – Hymn Lyric
summary.txt
---
---
Redemption Is Offered By Jesus The Lord – Hymn Lyric
Redemption is offered by Jesus the Lord
To all who would pardon receive;
The terms of salvation laid down in God's word
Are but to "Repent and believe."
Refrain:
Reject Him no longer, but come as thou art.
In loving surrender give Jesus thy heart;
Salvation this moment from him to receive,
This all he requireth, "Repent and believe."
Thou never couldst merit this wonderful gift,
Tho' years thou shouldst struggle and try;
Think not of thy fitness, but think of the love
Which caused Him for sinners to die.
[Refrain]
No sin could so blacken the fair page of life,
And cause thee God's wrath to receive,
As scorning the love of His Son crucified,
Refusing on Him to believe.
[Refrain]
A perfect salvation from Christ to receive
If thou with His terms will comply;
Repent and believe, and eternally live,
Refuse, and eternally die.
[Refrain]
Meaning of Redemption Is Offered By Jesus The Lord
Redemption Is Offered By Jesus The Lord: A Path to Hope and Salvation
In this beautiful hymn, the message of redemption through Jesus the Lord is conveyed with love and simplicity. It reminds us that no matter our past, no matter our struggles, all we need to do is accept Jesus and His offer of forgiveness and salvation. This hymn speaks directly to our hearts and invites us to come as we are, to surrender to Jesus and experience the life-changing power of His love.
The hymn begins by emphasizing that redemption is offered by Jesus the Lord to all who are willing to receive it. Regardless of our sins or mistakes, Jesus extends His arms to us, offering forgiveness and a second chance. This is the beauty of God's grace – it is unconditional and available to everyone. All we need to do is accept it with a repentant heart and believe in His love and sacrifice.
To "repent and believe" are the terms of salvation laid down in God's Word. Repentance signifies a turning away from our sins and a desire to change. It is a recognition of our wrongdoings and a sincere commitment to lead a life that is pleasing to God. Believing, on the other hand, involves putting our trust in Jesus and His ability to save us. It means acknowledging that we cannot earn salvation on our own and relying solely on His redemptive work on the cross.
The refrain of the hymn serves as a gentle plea to reject Jesus no longer and to come to Him just as we are. It reminds us that there is no need to strive for perfection or to rely on our own merits. Jesus calls us to surrender our hearts to Him, not because of anything we have done or can do, but because of His boundless love for us. Salvation is not a distant possibility; it is a present reality that we can receive in this very moment by accepting Jesus as our Lord and Savior.
Sometimes, we may feel unworthy of God's love and forgiveness. We may doubt whether we deserve the wonderful gift of salvation. However, the hymn reassures us that no matter how much we struggle or how imperfect we are, we cannot merit this gift on our own. It is not about our worthiness; it is about God's unconditional love for us. He sent His Son, Jesus, to die for our sins, not because we deserved it, but because He wanted to redeem us and restore our relationship with Him.
The hymn also addresses the danger of rejecting Jesus and refusing to believe in Him. It cautions against scorning the love of His Son crucified. Out of all the sins we could commit, rejecting Jesus and His sacrifice is the most grievous. It is this sin that could blacken the fair page of our lives and separate us from God's love. By refusing to believe in Jesus, we are missing out on the precious gift of salvation and eternal life.
However, there is hope. The hymn reminds us that it is never too late to receive a perfect salvation from Christ. No matter how far we have strayed or how long we have resisted, Jesus is always ready to welcome us back with open arms. If we are willing to comply with His terms – to repent and believe – He offers us the opportunity to live eternally with Him. But if we refuse, we face the sobering reality of eternal separation from God.
In conclusion, "Redemption Is Offered By Jesus The Lord" is a powerful hymn that conveys a message of hope and salvation. It speaks to our hearts, inviting us to come as we are and surrender to Jesus. Through repentance and belief, we can receive the perfect salvation that Jesus offers. Regardless of our past or our struggles, His love and forgiveness are available to all who are willing to receive them. Let us respond to this invitation and embrace the wonderful gift of redemption offered by Jesus the Lord.
I hope this hymn inspired image brings you hope and peace. Share it with someone who needs it today!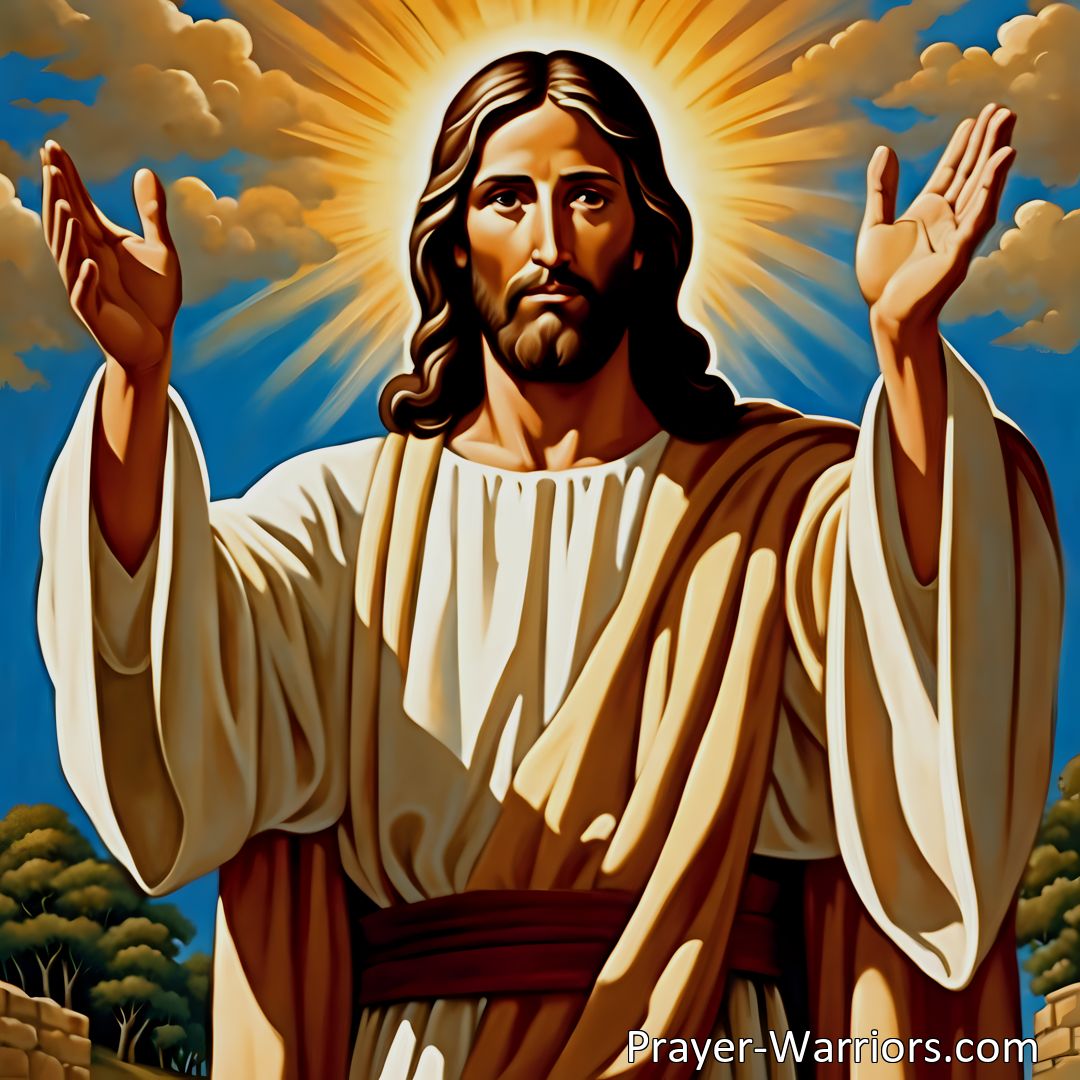 Join the Prayer Warriors Community!
Sign-up for our newsletter and embark on a transformative journey with Prayer. Enter your email below and become a part of our Prayer Warriors family.