Praying for Rest and Restoration: Finding Peace in God's Presence Discover the power of prayer in finding rest, restoration, and peace in God's presence. By intentionally seeking God's guidance and surrendering our burdens, we can experience the tranquility that surpasses all understanding. Allow God to restore your weary soul and bask in His loving presence.
---
---
Praying for Rest and Restoration: Finding Peace in God's Presence
Praying for Rest and Restoration: Finding Peace in God's Presence
In this fast-paced and often chaotic world we live in, it is easy to feel overwhelmed and exhausted. The daily demands of school, extracurricular activities, and personal responsibilities can leave us feeling depleted and longing for rest. However, finding true rest and restoration can sometimes feel like an elusive goal. In our pursuit of peace, we often overlook one powerful source of comfort – God's presence.
Restoration is defined as the act of returning something to its original state or condition. When we find ourselves worn out and in need of restoration, we can turn to God for help. He promises to restore our souls and give us the rest we need. Through prayer, we can connect with our Heavenly Father and find solace in His presence.
In the Bible, we are encouraged to cast our burdens upon the Lord, for He cares for us. Psalm 55:22 says, "Cast your burden on the Lord, and he will sustain you." When we feel overwhelmed, we can take our worries and concerns to God in prayer. He listens attentively and offers us His peace. By releasing our burdens to Him, we can experience a sense of relief and find rest for our weary souls.
Finding peace in God's presence is not only about seeking rest for our physical bodies but also finding tranquility in our minds and spirits. Amidst the noise and chaos of everyday life, it is essential to carve out moments of quiet reflection and prayer. When we set aside time to commune with God, we create space for Him to speak to our hearts and offer us His peace.
God's peace surpasses all understanding. It is a peace that transcends our circumstances and brings calm to even the most tumultuous situations. In Philippians 4:7, we are assured that "the peace of God, which surpasses all understanding, will guard your hearts and your minds in Christ Jesus." When we seek God's presence through prayer, His peace envelops us, shielding us from worry and anxiety.
Our souls find rest and restoration when we choose to surrender our lives to God and trust in His plans for us. Often, we carry the weight of our own expectations and place undue pressure on ourselves to succeed. But when we let go of our need for control and submit to God's will, we can find true rest. Jesus invites us, saying, "Come to me, all who labor and are heavy laden, and I will give you rest" (Matthew 11:28). When we come to Christ with open hearts and a willingness to let go, He lovingly offers us the rest and restoration we desperately need.
Prayer is not just a one-way conversation. It is a beautiful opportunity for us to draw near to God and experience His presence. Through prayer, we can find comfort in His promises and guidance in His wisdom. When we invite God into our lives through prayer, He walks alongside us, offering the rest and restoration we seek.
God understands our human limitations and knows the weariness we experience on a daily basis. He empathizes with our struggles and extends His grace and mercy to us. As we pray for rest and restoration, we can rest assured that God is with us, ready to offer us His peace and restore our souls.
In conclusion, finding rest and restoration in God's presence is a journey that requires intentional prayer and surrender. When we cast our burdens upon the Lord and seek His will, He promises to provide us with the rest we need. Through prayer, we can experience the peace that surpasses all understanding and find solace in God's presence. So, let us come before the Lord with open hearts, ready to receive the rest and restoration He lovingly offers.
I hope this prayer inspired image brings you hope and peace. Share it with someone who needs it today!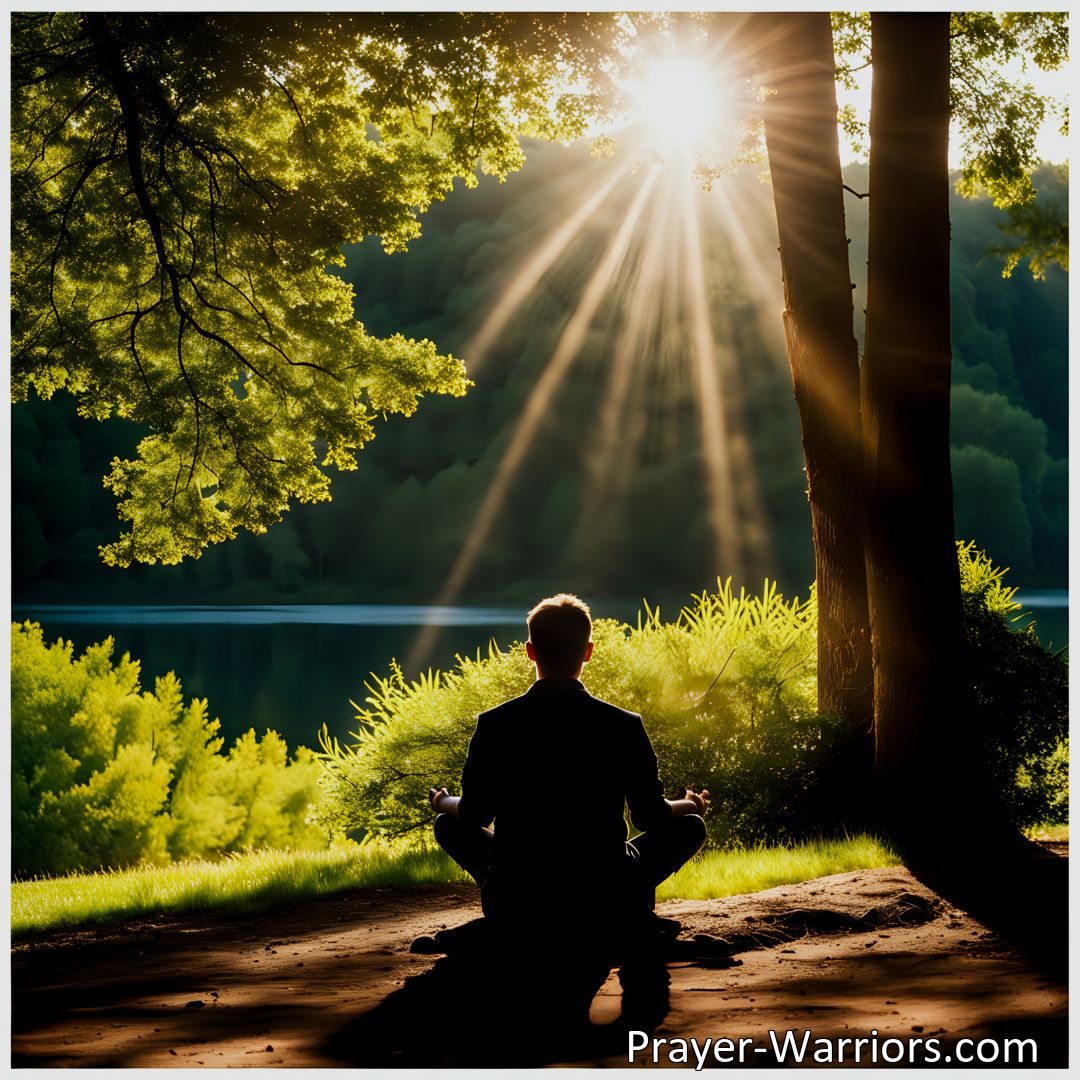 Join the Prayer Warriors Community!
Sign-up for our newsletter and embark on a transformative journey with Prayer. Enter your email below and become a part of our Prayer Warriors family.